This article is more than 1 year old
S3-lover Cloudian's hybrid object store gets Amazonian backend
Horton hears a cloud crew
Comment Object storage startup Cloudian is expanding into Big Data analytics via a tie-up with HortonWorks.
Its product HyperStore uses distributed object storage technology and presents an NFS-accessed storage resource for mid-to-large enterprises and regional service providers. It has a local on-premises component with an S3-compatible cloud back-end.
Cloudian was founded by CEO Michael Tso and president Hiroshi Ohta in 2011, and has had three regular as clockwork funding rounds;
2012 - $11.6m A-round
2013 - $5.1m B-round
2014 - $24m C-round
That's $40.7m so far and it's used the money to aggressively develop its HyperStore software.
V1.5 came in 2011 as peer-to-peer scale-out, multi-tenant storage software. An S3-compatible API came with v2.3 in 2012 along with multi-region storage. 2013 saw v2.4 with billing/chargeback by region/tenant, server-side encryption and a Citrix CloudPlatform connector. V3.0 added compression and a virtual appliance later that year.
Erasure coding came with v4.0 in 2014 with an OpenStack connector, NFS support and archiving to any S3 cloud. A few months later v5.0 added more scaling with vNodes, and monitoring/reporting. Now we have 5.1 with:
Full Hadoop integration
Federated geo-replication for real-time access to ymetadata across multiple global sites
End-usr credentials
Hybrid cloud chargeback reporting
OpenStack Icehouse support
Analytics in the form of Hadoop MapReduce and Mahout can now be run directly on data in HyperStore with no need to copy it first into HDFS with its three replicas. Data can be fed into HDFS if needed. Cloudian has a canned quote from IDC storage systems and software research director Ashish Nadkarni: "The ability to analyse big data right in the storage bank is a game changer."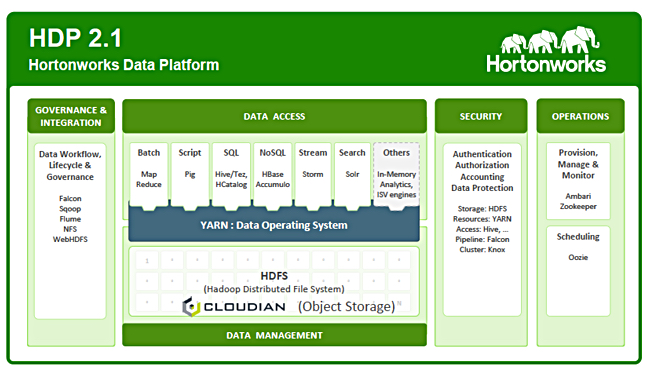 HyperStore has Hortonworks certification and its customers have access to Hortonworks Data Platform (HDP) and its Hadoop distribution.
It also has SmartData additions: SmartData Analytics and SmartSupport Analytics, with Hadoop analytics used to analyse its own support logs from customers, stored with HyperStore, and detect problems.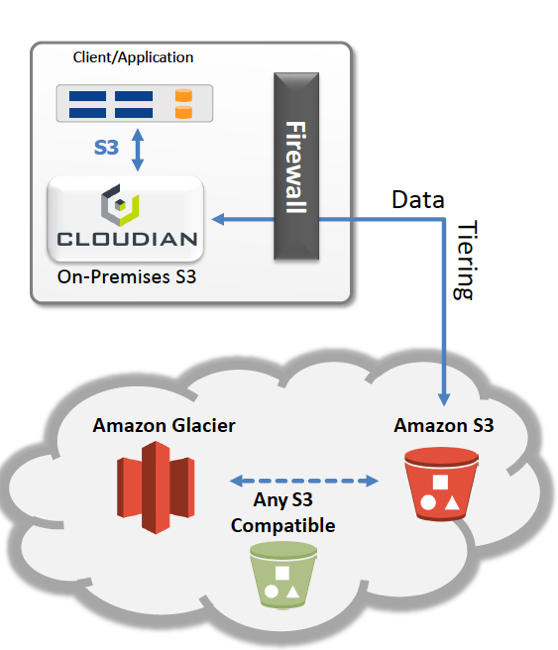 At a press briefing in December chief marketing officer Paul Turner said Cloudian was capacity tier storage, with flash increasingly being used for the performance tier. There are three appliances:
HSA 1024 with 24TB over five years costing 1.25c/GB/month
HSA 1048 with 48TB over five years costing 0.85c/GB/month
HSA 2060 with 60TB over five years costing 1.03c/GB/month
Turner asserts that Cloudian is half the cost of the public cloud and a fifth of the cost of traditional storage.
HyperStore has a global namespace with metadata kept on premises for all objects. There is an archiving option to move metadata and data to the public cloud with automatic data migration and hybrid cloud streaming.
HyperStore implements a NOSQL database system. Data is stored in buckets (virtual nodes or vNodes) with multiple vNodes in a physical node. Nodes are connected in a ring (cf Scality scheme). Small objects are stored with the metadata for faster access. Larger objects can be uploaded in multiple parts. Objects can be protected with replication or erasure coding on a per-object basis.
Cloudian says it has a complete S3 interface with extensions, which it has given to Amazon. No other supplier, except Amazon it claims, has such complete S3 support. They lack ACL support, multi-part upload, multi-data centre support and more.
Cloudian is seeing the coming Internet of Things with its potentially massively increased data production and analytics need as a great opportunity for growth. By storing the data in Cloudian and analysing it in-place data investigators will be more productive and get insights faster. That's the idea anyway.
HyperStore 5.1 is available now as a free upgrade to existing HyperStore customers. For others, it's available for purchase from Cloudian and its partner network. ®