This article is more than 1 year old
The Year of Living Danishly, The Internet is Not the Answer and Classical Literature
One of these is a sizzler
Page File El Reg bookworm Mark Diston reviews the latest releases from the publishing world. Helen Russell discovers all that is Nordic is not noir after all, they're actually quite a content – medication optional. Silicon Valley sourpuss Andrew Keen reckons we're better off without the web or something like that. Meanwhile, Richard Jenkyns, Oxford Professor Emeritus of the Classical Tradition, examines ancient Roman and Greek works and suggests the best for us to savour.
The Year of Living Danishly: Uncovering the Secrets of the World's Happiest Country
Helen Russell is a "lifestyle journalist" who was based in London until her husband obtained a job with Lego which involved a life-changing move to Denmark. Her previous life in the metropolis, which its inmates tragically call "the most exciting city in the world", is disparagingly described: "I felt like a fraud, I spent my days writing about how readers could have it all" while "relying on industrial quantities of caffeine and self-medicating with Sauvignon Blanc".
Years of failed fertility treatments, a crappy flat in NW6 and very little to show for it are deciding factors in accepting the move and so our intrepid emigrants arrive in Jutland in January to commence their new life.
It rapidly becomes apparent that you can take the girl away from the lifestyle but you can't take the lifestyle from the girl. Helen Russell's writing is so superficial as to make Martina Cole read like Samuel Beckett. It's a toss-up as to whether her husband or her dog is the better drawn character; both are dull ciphers and her inability to bring to life her nearest and dearest does not bode well when she is describing a whole new nation.
There are a few items of fascinating trivia, such as the fact that there are 86 pieces of Lego for every person on the planet. The pastries, furnishings and lighting are examined in depth, but Helen Russell simply cannot do characters. Her Danes are not the patronised rustics of Peter Mayle's A Year in Provence, but her lack of insight and literary ability reduces her subjects to stereotypes.
This story would make an amusing column in a newspaper, but as a biographical piece of travel writing, it rapidly becomes frivolous and banal. The interesting facts which are presented, such as the Danes' unsqueamish attitude towards animals, are repeatedly corroborated by a Googled "local expert" or some bullshit thesis from a US university.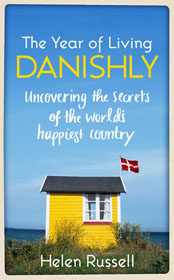 There is very little hint of homesickness or bitching between the emigrant couple – until they go on holiday in Sicily, the least Nordic part of Europe, where the strain begins to tell. Fortunately, upon their return, the pregnancy test turns positive and we are bombarded with data about Danish education and childcare.
If you are a thirty-something London career girl – or heaven forbid, aspire to being one – who hears the biological clock ticking and think "there must be something else", then this book is for you. If your Denmark is pastries and knitwear-enhanced cop shows with strong female characters shot on the tundra beneath moody, overcast skies, then this might just entertain. Overall, however, this book is too bourgeois, too complacent and mind-numbingly twee.
There is no great insight, no contradiction, nor great exceptions to the rule. Not only is there no Nils Bohr, to disprove the theory that Danes don't like appearing to be smart arses and no mention of the extreme liberalism that engendered Color Climax (link safe for work) or Freetown Christiana.
There is no reciprocal first-hand Danish opinion of London or the UK either. Alas, Helen Russell asks all the Danes she meets that meaningless question, so beloved of PR propagandists: "How do you rate your happiness on a scale of one to ten?" None of her respondents answer less than eight, though as the world's largest consumers of alcohol and anti-depressants, one could regard their answers as somewhat artificially enhanced.
Such uniformity of opinion would have me breaking into the nation's secure establishments, whereas Helen necks another pastry and Googles another study of satisfaction contrived by the University of Dogdick, USA.
The Year of Living Danishly is for lovers of froth of the fluffiest kind, so lightweight as to make Nimble bread seem unlevened. This book tells you more about modern life in London than Denmark. If you want to know about Danes, you'll learn more from reading the Helle Helle novel I reviewed a few months ago. I wish Helen well with the lifestyle changes, but in a more equitable, Danish world, this book should have no reason to exist.

Author
Helen Russell
Title
The Year of Living Danishly: Uncovering the Secrets of the World's Happiest Country
Publisher
Icon Books
Price
£12.99 (Paperback), £8.49 (eBook)
More info
Publication web site