This article is more than 1 year old
The Year of Living Danishly, The Internet is Not the Answer and Classical Literature
One of these is a sizzler
The Internet is Not the Answer
Now I chose this one to review for its provocative title, which begs the enquiry: What exactly is the question? It seemed a pertinent question, knowing that there are a fair few technology fetishists out there who might be attracted to such a work.
My heart rather dropped when Andrew Keen's book arrived and I realised it was the third part of a trilogy; having previously bitched about the chimerical Web 2.0 in: The Cult of the Amateur: How Today's Internet is Killing Our Culture and dissed Twitface in: Digital Vertigo: How Today's Online Social Revolution is Dividing, Diminishing and Disorienting Us.
I was beginning to wish I'd persuaded my editor to go with the salacious memoir of the guy with two dicks. Perhaps that's one for a future review...
Who is this Andrew Keen, then? Well, I'm sure he would be regarded as a flat-earth Luddite eccentric, were it not for his career as a Silicon Valley entrepreneur, which appears to have been very brief.
In The Internet Is Not The Answer Keen attempts to pose the question which led to his titular thesis, which seems to boil down to "why doesn't life turn out the way pundits and adverts predict?" This would appear to be more of a human issue than technology alone.
Little wiser, we hurry on disjointedly through Marshall McLuhan's medium with a very garbled message.
Andrew Keen gives us a Wikipedia-type potted history of the Internet, which he sees as the main culprit responsible for the iniquities of laissez-faire capitalism. The history of the Internet segues into the rise of the likes of Amazon and Google, sweatshops, industrial decay and so on.
There are many lists of luxurious products belonging to others which the author would appear to covet, tinged with that mean streak of envy apparent in Daily Mail journalism. Perhaps he failed in Silicon Valley and is vomiting his bile at rejection? Certainly his arguments are too obscure to tell either way. Keen's literary style is like a cut-and-paste anti-globalisation rant in which his reasoning steadfastly refuses to become apparent.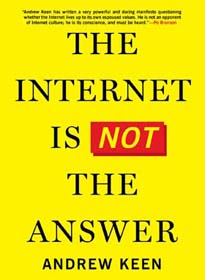 Andrew Keen was born in the UK and despite pining for the halcyon days of sixties swinging London, he has a curious transatlantic style, namedropping Winston Churchill and Downton Abbey like a guide on an English Heritage tour bus.
Kim Dotcom is described as an uberpirate, while Keen also covers the decline in quality publishing, the music business, online trolls, bullies, folk devils and moral panics. His previous bugbears of Web 2.0 and Twitface are reprised extensively; the arguments get no more cohesive, but you can guarantee Keen is against it – a digital devil's advocate.
The Arab spring becomes jihad by social media; cue another gratuitous appearance by Winston Churchill.
Next, online surveillance rears its ugly head which Keen blames on the Stasi. The analogy of Bentham's panopticon is borrowed and upgraded from Foucault but Keen lacks any discipline and his prose continues to punish. The last part of the book features a guest appearance by George Orwell, then yet more Uber and Downton Abbey references.
The book concludes with an epilogue entitled The Answer, which is little more than a roll call of cybersceptics, leaving me none the wiser. No matter that Keen seems unable to conceive of any alternative, or that his argument is a random assemblage of woes; he even remains unable to frame the question to which this book is supposedly not the answer. The problem with this book is that it is self defeating. If Andrew Keen is a professional, then bring on the cult of the amateur.
If you are looking for a hot subject to write an incoherent pile of crap about, then it seems the internet is the answer…

Author
Andrew Keen
Title
The Internet is Not the Answer: Why the Internet Has Been an Economic, Political and Cultural Disaster – and How it Can be Transformed
Publisher
Atlantic Books
Price
£16.99 (Hardback), £10.99 (eBook)
More info
Publication web site