This article is more than 1 year old
The Year of Living Danishly, The Internet is Not the Answer and Classical Literature
One of these is a sizzler
Classical Literature – A Pelican Introduction
Richard Jenkyns is an Oxford classicist whose most acclaimed work is The Victorians and Ancient Greece. Classical Literature spans the era from Homer to Petronius and cuts off at the end of the first century AD.
This is not an introduction for neophytes, who would be better off starting with popularisations by the likes of Robert Graves or Michael Wood. To enjoy this book fully, an grasp of the outlines of classical history and a knowledge of the main mythological tales are essential. This is a book for those who have been hooked by the stories of antiquity and want to delve deeper.
Classical Literature comes in a plain Pelican wrapper, which gives the mistaken impression of a rather dry, academic tome. Jenkyns states of the classical era, "there is a huge gap between visual and literary art". And so there are no pictures to distract us.
Jenkyns' prose is lively as he begins with Homer, explaining the latest theories of the Iliad and Odyssey being assembled from an oral tradition, probably by multiple authors. He goes on to describe the survival and antiquity of ancient texts, which, excepting the most esteemed, is quite a historical lottery; most of Catullus comes to us via a single text from the ninth century AD.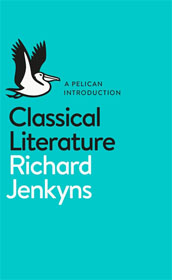 Jenkyns goes on to describe Greek lyric poetry, much of which survives only in tantalising fragments, including this gothic line from Alcman: "She makes glances more melting than sleep or death". Charles Baudelaire and Edgar Allan Poe, eat your hearts out!
The development of tragedy is well covered and it occurs to me that Aeschylus's Seven Against Thebes predated Kurosawa by more than 2,300 years. Athenian comedy, particularly Aristophanes is dismissed, except when he refers to Plato or Euripides. The understating of the significance and wit of Aristophanes is rather disappointing; as Leonard Cohen once said of Bukowski: "He brings everyone down to earth, even the angels".
No one brings the day-to-day life of Athens to life like Aristophanes. Classicism is full of crusty conformists writing paeans to gods, emperors and heroes. Aristophanes pillories humanity in all its forms and is an essential counterweight to Phidias' metrosexual ephebes and the tragedian's inflated bluster.
Of the missing characters, Heraclitus and Diogenes the Cynic are noticeable by their absence, mainly, I suppose, because their texts are either fragmentary or are only quoted by other authors.
Onwards to the Romans. Jenkyns correctly states that "didactic verse is the only genre in which the Romans outclassed the Greeks" and offers us Lucretius as the best example. Catullus is introduced as an innovator, writing about love as an obsessive passion.
Virgil is described as derivative, though Jenkyns compares him more to Hesiod than the usual more obvious and less accurate comparison to Homer. In Classical Literature there are references to a lot of average Latin writers such as Horace and Martial, who only seem to have survived via the exercises of tormented schoolboys* over the centuries.
Classicism by its very nature is a rather static subject, only occasionally upgraded due to archaeological finds. Richard Jenkyns has bravely included Paul of Tarsus in his book, where he undoubtedly belongs.
Overall this is a fascinating work, though it suffers from being anglocentric – the whole pantheon of overhyped English hacks from Shakey to Charlie D. are wheeled out – yet there's no mention of modern writers in any other language.
This is a great introduction for those who are hooked on classic literature and want to avoid the popular clichés. For instance, Jenkyns doesn't mention the word 'hubris' once, and while that is surely tempting fate, it makes a welcome and refreshing change. ®

Author
Richard Jenkyns
Title
Classical Literature, A Pelican Introduction
Publisher
Pelican
Price
£7.99 (Paperback), £5.99 (eBook), on sale 29th January
More info
Publication web site
* Vulture Central's backroom gremlins fondly recall the joys of the Cambridge Latin Course textbooks, complete with Caecilius' head and Metella vaguely misbehaving in the garden with Grumio the cook. If you're reading this, Mr Sadler, apologies – we still can't get our heads around amo, amas, amat.