Analysis We're now at dot-com bubble levels of investment in Silicon Valley, according to the latest stats, raising the specter of another tech crash.
PricewaterhouseCoopers' MoneyTree report, which tracks venture capital investment across the US, has announced (though not yet published) its Q4 2014 results, and revealed that in the final quarter, $14.8bn (£9.77bn) was injected into companies over 1,109 deals.
The bulk of that money – $11.9bn – went into Silicon Valley and other "internet-specific companies", marking "the highest level of Internet-specific investments since 2000", the bean counters note.
The money going into software companies is also at the highest level since MoneyTree started tracking VC spending in 1995: 41 per cent of total investments.
Inevitably, this has led many to ponder – not for the first time – whether we are in another tech boom and so whether we staring at another tech crash, just like what happened in San Francisco in 2000.
The report's authors don't seem to think so, noting that "we would expect venture capital investing to be positioned to continue strong levels of investing in 2015."
Increased investment is also seen by the bean counters as a purely positive indicator: "There's been an influx of private equity investors at a level we've not seen previously. As a result, entrepreneurial companies are capable of disrupting entire industries and leveraging investment dollars to expand to the global markets."
There are some notable differences between the Silicon Valley of 2000 and 2015. For one, the number and acceleration of deals is smaller – as you can see from the graph below. The dot-com boom was a wild peak both in deals and investment. By contrast, although we are looking at a peak right now, the path to it has been a gradual incline.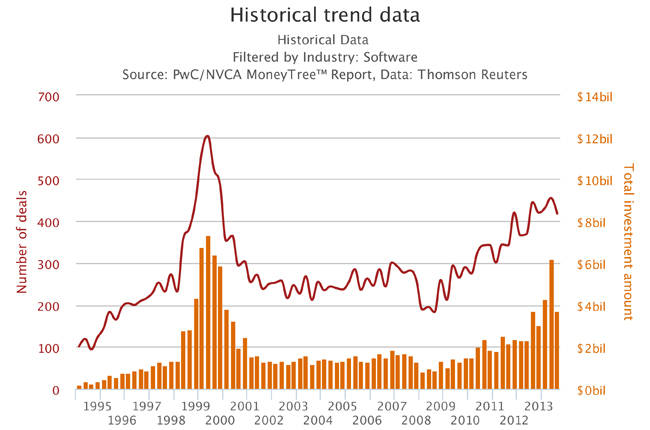 The money is also being spread around less. There are fewer deals but for bigger sums. One of the report's authors, Mark McCaffrey, calls these "megadeals."
"For the first time in MoneyTree history, we saw two deals exceed one billion dollars and more than 40 megadeals, which are investments exceeding $100 million," he added.
So while there have been highly questionable valuations – $19bn for Whatsapp (Facebook); Motorola Mobility for $12.5bn (Google); Nest for $3.2bn (Google); Tumblr for $1.1bn (Yahoo); and Instagram for $1bn (Facebook) – there haven't been the huge number of deals that make no financial sense as there were in the original dot-com boom.
Actually making money?!
What's more, the very big deals are in and around large tech companies that are actually making money: Facebook and Google most significantly. The wave of investment often washed over the small software makers that investors believe will be picked up by these tech giants. Those giants are able to take massive losses and survive, leaving Silicon Valley not quite as unstable as it was back in 2000.
In addition, the internet economy is many, many times greater than it was 15 years ago. Uber's $40bn valuation is still ridiculous, but it is built on the fact that millions of people now have smart phones and are willing to spend money over them. The income streams are there in a way that they weren't in 2000.
That said, one of the big reasons that the dot-com boom and crash happened was because investors were still making money even when they knew the valuations made no rational sense. So long as they can keep cashing in, they will do so right up to the cliff edge.
With big tech giants continuing to acquire companies for eye-watering sums, there remains a huge incentive to pile money in and seek over-valuations on the way out. So while there is little doubt we have a bubble in Silicon Valley right now, it's a smaller and more manageable one that 15 years ago.
All that has to happen is Google, Facebook, Yahoo, Microsoft and so on to slow down on their acquisitions, or start pulling down on the price and the market should cool without crashing. In theory, at least. ®