This article is more than 1 year old
'If you see a stylus, they BLEW it' – Steve Jobs. REMEMBER, Apple?
Report fingers finger-replacing pen ... for the iPad?
Analysis firm KGI claims Apple will offer a stylus with its 12.9" iPad. If true, this would represent a volte face for Apple, which has always derided fondleslabs that used any pointing device other than a human finger attached to a human arm.
The claims appear in a report leaked to Apple Insider. The KGI analyst Ming-Chi Kuo has come to the conclusion that as Apple has filed a string of patents for a stylus, these will, er, surface (sorry) with the new "iPad Pro".
The report doesn't expect the pen to be mandatory, and in a bid to keep the cost down it will be an optional extra. And we all know just how cheap official Apple accessories are.
Moreover, Kuo expects a range of pens, starting with something simple and progressing to add a gyroscope accelerometer which will allow users to write on the iPad without actually writing on it. With a gyroscope the pen could be used to allow writing on other surfaces or free space, also know as "3D handwriting".
Apple's patents in this space look at haptic inputs, an optical stylus which "includes determining when the optical stylus is in contact with a surface based on signals received by a processor from a pressure sensor of the optical stylus and capturing an image while the optical stylus is in contact with the surface using a camera of the optical stylus", and a 2008 patent for a "Stylus Adapted For Low Resolution Touch Sensor Panels".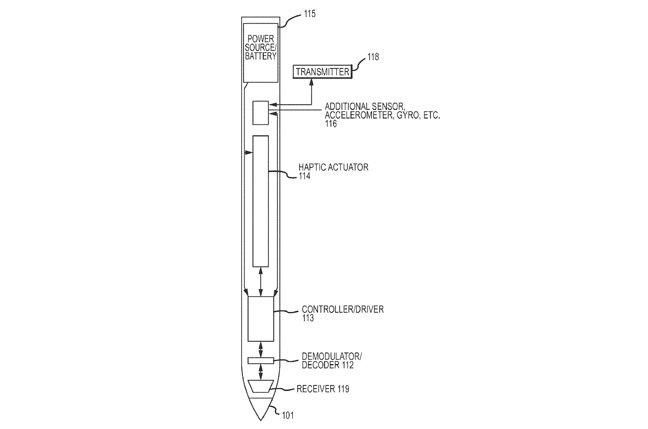 Could this be the new, hi-tech stylus for the new "iPad Pro"?. Possibly just one of an up-and-coming range
In 2009, Apple applied for a patent entitled "Method and Apparatus for Acquiring and Organizing Ink Information in Pen-aware Computer Systems", and in 2010 there was a patent for a communicating stylus.
Apple has looked at the problems of emulating a "pinch" function by having an extendable nib.
Whichever bits of these patents, or other technologies Apple chooses to use, it flies in the face of Jobs saying a finger was "the best pointing device in the world", and that "Who wants a stylus? You have to get 'em, put 'em away, you lose 'em, yuck. Nobody wants a stylus." ®