This article is more than 1 year old
What's that, Emulex? A profit? Just over the horizon?
CEO skips with joy as prelim results hold promise
Emulex CEO Jeff Benck unveiled a ray of sunshine with surprisingly good preliminary revenues for its latest quarter.
The company ships Fibre Channel HBAs and Ethernet connectivity products and is locked in combat with QLogic in the HBA and converged network adapter markets.
Emulex is expecting $110m to $111m in revenues for its second fiscal 2015 quarter. Last quarter it made $104m, and $99.8m the quarter before that; we have a trend here, a trend of rising revenues across three consecutive quarters, and that is unusual for Emulex.
Its revenues have see-sawed for many quarters and it's made losses for the previous seven in a row – and many before that as well.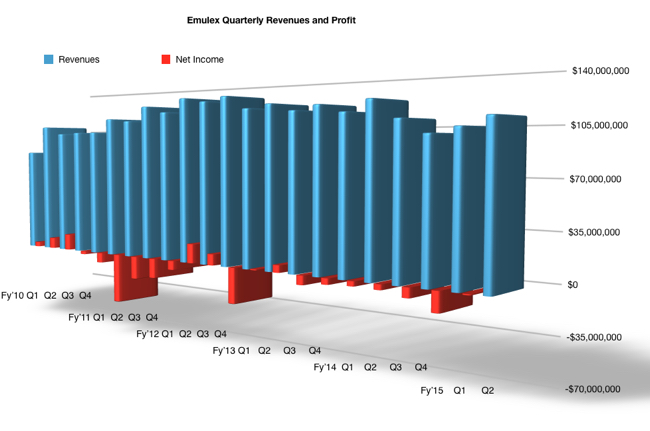 Emulex quarterly revenues and profit/loss to Q2 FY 2015
We may see a profit when the final results are reported for this latest quarter; welcome news for the beleaguered Benck and his exec team. He talked of a "Resilient Fibre Channel sector" in his prepared remarks and was optimistic: "We look forward to building on this foundation as the broad slate of OEM qualifications of our 10Gbit Ethernet products designed for next generation x86 servers ramp in the market over the next year."
The better-than-expected Q2 was a surprise; last quarter it predicted revenue within a range of $102m to $108m. It's comfortably outperformed that, possibly because more servers needing SAN access have been bought by customers.
A tail-end thought: FCOE, Fibre Channel over Ethernet, looks to be a nowhere at moment. For once the Ethernet-takes-over-all-networking story has met an obstacle it can't, so far, go over, under or around. FC rules, okay! ®