This article is more than 1 year old
Want a cheap Office-er-riffic tablet? Microsoft Windows takes on Android
Linx 8 tablet NOT BAD - unless you use Google Mail
Review With little fanfare, the Windows tablet market is changing. Step into your local supermarket, and you may see Windows tablets on show priced below equivalent Android devices.
A sensible purchase? Here is a look at a fine example, a Linx 8 purchased from Sainsbury's for £89.99 (even better deals are available online). It is one of a range of three, with 7" and 10" models also available.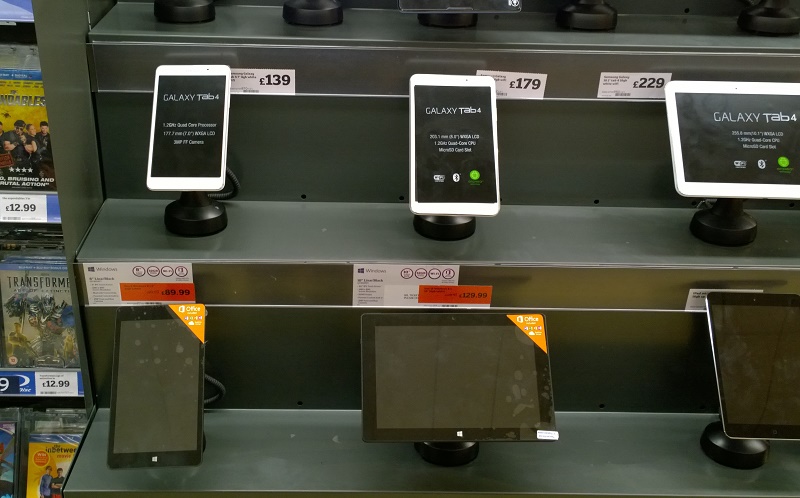 The Linx 8 (bottom left) is cheaper than many Android tablets
What you get is an 8" tablet with a quad-core Intel Atom Z3735F 1.33Ghz chipset, 800x1280 5-point capacitive touchscreen, 1GB RAM and 32GB storage, front and rear 2MP cameras, micro HDMI and micro USB, micro SD slot, audio socket, Wi-Fi and Bluetooth. Oh, and a bonus of one year's subscription to Office 365 personal, worth having considering that it costs £59.99 if you buy it separately. You could argue that if you want Office Personal, you might as well buy the tablet;
Despite the low price, the device is nicely packaged in a strong sleeved box. There is also a 16-page getting started booklet, which states that you can "use the tablet while it is chraging (sic)" so I plugged in and switched on.
On first boot you are asked to confirm language, which defaults to United Kingdom English. Next, agree the licence terms, enter a name for the PC, accept or customise Windows 8.1 default settings, sign into Microsoft account, enter an emailed security code, confirm OneDrive settings, and you are in.
The operating system is Windows 8.1 with Bing. This is a special free edition that comes with a few strings attached. Specifically, Internet Explorer (IE) must default to the Bing search engine. Attempting to change this via the IE Add-ins dialog gave a mysterious error; however, there is no problem going to Google's site and installing Chrome if you prefer.
What do you mean what document format do I prefer?
In order to get an authentic user experience, I created a new Microsoft account using a Google email address. Then I tried to run Office. This presents an activation wizard. The first attempt failed because the wizard needed to verify my email address (a good thing). That done, I signed into Office 365 and hit Install to redeem the bundled licence for Office 365 Personal. The Office install is "click to run", a form of app virtualisation that enables a one-click install, or nearly. Office still asks what document format you prefer, a bewildering question for users unfamiliar with the Office XML wars.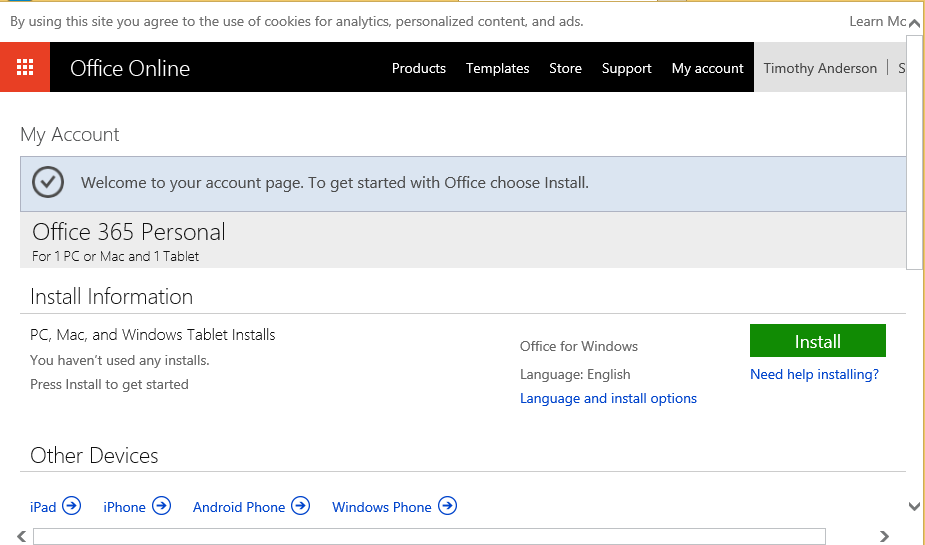 One year of Office 365 Personal comes free with the Linx 8
Once the Office install completed, Word, Excel, Outlook, Publisher, PowerPoint, Access, and OneNote appeared in the Start screen – though they are not pinned to the Start menu, nor to the taskbar, and it would not surprise me if some users struggle to find the applications.
Why on earth are the likes of Access and Publisher installed by default on a tablet with just 20GB of free space? Good question, especially as there is no obvious way to remove individual applications (choosing Change in Control Panel only offers Repair). That said, the Office 365 subscription does allow installation on a PC or Mac as well as the tablet, so users could make use of say Publisher on another machine.
A cheap way of getting Office for your business? Not so. The licence agreement states that "The service/software may not be used for commercial, non-profit, or revenue-generating activities," though this is not mentioned on the tablet packaging.
Visiting OneDrive for the first time is odd. The web page says "Get started with 15GB of storage" but also shows 1.01 TB available. It is an example of not quite joining the dots that make a smooth new user experience. Never mind – the generous OneDrive allowance is critical to making a device like this useful.