This article is more than 1 year old
Cheer up UK mobile grumblers. It's about to get even pricier
Consolidation mania. Kerr-ching!
You may not think being a mobile phone customer in Britain is much fun, what with rural Not Spots, the world's most irritating advertising campaigns*, and LTE arriving later (and rolling out slower) than anywhere else. Readers are quick to complain.
But you actually get a better deal than you think. So enjoy it while you can, folks, as with consolidation mania in the air, you'll almost certainly be paying more soon.
Two things distinguish the UK mobile market. There are four operators, rather than three, and one is usually willing to play the part of discount merchant.
This Analysys [sic] Mason paper (pdf) from 2013 shows that the UK was the least concentrated markets in Europe using what's called the Herfindahl-Hirschman Index (HHI) as employed by competition authorities.
And unlike many markets, the UK has a strong independent retail channel thanks to Charles Dunstone's Carphone Warehouse operation. The UK also has a thriving MVNO market, although others do to.
The combination of these factors means mobile network operators reap lower margins here than elsewhere in Europe, by some 20 per cent. So you might not believe it, but you get keener deals and lower prices in the UK than on mainland Europe.
This happy "anomaly" isn't going to last. Margins have been falling for some time as operators transition to businesses that resemble traditional no-win ISPs. A data-centric world where the costs only ever increase, and damage limitation concerns ("churn") take precedent over growth. So their response has been to consolidate.
It's like a game of musical chairs. The music stops and everybody scrambles, fearing that they'll be squeezed out of the market if they miss out on a partner.
At one end of the spectrum, you get some fairly natural mergers. At the other end, some bizarre couplings take place. Either way, the smaller number of players take fewer risks and raise prices. Which is great if you're a shareholder, but less so if you're a cost-conscious consumer.
Now the consolidation fever that has been rampant in Europe has finally reached here. Hutchison's Three has already merged in Austria and Ireland (with O2), and it's now talking to O2 here.
European competition authorities don't seem to mind when a four-player market shrinks to three, as long as they can be satisfied that somebody will offer lower prices. To mollify Brussels, for example, Three and O2 guaranteed access to MVNOs, and Brussels was confident that the MVNOs would offer lower price bundles.
But perhaps it feels it owes them one.
Brussels' muddled competition policy has reflected the worst of all possible worlds. It makes doing business unpredictable, but favours incumbent players - a policy that is essentially corporatist.
Steelie Neelie Kroes thought she had struck a populist vote winner by meddling with prices – capping mobile phone roaming rates. But all operators did was hike up prices for non-EU roaming, and prepay customers.
Which meant low income were subsidising EU travellers with expense accounts ... which is hardly a progressive move. And voters thanked her by embracing UKIP and far right fringe groups.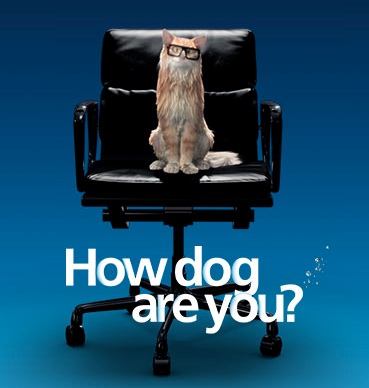 O2's recent adverts asked what percentage of canine you believed yourself to be
With Kroes gone, and three dull men (Ansip, Katainen and Oettinger) given the job of clearing up after her, operators have begun to feel that pan-European mergers, which were previously verboten, might just be back on the table.
"A combination of flat-lining revenues allied to surging data traffic costs could ultimately threaten the viability of network operations", reckons Jupiter, which notes that operators need to splurge $800bn on kit to keep up with our insatiable data demand.
Ultimately networks don't run on unicorn poo, but on investment, and the network giants most compelling argument. As the FT put it, "The European Commission's Digital Agenda depends on investment to achieve its goal of wider use of the internet among its citizens. If that means less competition (and thus higher tariffs) then so be it." ®
* Kevin Bacon in a conga line. Yoda. "Are you a Dolphin or a Raccoon?. "How dog are you?" I think being a UK mobile subscriber entitles us to a discount just for putting up with this.