This article is more than 1 year old
Microsoft just saved Windows Phone... Now stop whining
Mobile platform definitely needs TLC
Analysis It's always jam mañana for Windows Phone owners. In 2011, the "Apollo" update (which became Windows Phone 8.0) would bring new riches. Then it was 8.1. Now it's mid-year before Windows Phone 10 devices can storm the market.
So at the enthusiast end of the market, they're not a happy lot. There hasn't been a headline-grabbing, shiny new flagship to boast about for over a year – and really, for 18 months, since the Lumia 1020.
An American bank has given up because too few people downloaded their app. Even people paid to write about Windows Phone, it seems, have given up using Windows Phone as their main device.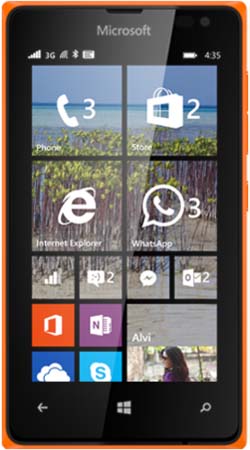 The 435 – the cheapie with the front-facing camera
Some hardcore fanbois are starting to sound as whiny and entitled as net neutrality campaigners or copyright reformers: "Give me the moon on a stick – someone else can pay".
The Windows Phone platform certainly has lost momentum and market share has declined. In the UK Kantar reckoned market share was seven per cent, down from a peak of 12 per cent in August 2013. In China, it's down from 3.5 per cent in October 2013 to 0.7 per cent thirteen months later.
Yet in an expanding global market being flooded by low cost Android, Microsoft has managed to stay in the game. Microsoft saved Windows Phone in 2014 by making it royalty free, which encouraged an explosion of new OEMs. Imagine if it hadn't.
The drive to low-cost devices has borne fruit. Last week Microsoft Mobile Devices unveiled a "Notkia" Lumia that will compete at £50 all in, and it offers the same functionality, including Skype, Cortana and offline maps, as a mid range phone. Microsoft also revived the sub-£100 Lumias, only months after launching the well-received 630 and 635 models. This isn't stuff to thrill a Western gadget fan, but bear in mind most users don't even change their wallpaper. It is a very attractive package for what we used to call, for a few years, the "feature phone" market, and it isn't surprising that Windows Phone has a good record for retaining punters.
In addition, as we've said many times, the high end is a bloodbath for manufacturers producing superb hardware even with a rich app ecosystem. If you don't have the apps to match Android or the iPhone, why throw money away? Just to put things into context, Surface has seen $2bn of investment spent with little to show for it.
The lingering problem is that Nadella seems ambivalent about devices – and his rhetoric really doesn't help. At worst, a Nadella "clarification" is like a Buddhist koan: can you hear the sound of one hand clapping? Can you see which comes first in Cloudobile? Nadella requires too much open to interpretation. He's verbose, which is never a sure sign of a man who knows exactly what he wants.
He makes it easy to interpret his gnomic pronouncements as being thoroughly unenthusiastic about Microsoft making mobile hardware, and much more difficult to infer that he sees Lumia as a shining strategic asset. Maybe he does. Maybe he doesn't. Since July, he's failed to address the most fundamental question Microsoft faces: is it an Enterprise company or an Everything company?
And without strong leadership and clarity, it's hard to motivate the Mobile Devices division to be world beaters. Risk aversion becomes the default mode of operation. Fulfil the deadline - try not to rock the boat with radical or risky new ideas. Note how bugs are creeping in, and the fit and finish no longer has the distinctive and assurance it had at launch.
The app ecosystem now looks pretty tatty and neglected – we must note that Twitter still hasn't modified its app to use the Notifications panel. Windows Phone may be the most attractive and original piece of work Microsoft has ever done, but it needs some of the founding spirit, attention to detail, and enthusiasm.
Starting at the top. ®