Obama makes net neutrality pledge in State of the Union
Promises to protect 'free and open' internet and waves security stick
US President Barack Obama has mentioned net neutrality in the State of the Union address, and identified online security as a key future challenge.
On net neutrality, the president had this to say:
"I intend to protect a free and open internet, extend its reach to every classroom, and every community, and help folks build the fastest networks, so that the next generation of digital innovators and entrepreneurs have the platform to keep reshaping our world."
There's a lot of wriggle room in the word "protect". Obama could have said he would "deliver" or "ensure" a free and open internet.
The President also said he intends to build " … the most competitive economy anywhere, the place where businesses want to locate and hire" and said that will involve "21st century infrastructure — modern ports, stronger bridges, faster trains and the fastest internet."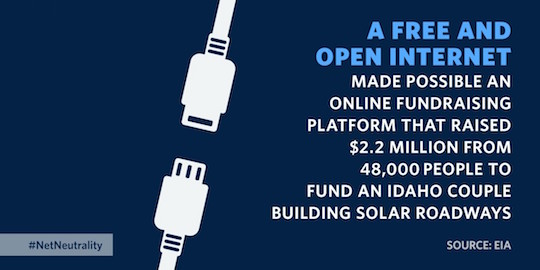 President Obama's net neutrality graphic used in the
online version of the 2015 State of the Union
A substantial portion of the speech concerned America's diplomatic efforts, which Obama said he's re-shaping by, among other things, preparing for emerging challenges. Tackling Ebola, assisting developing nations to live by the rule of international law and addressing climate change all got a mention during this section of the speech. But the first item mentioned was online security, which scored this paragraph:
"No foreign nation, no hacker, should be able to shut down our networks, steal our trade secrets, or invade the privacy of American families, especially our kids. We are making sure our government integrates intelligence to combat cyber threats, just as we have done to combat terrorism. And tonight, I urge this Congress to finally pass the legislation we need to better meet the evolving threat of cyber-attacks, combat identity theft, and protect our children's information. If we don't act, we'll leave our nation and our economy vulnerable. If we do, we can continue to protect the technologies that have unleashed untold opportunities for people around the globe."
Obama is, of course, constrained by a hostile legislature in which his Republican rivals hold majorities in both houses and seem intent on making his administration – and by association all Democrats – appear incapable of running a functional government. Obama more-or-less pointed this out in the address, appealing for his political rivals to at least consider his agenda rather than play politics. ®