This article is more than 1 year old
Oracle opens Uncle Larry's cut-price bit barn emporium
Weary of price vs. performance arguments, Big Red undercuts everyone
Oracle has pledged to be the planet's lowest-cost provider of core data centre equipment.
Executive Chair Larry Ellison today announced a refresh of the company's Engineered Systems range – they're now called X5 – and a new strategy to offer the industry's lowest purchase prices.
Ellison's rationale for the low-price play is that Oracle has come to realise that not everyone wants high-performance kit like its previous range of engineered systems, because while it may be very fine kit it comes with scary price tags.
Oracle has long argued that price/performance analyses see it come out on top. But Ellison said he is "tired of having that argument" and has come to realise that low-cost, two-socket servers have come to rule the data centre core. Oracle wants in to that market and wants to beat Cisco and VCE there. And the way it thinks it can beat its rivals is with low, low, prices.
Just how low will Oracle go?
Ellison popped up this slide to illustrate Oracle's new pricing for converged systems, and claimed that it represents Oracle's list price and rivals' discounted prices.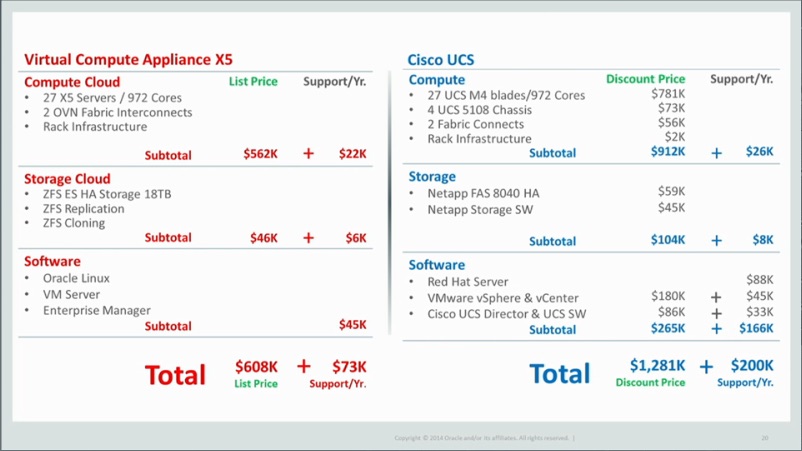 Oracle's pricing for its new compute appliance. Bigger version here
Ellison thinks Oracle can be cheaper to acquire and operate up and down the stack and that businesses will build their core systems on commodity – but highly-integrated – kit and surround it with finely-tuned thoroughbreds.
Oracle once lacked the commodity stuff but is in that game now, adding things like application templates Ellison said will allow apps to be spun up in minutes. It's also enhanced its stable of thoroughbreds. Announced today are a new Virtual Compute Appliance, Database Appliance, Exadata Database Machine and Big Data Appliance, all with the kind of enhancements – think more flash, faster CPUs, greater internal comms cunning - one would expect of refreshed products.
The Zero Data Loss Recovery Appliance has had a more interesting refresh, gaining the ability to restore data based on database logs even if it hasn't yet had time to do a full or incremental backup. There's also a new FS1 all-flash SAN array said to be jolly fast.
Ellison's presentation was low key and marred by a wireless remote control that intermittently failed to control his slideware, while the monitors facing him were so hard to see he instead turned to read product details from the big screens facing the audience. That those troubles hit while he was talking about lower-priced kit made for unfortunate juxtapositions.
+Comment Oracle has given itself an interesting sales job with today's announcement, because for years it has told the market that dedicated appliances are the best way to run a business. But Ellison today conceded the market isn't buying that story, but is buying the Cisco UCS and allied converged infrastructure players' stories.
Oracle's now moving itself into a market others have defined, but says its approach to integrated systems makes it a better alternative. But that experience and approach seems not to be enough, because Ellison made low cost the central theme of his presentation.
That adds up to a nest of of overlapping and occasionally contradictory arguments.
The only clear message is that Oracle is still looking for a sweet spot for its hardware. ®