This article is more than 1 year old
SCREW you, GLASSHOLES! Microsoft unveils HoloLens
Holographic glasses for Windows 10
Windows 10 will include full support for a new piece of Microsoft hardware – the HoloLens – Microsoft's first foray into augmenting reality with holograms.
The HoloLens headset includes its own CPU and GPU, along with a third, "holographic" processor. The device has transparent eyepieces onto which can be displayed hologram structures that can be manipulated using voice commands.
"Every Windows 10 system has hologramatic APIs enabled," said Alex Kipman, technology fellow at Microsoft. "Oculus, Magic Leap, Google Glass developers, we humbly invite you to come and create holograms with us."
The HoloLens maps the position of your eyeballs to see where you're looking and uses that as a cursor. It can also track finger and hand movement to shift holograms across the viewscreens.
There was no word on battery life – which looks like it'll be measurable in minutes – but Microsoft said that the device doesn't need wires or a PC to work. El Reg will try a unit out in a few hours and see if this really is a game changer – or the new Zune.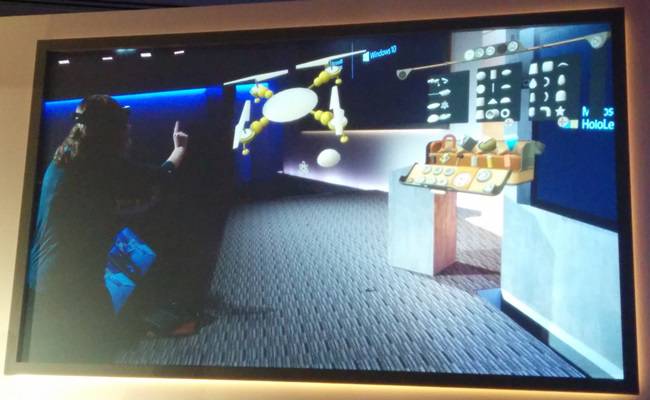 If you build it, will they come?
To get developers working with HoloLens, Microsoft will release Holo Studio, a suite designed to make building hologramatic objects much easier. The combination of voice and gesture control is used to make objects relatively simply.
The designs can also be output to 3D printers. Kipman demonstrated building a drone using HoloLens and them demoed the device on stage – although the demo version had been prepared earlier.
Kipman said the development of HoloLens was shrouded in secrecy and Microsoft had a special partner: NASA's Jet Propulsion Laboratory. JPL is going to use HoloLens to analyze data from the Curiosity rover and build explorable hologram maps of Mars this summer, and boffins will be able to use it to control the rover by July.
"These are the kind of magic moments that we live for, step changes in computing," said Microsoft CEO Satya Nadella. "Windows 10 and holographics is just one such occasion." ®