Windows 10: The Microsoft rule-o-three holds, THIS time it's looking DECENT
Cortana, Spartan, Xbox, DirectX 12 – oh my
Analysis The old adage that you never install a Microsoft product until version three appears to be holding true in operating systems with Windows 10. Windows 8 was a disaster, Windows 8.1 a waystation, but Windows 10 is looking like a very solid system.
"We want people to love Windows on a daily basis," said CEO Satya Nadella at Wednesday's preview presentation in Redmond – conjuring up an unpleasant mental image. "We will make Windows 10 the most loved version of Windows ever."
Certainly Windows 10 will be the most adopted and used version of Windows ever. The 12-month free upgrade offer for Windows 7 and Windows 8.1 users will spur massive adoption figures on release and save Redmond from the rather embarrassing position it finds itself in today, where Windows 8.1 is less used that the 14-year-old Windows XP.
Under the new model, current Windows users get free upgrades and we'll be in the world of Windows-as-Service. Once the offer period is over there may be upgrade charges – Microsoft ducked questions on this – but analysts don't think this is likely.
"I'm inclined to believe is Microsoft will now take their revenue stream off the consumer past the point of purchase," Wes Miller, analyst at Direction on Microsoft, told The Register. "Instead they'll monetize users through services like Office 365."
Windows Phone is dead, long live Windows 10
Microsoft also made clear that the Windows Phone brand is dead – something we've been hearing rumors about for a while. From now on, Redmond's smartphone OS will also be known as Windows 10.
Microsoft has spent more than a decade trying to build a mobile operating system that's popular yet has failed. The re-brand to Windows 10 could help the firm escape Android and iOS comparisons and might also solve the lack of applications on its platform.
Key to this is the concept of "universal apps." The team demonstrated PowerPoint, Outlook, and Calendar applications running on PCs and phones with the same sorts of functionality, albeit with some UI tweaks.
All of the data in these applications will be switched between phones and PCs seamlessly, Microsoft promises, and users will be able to back up and sync their data to Azure. For example, pictures taken on the smartphone will be uploaded to Azure, as will be photos held locally on the PC, and the same will hold true for your music collection.
Microsoft is hoping this will encourage developers to do the same with their own applications – essentially offering a "write-once" strategy for phones and PCs. If the model takes off, Windows smartphone users will see a big boost in the number of applications that will run on their handsets and close the gap with Android and iOS.
Cortana everywhere
Voice control via Cortana is also going to be a massive part of Windows 10, both on smartphones and the desktop.
Cortana is being firmly embedded into Windows 10 in a way that makes Siri look like a piker. The digital assistant now comes with support for seven languages, plus a rather cute "Yoda impersonation" system that should prove popular.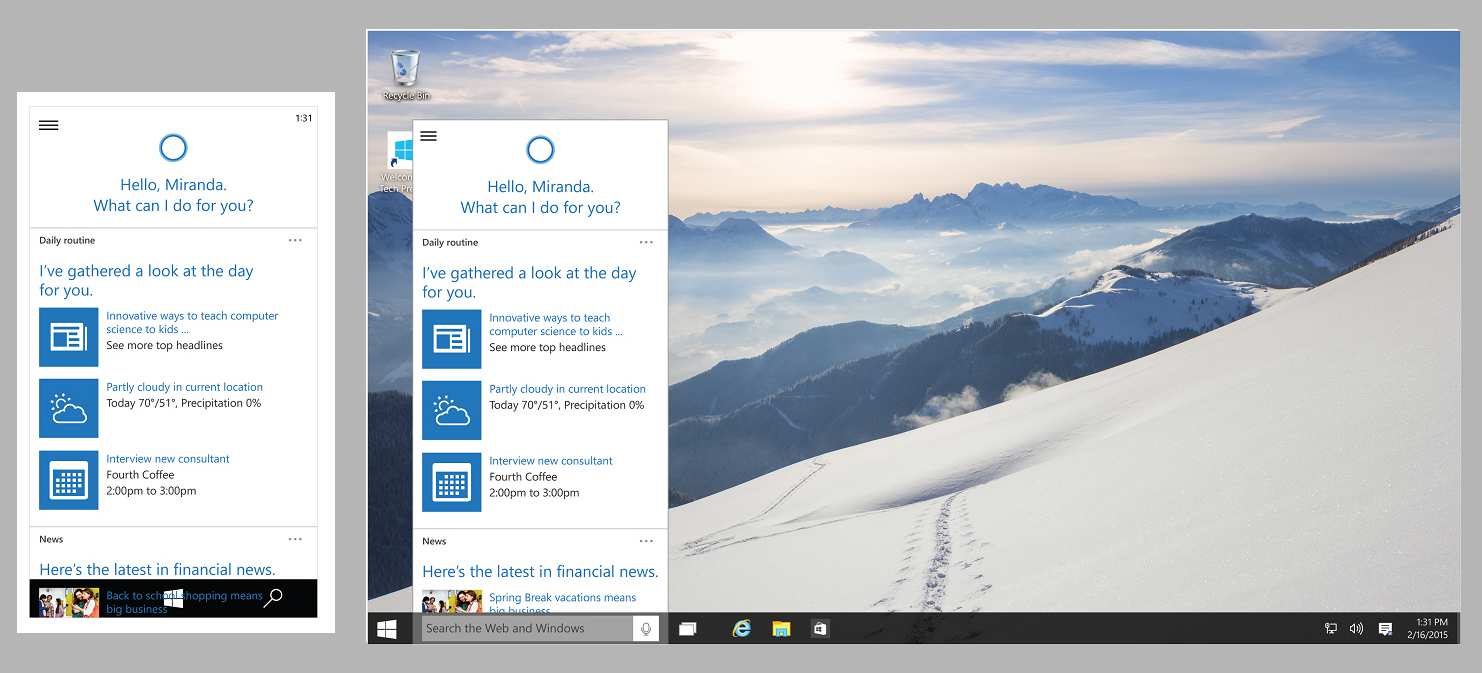 Screw you, Siri: Microsoft has Cortana running on phones and PCs (click to enlarge)
But Microsoft wants Cortana to do more than just answer questions. Based on Wednesday's demonstrations, Cortana will be taking dictation of emails (and sending them), managing search both online and off, adjusting features like map routes, and will be used to turn apps on and off via voice control.
On the search side, Cortana will now show up right in the revived Start Menu bar on Windows 10 and will direct a lot of internet searches to Bing, as Windows 8.1's built-in search does now. For smartphone users, the demonstrations showed Cortana taking up the whole screen and displaying voice commands, which can presumably be edited if the software mishears a command.
Microsoft was keen to stress that there's still a lot of development work to do on Cortana. Some of the features on display today won't be in the preview builds available to developers for five months or more. But voice control is going to be a key part of controlling computers, in Microsoft's view.