This article is more than 1 year old
Microsoft: We bought Skype. We make mobiles.. Oh, HANG ON!
EUREKA! We should put the two together
Analysis Microsoft has given us a glimpse of Windows progress this week – and it was generally well received – particularly the one-year "grace period" allowing Windows 7 holdouts to climb on board for free.
While price won't induce Enterprise customers to upgrade, lower retraining costs will –and the majority will wait to see what the finished cut looks like before deciding. Microsoft left most of the improvements to Windows Phone – which is not called Windows Phone any more – under wraps, however.
We saw visual tweaks to the Start Screen, including the pull-down Notifications "shade" – which now resembles the richer and more mature iOS and Android panels – and the Applications list. Icons are smaller and the mobile OS looks more professional and mature.
Not everyone will welcome this. There's now only a passing nod to the striking, typography-derived design roots. "Windows Phone 7 Series" (as it was) featured few buttons – most button actions were performed by text. Now it's a very stylish Android launcher. Application vendors who use colour as part of their brand won't be best pleased that user wallpaper overlays their distinctive Pantone selection. But to be honest, much of the quirky charm of Windows Phone was abandoned once Terry Myerson and Joe Belfiore – jealous guardians of the Windows Phone look 'n' feel – were booted upstairs to sort out Windows desktop.
Evidently there are a lot more changes to come. The good news for stalwarts is that after a glacial and at times uncomfortable rollout of Windows Phone 8.1, the pace of development appears to have picked up.
The most interesting aspect was that there's a coherent plan for VoIP and OTT messaging. Over the years Microsoft has had a chaotic and incoherent approach. Once upon a time there was NetMeeting. Then Microsoft rushed out a clone of popular Internet IM apps, MSN Messenger, which became Live Messenger. It also rolled out its server-based Live Communications Server, which became Lync. There was also Xbox messaging. All had different development teams and priorities. There were various acquisitions, like Teleo, while other acquisitions brought in some contraband messaging with them, like Groove. And it even acquired hardware, such as Sidekick, that had been designed for messaging.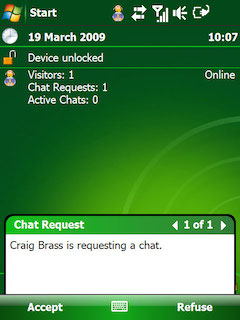 Windows Messenger running on the once-popular Windows Mobile
Then came the blockbuster $8.5bn purchase of Skype. Microsoft continued to run Lync and Skype separately – and Lync became a surprise hit with businesses. It appeared to be a cheap and cheerful path to UC – some customers actually thought it was free.
Lync appeared to follow the classic Windows "roach" adoption we saw with file-sharing via Workgroups. Nobody thought it was best solution, but it was lying around, so people started to use it. Users moved faster than the BOFHs could stop them. So for the past three years there have been three Microsoft VoIP kicking about: Lync, Skype and Microsoft Communicator. I doubt if any other company could sustain such an incoherent product portfolio for a decade.
Finally, last November, we saw some coherence. Lync would be replaced by "Skype for Business", at last forcing the shotgun marriage of two not exactly complementary architectures: Lync's server-based UC and Skype's P2P model.
Windows Phone users greeted this with an ironic cheer. Since Microsoft set fire to Windows Mobile in favour of the infant, consumer-only Windows Phone 7 Series, it had treated the latter as a second-class citizen. For the best mobile Skype experience you really needed to get an iPhone or an Android. Some theories suggested that Microsoft didn't want to antagonise its carrier customers by bundling Skype so closely with the handset.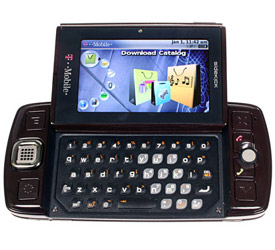 Imagine if Microsoft made mobile devices built around IM?
Oh. It once did... the Sidekick 2008
But that doesn't hold much water: operators had given up trying to hold the dyke against OTT messaging and VoIP years ago. The GSMA had been working on its own response to iMessage and WhatsApp for some time. A new platform with no market share did not pose an existential threat to their core business.
What Microsoft showed this week, at long last, was VoIP integrated into the platform. You don't need to install a separate app to do OTT voice or messaging – the default Messaging client and phone app will do that. So what? you may well ask. Nokia had this capability a decade ago – you chose a contact, then chose how to call them – via cellular or SIP. The same functionality is in tablets and Windows 10 desktop/tablet's Messaging app, allowing you to send messages from the taskbar.
Hold the front page? Not really. But it is a small and welcome sign that Microsoft development is gradually becoming more coherent. More details of Windows 10 for phones are expected at Mobile World Congress in Barcelona in six weeks. Registered developers (or fanbois) should get some code before then, we gather. ®