Then there were 3: Another UK mobile network borged ...
... and what it all means for speed, coverage and phone masts
---
Let's look at what we get if we combine the space as a result of the expected consolidations. We'll drop UK Broadband as it doesn't change anything
| | | | | | | |
| --- | --- | --- | --- | --- | --- | --- |
| | 800Mhz | 900MHz | 1800MHz | 2100MHz | 2600MHz (paired) | 2600MHz (unpaired) |
| O2-Three | 30 | 35 | 42 | 50 | | |
| Vodafone | 20 | 35 | 12 | 30 | 40 | 25 |
| BTEE | 10 | | 96.6 | 40 | 100 | 20 |
The raw numbers are striking. It gives the combined BTEE network 47 per cent of the allocated spectrum. At first blush it looks like a breakup of allocations is necessary.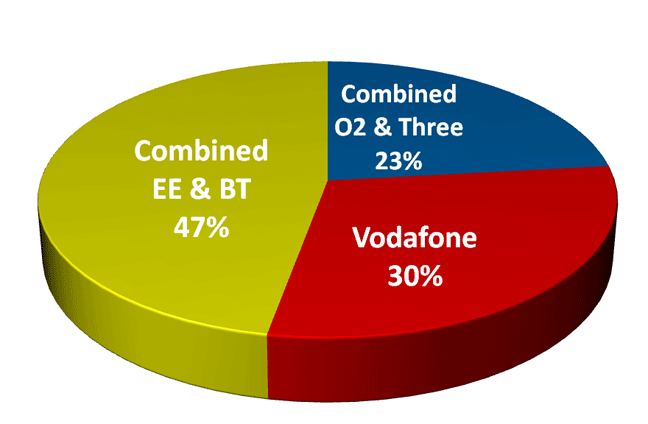 But drill down and you will see that all the O2-Three spectrum is at 2100MHz or below, with the vast majority below 1GHz. For BTEE it's the other way around. It may have a huge amount more spectrum but it's pretty much all at 1800MHz or more; only a small chunk from the 4G auction being below. While BTEE has nearly twice as much spectrum as its rivals, it's not the good stuff.
Lower frequencies travel further and need fewer base stations. With LTE you can use carrier aggregation to combine bandwidth across different frequency bands, which is good news for subscribers. Both EE and Vodafone do this to boost their coverage. It's even been demonstrated between FDD and TDD, which is technically impressive.
A convincing argument can be made that no one is in a massively commanding position. Vodafone may actually be best placed as it could roll out coverage first on at 800 and 900MHz, and then boost the speed by filling in with the higher frequencies. BTEE would have to build a lot more masts to compete on coverage, but they would all be high speed from day one.
Hidden in this is a message that cell tower-sharing isn't the panacea that the not-spot regulation believes it to be: networks can't just share the same phone masts and expect to kill off all the areas of poor reception for all subscribers.
If O2-Three puts up more masts for its frequency bands, they will be too far apart for BTEE's shorter-range spectrum. And if BTEE chooses the locations, they will be in the wrong places for Vodafone.
Another factor is that there is more spectrum to come. When the 1800MHz was reallocated from EE to Three, there were no pending spectrum auctions. Ofcom has announced an imminent auction of frequencies at 2.3GHz and 3.4GHz, which have been prised from theUK's Ministry of Defence, and the much more valuable 700MHz (albeit by 2022, although it might be sooner if Freeview can be moved out of the way.)
All very, very bad for the government
Mobile network industry body the GSMA and the EU both think that reallocation of old TV frequencies should happen by 2020 at the latest. They both want it by 2018. Sweden, for one, has said it will dish out 700MHz slots in 2017.
So with more spectrum coming available and at both ends of the dial, it might be possible to even things out, but this is all very, very bad for the UK government which wants to maximise revenue from selling the spectrum.
For a start there will be one network fewer waving around its credit card - so any bidding war will be less ferocious. Secondly, BTEE isn't going to want too much of the 2.3GHz and 3.4GHz space: they have plenty of it; it's significantly more valuable to O2-Three; and that imbalance makes talking the price up very hard.
Conversely, it looks like the 700MHz spectrum will be of most value to BTEE, but if it's not available for another five years, the telco goliath will have built out its coverage at the higher frequency by that time anyway - and so the extra range afforded by a lower 700MHz slot won't be anything like as valuable as it would be today.
Ofcom is likely to have significant concerns over the reduction in the number of players. Ramping up UK Broadband might be an option, giving it something other than 4G to play with. As was done with the 3G auctions, adding a route for a new player could be a good call. It can be argued this is all in Brits' interests, and that extra revenue for the Exchequer was never the intention.
Lots more detail will shake out from the deals over the coming days and week; in the meantime, here's two more things to think about for the moment are numbers and history.
While there is no shortage of mobile numbers, many of the number blocks have been allocated. BT has always had an unrealistic number for the amount of spectrum it held and now has all of those plus the Orange and T-Mobile allocations. The prefixes BT has includes 07777 which means the number 07777 777777 is somewhere on its books, which might be confusing but has to be the coolest mobile number in the country. Some re-farming of the number allocation is probably in order.
And then there's the irony of it all. Once upon a time, the General Post Office was responsible for post and telegraphy. Then through privatisation the systems were split and we got British Telecom and The Post Office. Last year EE announced that it had won a deal to provide a virtual mobile network for The Post Office. The consolidation means that once again, telephones and post are united. ®