This article is more than 1 year old
Dot-com is dead. Long live dot-com
Reports of domain king's death greatly exaggerated
As you probably know, the internet's domain names are dominated by a single three-letter ending: "com".
What you probably don't know is the sheer scale of dot-com's dominance. There are roughly 116.5m domains ending in ".com" – more than all of the 25 next largest registries combined.
When the industry draws bar charts of registrations, they let dot-com run off the top of the page, put it on a logarithmic scale, or exclude it altogether. That's right: dot-com is logarithmically larger.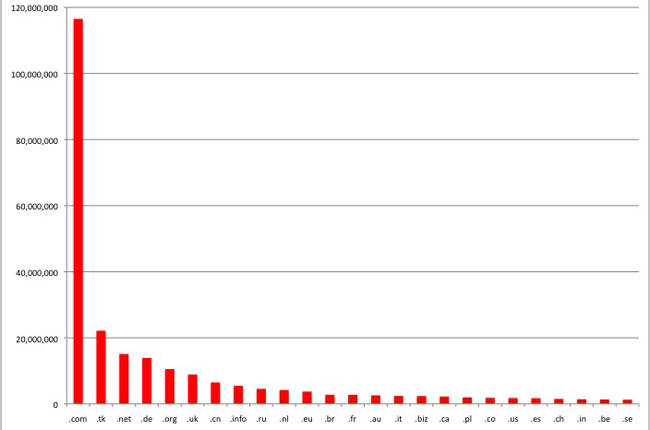 Sure it's accurate but it only tells you one thing: dot-com is much bigger
That makes it all the more peculiar then JPMorgan this week downgraded the operator of the dot-com registry, Verisign, because it argued that the new top-level domains were cannibalizing the company's registration revenue. The company's share price dropped 1.5 per cent on the news. And then the market took a closer look and today bumped it up by just over one per cent.
At the same time as JPMorgan signaled its concerns, the largest applicant for new gTLDs wrote a post arguing that dot-com's days were numbered. "It's about time to hand .COM a gold watch," the post by Donuts – which has spent $100m in the past year launching dozens of new internet extensions – argued.
Donuts argues that its domains - ending in everything from dot-agency to dot-zone - are "fresh, semantically meaningful and, in comparison, widely available". Names under these new extensions "aren't comprised of 'reused' names that others have thrown away".
Never mind that dot-com added nearly as many new names last year as all of the 400 new extensions combined.
And those "thrown away" dot-coms? They are like gold nuggets explained industry veteran and domain investor Michael Berkens in a blog post in response. "Of the 80,000 domains or so we own, 98 per cent were acquired over the years on the drop," he notes, adding: "That 345.com we just sold for $800,000 someone else 'threw it away' in 2002."
Another domainer was equally unimpressed with the bluster, complaining that he spent $5,000 on new gTLDs last year and has failed to make money on any of them. New domains are also more expensive – often ten times as much as the dot-com's $6.
"That $5k into 10-15 solid dot-coms would likely have yielded break even or profit on a single or two names," Mike Jones reasoned. "Instead I am faced with another high gTLD renewal set this year, those .com would be about $100 renewal total ... I threw good money away."
But it's not all bluster, according to one industry veteran. Roland LaPlante has been chief marketing office at Afilias – one of the biggest names in the domain market – for 15 years and has seen it all before.
He does note though that dot-coms shine is coming off a little. "Dot-com is king," he told The Register, "but we've been tracking the industry since 2007 and every year dot-com and dot-net [the other big beast, also owned by Verisign] have lost share points. It used to make up 55 per cent of the market, now it's 45 per cent. It's growing but it's also losing market share – one point a year."
It may seem a little rich for new gTLD operators to claim the crown when even they will admit they have seen a lackluster take-up of their flash new endings. As you can see from the graphic below, new gTLDs barely register in the wider market, despite being the hot ticket and making more noise than anyone else.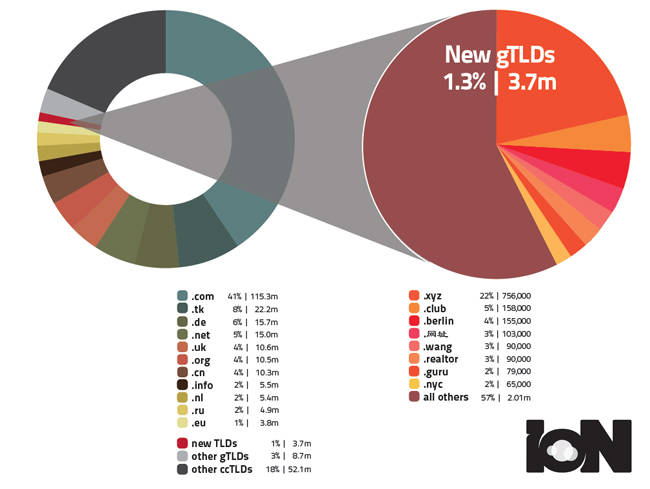 A lot of noise coming from the red sliver of new gTLDs
But it's not just the young upstarts that are bad-mouthing their competition. In a blog post last month, Verisign provocatively asked "What's Really New in the New gTLD Space?"
That post pointed out that only 16 per cent of domains under the 400+ new extensions were not already registered under dot-com. In Verisign's eyes this made the vast majority of new domains "redundant".
It also pointed out that nearly 75 per cent of the domains registered were available if you just tacked a dot-com on the end i.e. domain.example and domainexample.com.
Did you know nearly 75% of the names registered in #ngTLDs are available in .COM. Read more http://t.co/PEXIDCTDpz pic.twitter.com/c1DtzAJyCo

— VERISIGN (@VERISIGN) January 8, 2015
All this back-and-forth is perhaps inevitable in an increasingly competitive market with some companies work harder to even register on the scale and the dot-com monster dominating the market without having to do any real work.
But at least one new entrant is not happy. "I think it would be great if people would stop sniping at the dot-com side and vice-versa," Simon Cousins, CMO at TLD Registry told us. TLD Registry is trying to crack what the industry believes is a huge future growth market – the Chinese speaking world – with two new "internationalized domain names" in the Chinese language.
"I wish the industry would stop putting so much energy into telling us that the other guys are bums," he adds. "It may be a Coke and Pepsi thing and we are unlikely to see everyone get together to promote cola-based drinks, but it would be great to have a kumbaya moment in this industry." ®