Broadmoor: My Journey Into Hell, The Chimes and Cowboys and Indies
Memoirs of a bad mad lag, dystopian debut and record biz retrospective
---
Page File El Reg bookworm Mark Diston peruses the pick of publishing this week with a début novel from Anna Smaill whose musicality abounds in the post-apocalyptic tale. Back in the real world, one man apocalypse Charles Bronson tells more tales of life inside, and finally Gareth Murphy tracks the history of the music industry.
The Chimes
Anna Smaill is a musician who has come to novel writing via poetry. The Chimes is her début, and opens with the orphaned protagonist and narrator, Simon, travelling from Essex to a post-apocalyptic, re-imagined London where "words are not to be trusted and music holds the meaning now".
Music serves for long distance communication and GPS, whereas memory is a bag of familiar objects carried around the neck. Simon arrives in London where the "whole city is talking in music" and falls in with a bunch of troubadour rag pickers led by one Lucien.
They live off the recycling trash that remains from before the "Allbreaking", a time "when the weapons of discord were destroyed". You guessed it, the apocalypse which changed the world.
There are strange anomalies in chronology: Simon's gang retrieve pieces of a Hyundai car, and yet the musical language has not evolved beyond the baroque – they are all playing viols and lutes. Smaill's use of a modern template confuses rather than assists her story, her London seems mostly empty and deserted until a crowd is needed to disappear into.
If China Mieville's London is steampunk, then this is more wind baroque. The story rather founders in the Thames mud before the heroes leave town and things lively up a little.
This is a brave, if occasionally unsuccessful novel, and Anna Smaill has her own style full of musical cadences and tempi: lento, presto, piano, forte. But ultimately I got around to thinking that this would work a whole lot better as an audiobook or a 1971 double gatefold concept album type thing, which the author would seem to be fully qualified to compose herself.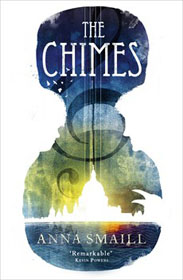 At its best, The Chimes reminds me a little of the early novels of Angela Carter, though Smaill's prose could use an injection of romanticism and Sturm Und Drang in places. JS Bach is a shoe-in as the only composer to get a mention and he dutifully appears in the text.
Her poetic style is to be commended, but tends to drag and obscure the storyline too often. In that respect, particularly during the rural intro, it reminds me a little of Russell Hoban's Riddley Walker – a brilliant concept and use of language that is ultimately over complex, dragging the story down and making it hard going in places.
The most successfully rendered of these type of books, such as Mervyn Peake's Gormenghast, use a more familiar language and take place outside specific time or place.
This is basically a novel which will appeal to other writers, lovers of language and stylistic writing. Despite all the caveats stated above, you're still better off reading this than most of what passes for English fiction these days.
But again, an abridged audiobook with bespoke soundtrack or a concept album in the manner of The Lamb Lies Down On Broadway as re-imagined by Kate Bush would make this a much more interesting proposition.
This is ultimately an over-long and flawed début which nonetheless in its ambition and scope promises well for future works. But in this multimedia age Anna Smaill needs to get off her clavichord and start playing us her music, and talk less about it.

Author
Anna Smaill
Title
The Chimes
Publisher
Sceptre
Price
£14.99 (Hardback), £7.49 (eBook) on sale 12th February
More info
Publication web site
Similar topics
Narrower topics