This article is more than 1 year old
Post-pub nosh neckfiller: Chickpea stew à la Bureau des Projets Spéciaux
Notre own ripsnorting ragout recipe – avec pork, naturellement
As winter tightens its frosty grip across the land, and a chill wind bites hard to the quick, the moment has arrived to contemplate a hearty post-pub dish designed to fill bellies on a budget and warm the cockles of the heart.
So hereforth, mes amis, we present for your dining pleasure our very own Special Projects Bureau chickpea stew – a recipe based on a traditional Spanish concoction but honed over many moons to suit a slim wallet and the need to knock up bulk nosh in one hit.
Hold on, we hear you cry, if it's fundamentally Spanish then pourquoi is it called "Chickpea stew à la Bureau des Projets Spéciaux", and what's with all the autre French while nous sommes about it?
Well, nous avons décidé to class up our neckfillers by the totally unnecessary use of French favoured by Brit eateries, usually dubbed "carveries", which might offer on their menus Pleine lune de boeuf haché in pain américain served with pommes frites.
Hopefully, after a few weeks this will attract some cash-flush firm willing to sponsor our culinary efforts, if only with the offer of a valise packed with argent in return for us laying off le bloody français.
Fingers crossed. In the meantime, back to the matter in hand.
A typical Spanish chickpea stew - such as the famed Madrid version - cocido madrileño – is a meat and veg extravaganza requiring several hours prep and continual mollycoddling, principally in ladling meat fat scum from the surface of the brew.
This is most important, since said scum will sour the dish. A couple of years back, we cut the basic ingredients to the bone to suit boiling in a pressure cooker, which meant ditching the chorizo sausage aspect and precooking the panceta pork belly component to get rid of the nastiness before kicking off.
Over time, our recipe was perfected to get the maximum taste from the minimum of cheap ingredients, which are: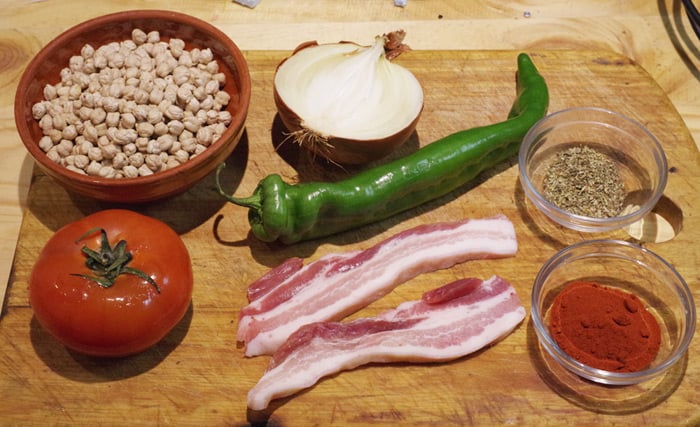 1kg chickpeas
A couple of large onions
2 Italian sweet peppers
2 tablespoons oregano
1 heaped tablespoon hot paprika (or sweet, according to taste)
500g panceta
2 large tomatoes
Salt and pepper to taste
Optional extras:
Garlic
2-3 chopped carrots
A smidge of chilli powder, if you like things a tad spicier
And with all that assembled, it's on with the traditional step-by-step: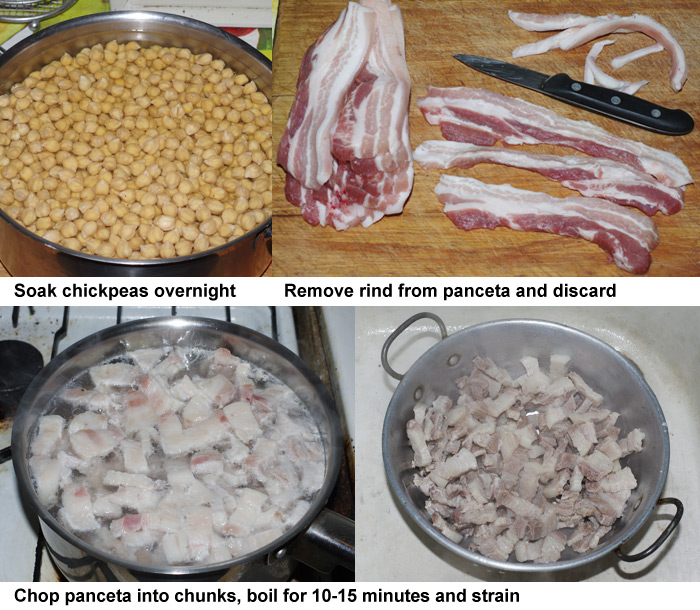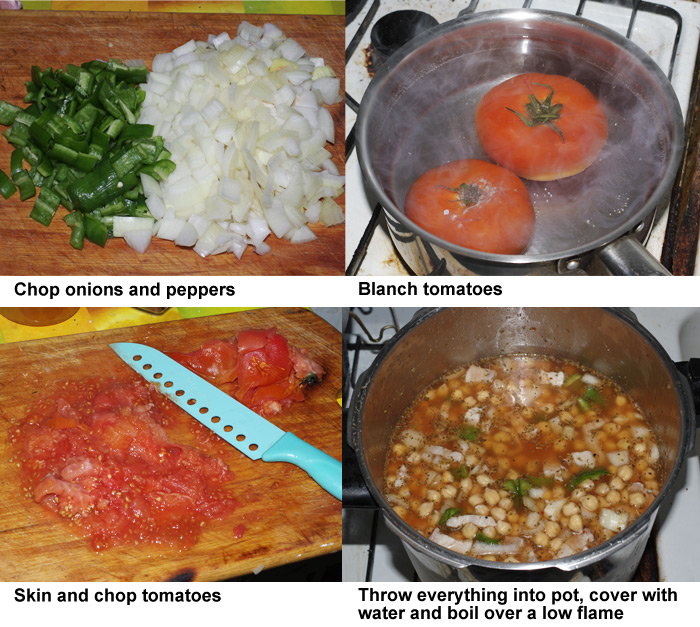 One important note: don't put salt into the water when you soak the chickpeas. This is an absolute no-no, unless you want them like bullets.
The cooking time in a normal pot over a low flame depends on the chickpeas, but ranges from two-and-a-half to three-and-a-half hours. In the pressure cooker this is reduced from between 15 and 20 minutes, depending again on the chickpeas.
Here's the result, presented by apprentice SPB boffin Katarina: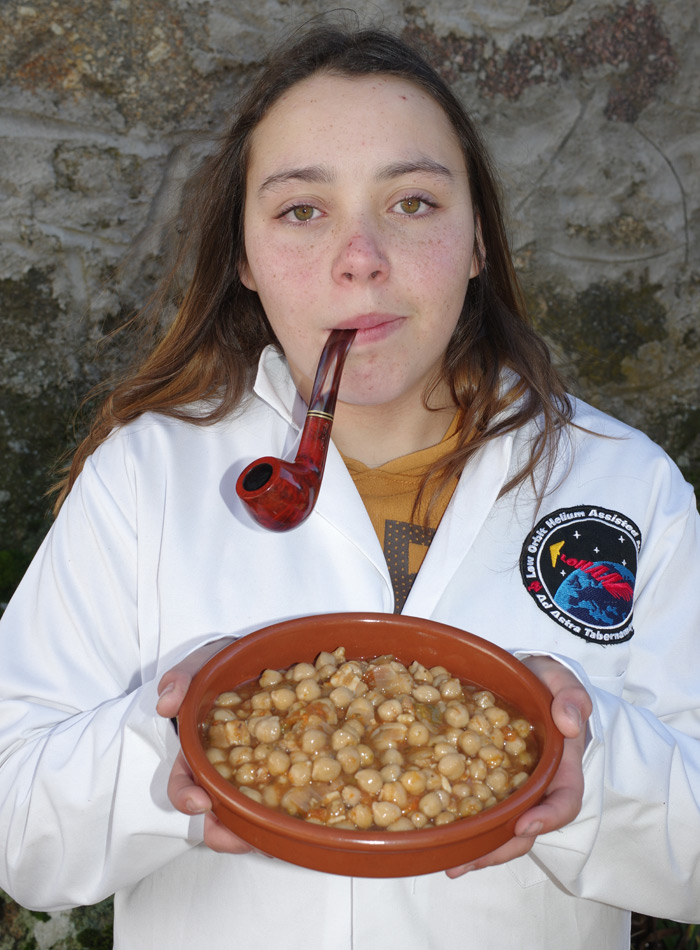 The cost our basic stew is less than €10, even with carrots and a few cloves of garlic thrown into the pot, and it'll easily stretch to filling four beer-sloshing bellies.
It can safely be prepared in advance and left in the fridge, ready for post-pub deployment with a quick blast in the microwave. A fried chorizo makes an agreeable accompaniment, although what really raises the stew to a winter blockbuster is the addition of a few boiled spuds.
Better still, we found, is knocking together Indian classic sag aloo (spicy potatoes with spinach), and adding that to the mix. Delicious: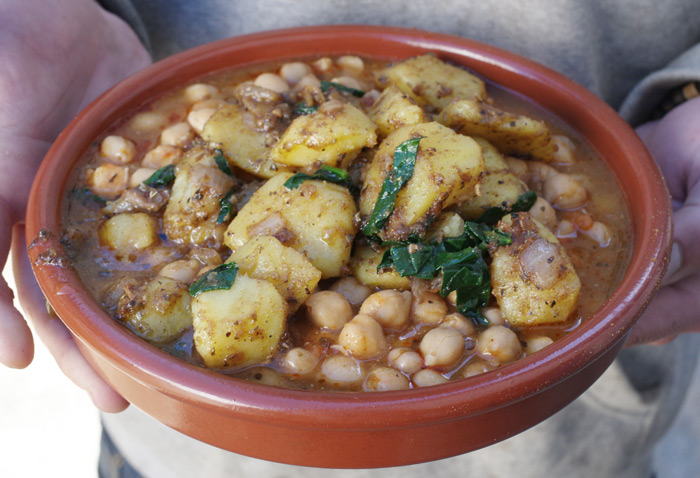 If you're wondering comment do I fais this sag aloo magnifique, we'll reveal all la prochaine fois...®