So, what can we do?
Talk to people in the ISP or telecoms business, and all too often they'll tell you how they've spent ages patiently explaining to people what's possible, only for the other person to say "Great. I'll give BT a ring."
Despite the passage of time since privatisation and the rise of competitors, a huge number of people simply go with the tried and tested BT name. And then there's old fashioned inertia. That's what kept my line with BT until the final straw of realising it was costing more than £20 a month.
I would expect that a huge proportion of Reg readers have taken advantage of Local Loop Unbundling (LLU) to get their broadband service from someone other than BT, but how many of you have done the same with your phone service?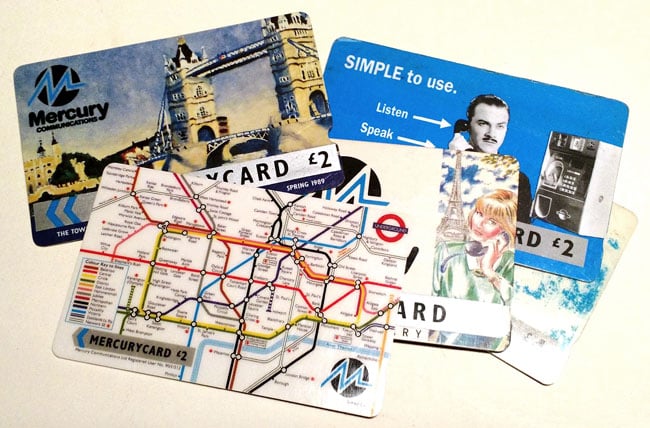 Carrier preselection with Mercury phonecards
There have, over the years, been a number of ways in which you can save money on calls. The first alternative to BT was Cable and Wireless' Mercury, which you accessed by dialling the 131 prefix, and as other operators sprung up, and prefixes proliferated – Carrier Pre Selection, or CPS was born. That ensures that all calls over your line will automatically be routed via a different phone company. And while it will avoid some of the other nuisances of BT's charging, like the "call connection fee", you'd still be paying the rip-off line rental.
Thanks in part to the unbundling driven by broadband, you can now unbundle your phone service. Having that choice is what now forces OpenReach to publish the wholesale prices mentioned above.
How does that work? At its simplest, a company – which doesn't necessarily have to be the same as your ISP – can take over the line rental, and bill you for that, and bill you for the calls, with everything still travelling over the BT network. The difference is that they add their own markup to the wholesale prices, and it'll probably still be less than BT.
It's also possible for a company to take over your line and, effectively, use CPS to route all the calls in a different way. You don't have to use the same company for your phone service as your broadband, though some large providers like TalkTalk may make it a condition of their service, and operate their own wholesale networks in some areas.
That said, in the interests of a simple life should anything go wrong, it may be best to go with your ISP anyway, if it provides a line rental option. At least there'll be less opportunity for passing the buck, and even if the company is simply retailing an OpenReach line, you'll still save.
Similar topics