This article is more than 1 year old
Dark Fibre: Reg man plunges into London's sewers to see how pipe is laid
We'll let him back in the office at some point
Deep Dive We've all seen it and we've all cursed it. Whether you're stuck in traffic or grimacing over the noise, digging up the roads to enhance or extend our communications pipelines is disruptive and causes frustrating transport delays. In oh so many ways, infrastructure in the UK is going down the toilet and for the likes of dark fibre outfit Zayo, this is all part of the plan.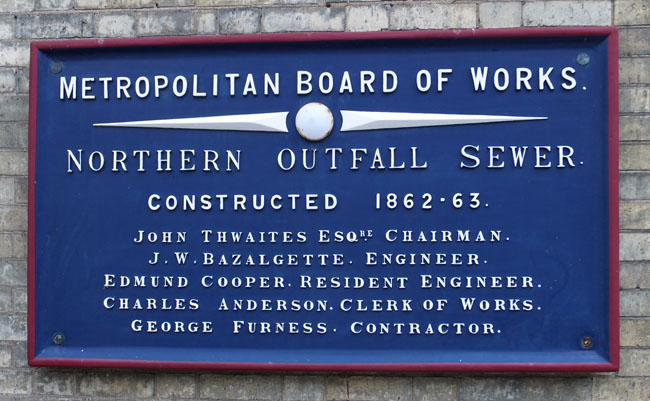 The Northern Outfall Sewer at Wick Lane also plays host to er, data dumps
With its HQ in Colorado, Zayo has made several acquisitions on this side of the pond in recent years with AboveNet in 2012 establishing its original London footprint. In 2014 it went national when it acquired Geo which brought with it access to 1,800 miles of fibre and a further 2,100 miles in Europe.
Owning Geo also took the company underground and into London's Victorian sewers where 100 miles of dark fibre are routed around the capital without so much as a JCB or pneumatic drill in sight.
The company has other cities in its portfolio of Metro networks including a 350 mile route of dark fibre around Paris following its acquisition of Neo Telecoms, also in 2014. So that's Geo, Neo and Zayo – you couldn't make it up.
It's not every day you get invited to descend into bowels of London's waterways but here was an opportunity to see just how this Zayo's latest assets pan out with a visit to the Thames Water Wick Lane Depot in Bow, East London.

Wick Lane hall of fame: artesfacts through the ages. In recent decades, a lot of spoons find their way into the sewers, disposed of by drug addicts – click for a larger image
Known as the Northern Outfall sewer it was constructed in 1862-3 as part of the design for the Metropolitan Board of Works by its chief engineer Sir Joseph Bazalgette. Showing remarkable foresight, Bazalgette not only worked out the diameter of the pipework required – by calculating densest population needs and making ample allowances for each person – he then doubled this diameter. He remarked, "Well, we're only going to do this once and there's always the unforeseen."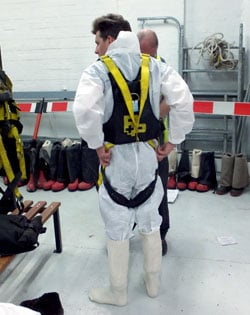 A visitor suits up: woolly socks and wellies abound
Certainly, if only his initial calculations had been utilised, the rise of the tower block 100 years later would have resulted in London's sewers overflowing by the 1960s. 150 years on, apart fom the odd fatberg, all is well down the tubes and there's enough space to accommodate more than an expanding population of city dwellers relieving themselves, as amid the brown fibres, dark fibre now clings to the walls.
First things first though. Zayo's irresistible invitation to walk around knee-deep in the capital's crap is not simply a case of pulling on some wellies and flipping open a man-hole. Well, actually, it is but not until you've signed a declaration that you can go up and down ladders without getting wobbly, are physically fit, weigh less than 18.5 stone and can cope with an industrial scale scatological excursion.
Suiting up involves a fair few layers. First off is the disposable white jump suit, you then pull on thick socks and rubber waders that cover the whole length of each leg. A safety harness is strapped on and you get two pairs of gloves. Take off the bulbous red ones and with the blue gloves you're wearing underneath you can just about operate a camera. Click: Wish you were here…