This article is more than 1 year old
Analyse THIS: Facebook alumni upstart Interana inhales MORE cash
Self-service data discovery analytics explosion
+Comment Why the hurry? Interana, an analytics startup co-founded by ex-Facebook engineers just got a 250 per cent rise in funding, $20m, less than four months after its initial $8.2m A-round.
Index Ventures led this round, in which new investors AME Cloud Ventures, Harris Barton and Mike Olson, chief strategy officer at Cloudera, participated. Existing investors Battery Ventures, Data Collective and Fuel Capital also punted in more cash.
Mike Volpi, general partner at Index Ventures, will join the Interana board, and will bring Big Data industry insights into the company, as he's on the boards of Elasticsearch and Hortonworks, which just made an initial public offering.
The Interana product enables real-time answers to questions like "How many users are lost at each stage in my online order process from search of product through to committing an order?" Knowing this you can focus on the biggest user leakage points and try to address the list user problem.
Interana is an time-ordered event-based analytics company that sequentially scans its disk-held database of events to stream-feed an in-memory working set via a flash intermediate store. OK. No one else does this and it says its technology is faster than an in-memory database fed by random IO seeks off a disk drive array.
It boasts: "We process over 100 million rows per core per second on commodity hardware."
In other words, it's providing high-speed analytics off Hadoop-style big data stored in its own proprietary database – which uses disk streaming to overcome the latency penalty on every random disk IO. The tech magic occurs in the data organisation in that database, and the extraction process from the database.
How does raw data – the events – get into its database?
Data can be read in from files with regularly file content update checking.
The files include CSV format, Apache Logs, JSON (structured schema-less format) and fixed schema formats like Avro, Protocol Buffers or Avro.
Data can come in from a live stream fed by Apache Kafka, Flume or Scribe.
It's stored in columns and not rows; long continuous segments so it can be stream-read rather than scanned.
With a JSON-like format, Interana can detect a new column appearing and ingest it at a policy-driven rate.
Columns are cached in memory.
The database is spread across a cluster. Adding nodes causes data re-distribution via sharding.
The technology can scale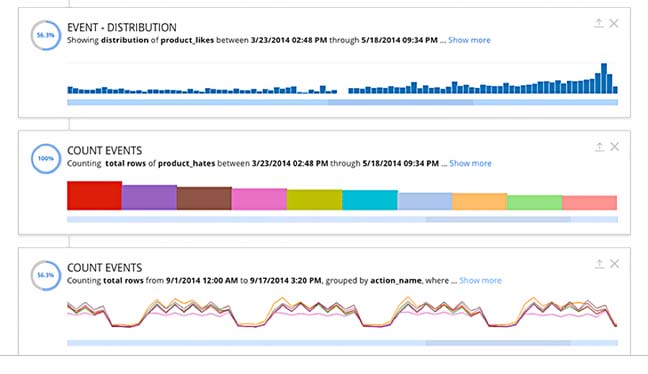 Interana's pretty charts
Users set up queries using a point-and-click GUI and get eye-candy graphics as well. You don't need to be a trained data scientist to use it; ordinary process managers in a line-of-business unit can operate and optimise their processes with it.
It received A-round funding because the initial product technology looked great. Now, four months later, it claims it has:
customers in a range of industries, including companies such as Asana, Orange Silicon Valley, Tinder, Sony, Imagers and BloomBoard,
is staffed up by 35 per cent to get more engineers, product designers, customer service and sales support people.
The company says it "provides key business metrics, such as growth, retention, conversion and engagement, to be identified in seconds, like a Google search, rather than the hours or days it often takes existing solutions."
Why the hurry? It wants to get its analytics platform established before those of the competition. Already Teradata has columnar database organisations in its sights.
Anything involving a sequence of clicks by users can be analysed on a self-service basis, pretty much in real time, by Interana users – data science class results without the data scientists. IDC thinks such visual data discovery tools will grow 2.5 times faster than the rest of the business intelligence market. All businesses, it claims, will need to buy such end-user self-service tools by 2018. Theatre's a growth explosion possibility.
+Comment
If Interana's execution of its startup business continues at this level we can imagine a $100m-class C-round in 2016 followed by an IPO in 2017.
Alternatively, a moribund software behemoth like Symantec might waken from its slump and buy it now. A storage hardware/software company facing stagnation in its mainstream product lines could also buy it, thinking this could be a $1bn company in the making – but let's not get ahead of ourselves.
Arguably this is one future of storage: closely integrating compute, storage and software to provide fast analytics for everyone concerned with online businesses. It's a long way from networked access to filer, block and object storage silos and may be another one of those technologies that CIOs find already operational in their businesses rather than having to buy it to bring it into their businesses. ®