+Comment Commodity server vendor Super Micro has reached a $2bn run rate with its latest quarter's results.
In Q2 fiscal 2015, the three months that ended 31 Decemer 2014, revenues jumped 41 per cent year-on-year to $503m, as profits grew to $31.24m, 134 per cent up the same period in fiscal '13.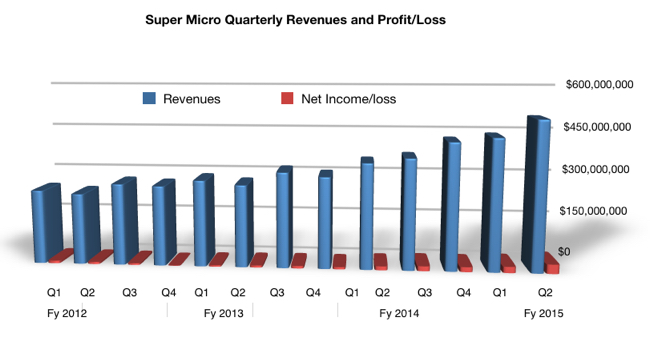 Super Micro quarterly revenues to Q2 fy2015
Whitebox Super Micro sells its servers to OEMs, like Nutanix, numerous storage array suppliers, such as EMC, and cloud service providers. As servers are seen more and more as a commodity, hyperscale buyers are tending to buy direct from suppliers like Super Micro and less from mainstream server vendors such as Dell, HP, etc.
The firm's annual growth curve is steady and impressive, with fy 2014 revenues of $1.47bn: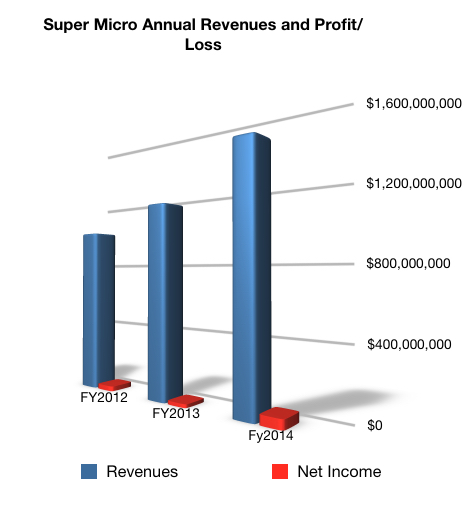 Super Micro Annual Revenue trend
IDC's August 2014 server tracker ranked HP the number one server supplier with 25.4 per cent of the market. It was followed by IBM (now Lenovo we suppose) with 23.6 per cent, Dell with 16.6 per cent, and Cisco and Oracle in joint fourth position with 5.8 and 5.9 per cent respectively.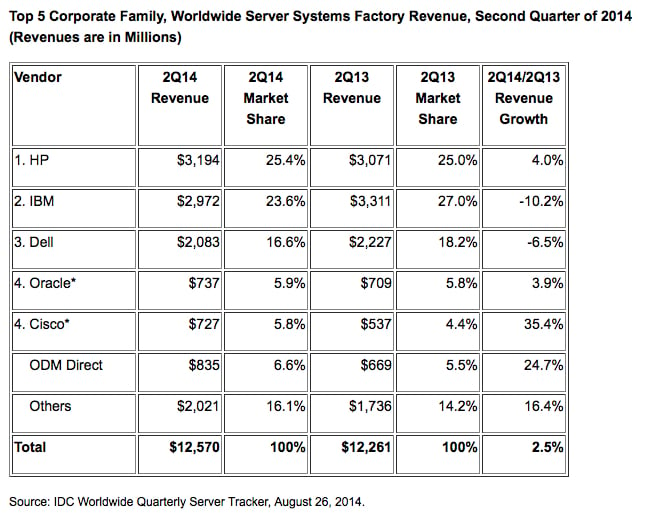 The revenue growth rates IDC calculated, from Q2 2013 to Q2 2014, were:
Cisco 35.4 per cent
ODM Direct 24.7 per cent
Others 16.4 per cent
HP 4 per cent
Oracle 3.9 per cent
Dell -6.5 per cent
IBM -10.2 per cent
The overall server revenue growth rate was 2.5 per cent. Over the same period we calculate Super Micro revenues grew 34.4 per cent – faster than Cisco, and its growth has accelerated to 41 per cent.
Comment
Our reading of the situation is that Super Micro is going to emerge from the pack, extrapolating that growth rate, as a near $1bn/quarter company in two quarters' time, potentially overtaking Cisco and Oracle server revenues.
By adopting SanDisk's ULLtraDIMM technology Super Micro should make its servers exhibit lower latency for data accesses to flash than any mainstream server supplier, except Lenovo which is also adopting the technology – assuming SanDisk supplier Diablo and Netlist sort out their who-owns-what-IP dispute. ®
Similar topics