This article is more than 1 year old
NetApp embiggens E-Series flashbox: Gee, a benchmark... thanks
Doubles speed and capacity
NetApp has doubled the speed and capacity of its all-flash E-Series arrays, and won an SPC-1 benchmark record in the process.
The new EF560 is an E-Series all-flash array that builds on the existing 25-month-old EF550 to raise its sustained IOPS number from the 400,000 or so at EF550 launch time in November 2013 to past 650,000.
Flash capacity rises from the EF550's 96R+TB to 192TB and the 4x40Gbit/s InfiniBand points on the EF550 get lifted to 56Gbits/sec. The EF550's original 8x6Gbit/s SAS ports speed up to 12Gbit/s.
The EF550 had 800GB 2.5-inch SSDs available at launch, while the new machine has 400GB and 1.6TB alternatives available – as does the EF550 presently.
At launch the EF550 had volume copy whereas the EF560 has snapshots and replication as well, with the updated SANtricity OS (v8.20) and full drive encryption (with 800GB SSDs.) NetApp said the v8.20 SANtricity "features multi-core performance and online disk firmware upgrades".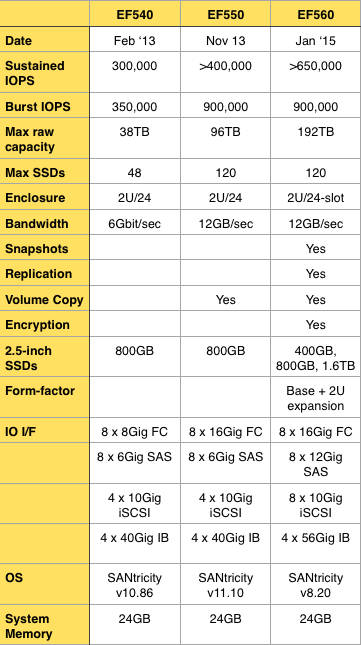 EF540 - EF550 - EF560 progression
NetApp has submitted the EF560 to an SPC-1 benchmark run and scored 245,011.76 IOPS, marginally less than an 6-node FAS624 ONTAP array's 250,039.67.
That array's average response at 100 per cent load was 3.35 milliseconds with a $6.69/IOPS rating; the EF560's was far faster, at 0.93 milliseconds, and with a $0.54/IOPS rating, the best rating of any array in SPC-1 test history except for a Kaminario all-DRAM array's $0.40/IOPS.
NetApp also added a hybrid E5600 array. Think EF560 inside a disk array kind of thing, which delivers what NetApp says is "increased performance and reliability for more capacity-intensive SAN applications including data warehousing, email and backup".
There are three models:
E5660 - 4U/60 2.5/3.5-inch drives - 360TB - 2.3PB (with 6TB drives) - 120 SSDs max
E5624 - 2U/24 2.5-inch drives - 43.2PB - 2.2PB- 120 SSSDs max
E5612 - 2U/12 3.5-inch drives - 72TB - 2.3PB - zero SSDs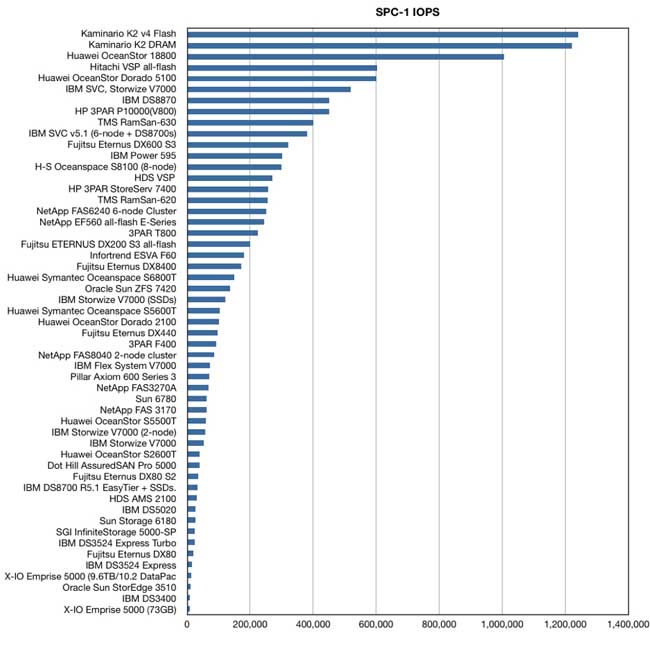 NetApp EF560 SPC-1 IOPS.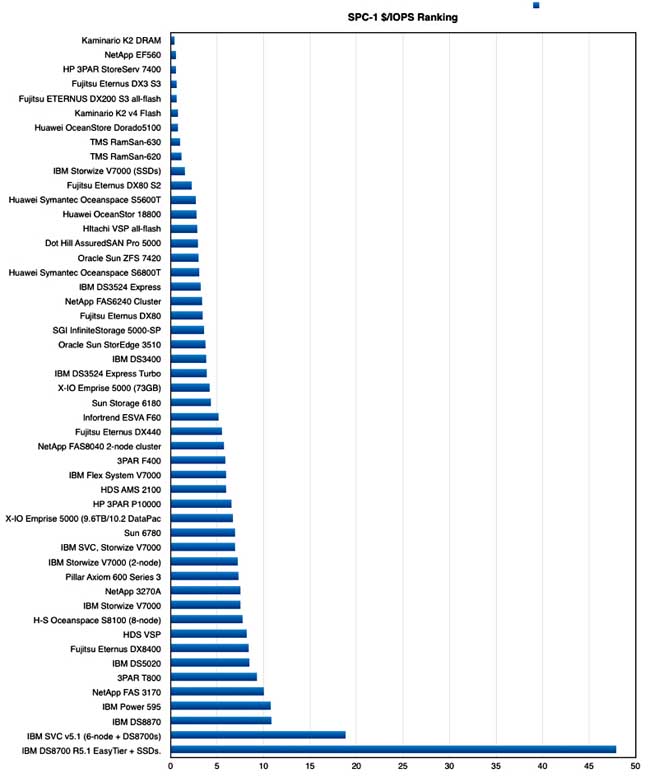 NetApp EF560 dollars per SPC-1 IOPS.
We're expecting news about developments of NetApp's in-house-designed FlashRay all-flash array in the next few weeks.
The EF560 and E5600 are available now. ®