This article is more than 1 year old
The firm that swallowed the Sun: Is Oracle happy as Larry with hardware and systems?
One swallow didn't make a summer
Oracle-Sun anniversary One Sun swallow doesn't make a hardware summer, and while it certainly hasn't for Oracle, it is far from being in a hardware winter for the firm.
Oracle's gulp of Sun Microsystems on 27 January 2010 – five years ago today – has resulted in a generally flagging Sun hardware product business and the growing Engineered System product set.
Oracle bought Sun so as to build integrated stack systems, its engineered product line, and improve on what it saw as the then mainstream best-of-breed component-based stack of application-through-to-server-hardware components. It needed control of its own processor, server hardware and operating system added to its middleware applications to do this.
This has been arguably largely successful – although Solaris' role as an open-source OS alongside Linux has faltered and Linux is used inside Oracle's engineered systems.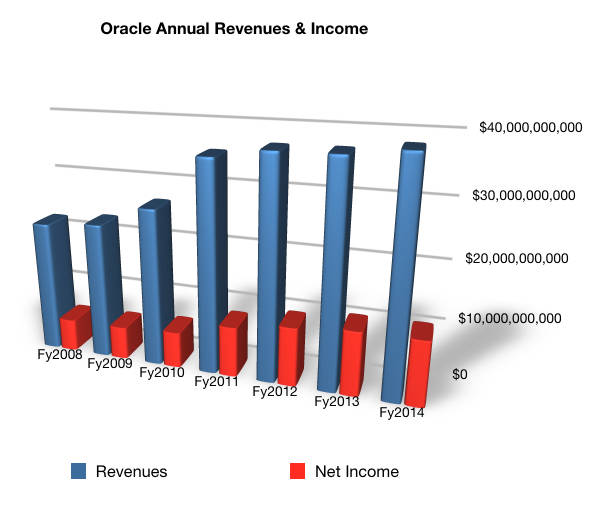 Oracle annual revenues and profit since Sun acquisition
The acquisition bumped Oracle's annual revenues up from the $22-23bn area to $27bn and then $37bn. Its challenge now is to grow that past $40bn. Although Oracle's overall revenues and profits have grown since the acquisition, its hardware product-only revenue has trended down.
This is shown in two graphs. The first shows Oracle's quarterly hardware product revenues since the purchase: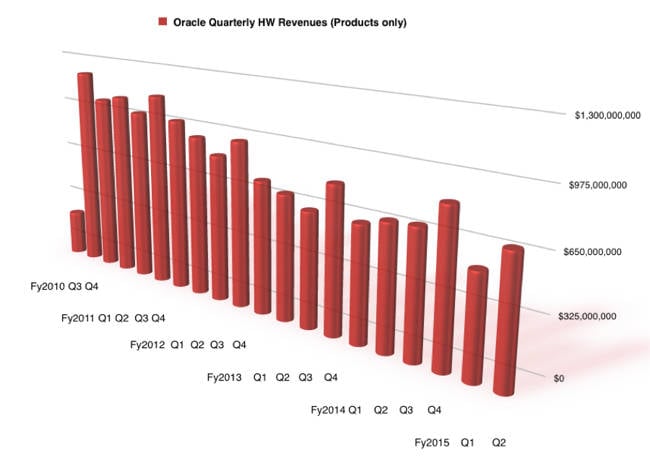 We can see a falling trend to the third 2013 quarter and then rising numbers (on annual compares) to the first fiscal 2015 quarter with a strongish rebound in the latest quarter. Can this become a growth trend for the rest of the year, concluding with Oracle's seasonally higher fourth quarter? That would be some turnaround.
The second chart shows these hardware product revenues represented as a percentage of Oracle's overall revenues: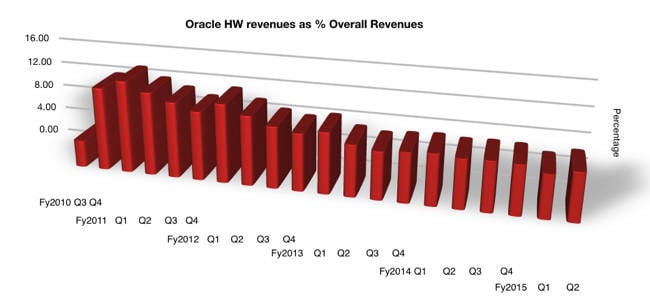 This shows a steady series of falls that flatten out and then an upturn in the latest (second fiscal 2015 quarter) revenues. As Oracle's cloud-based revenues rise, they could depress hardware revenues as a percentage of overall Oracle revenues.