This article is more than 1 year old
A year with Canada's Volvo-esque smartphone – The BlackBerry Z30
It's a phone! It texts! It calls! It surfs the web. OK, it's rather nice
Comment Why return to the Blackberry Z30, a phone that's over a year old?
Well, the smartphone has matured impressively since its launch in 2013, and BlackBerry is about to introduce a major revision to its software: BlackBerry OS 10.3.1.
The Z30 remains the most up-to-date all-touchscreen BlackBerry to run this operating system. There are no new all-touch devices are on the horizon – the Passport and Classic have QWERTY keyboards.
And the price has dropped to about £250 ($379, CAN$470) for a new Z30. For businesses and for professionals who need a Volvo for a phone – a solid workhorse in other words – there's much to commend it. Given I've used one for much of the past year, it's time to share a reappraisal.
I hesitate comparing anything to a Volvo. In the US, Volvo owners have a reputation of being ageing hippies. In the UK, they're thought of as wankers. But the analogy isn't flippant or lightly made. The Z30 has a rock-solid construction that is constantly assuring and has survived a few drops without flinching thanks to its strong steel chassis. It seems to be hewn from a different kind of rock to other smartphones.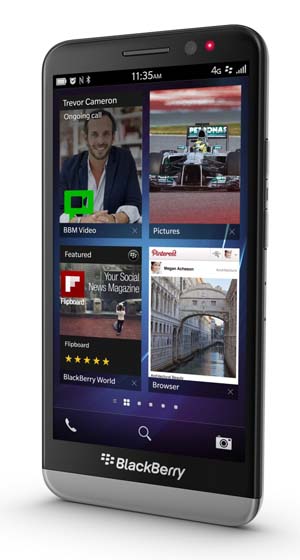 I get given a lot of handsets to try, yet the Z30 has consistently earned its keep thanks to its excellence at one or two things that happen to be the staples of communication. Calls sound warm: it has the best stereo speakers for voice calls of any device I've tried. Reception is outstanding where there's a poor signal.
What it lacks in sizzle, and there isn't much, it makes up for in steak, offering a rich communicator-like experience with the ability to run Android apps as well as BlackBerry OS applications. It comfortably gets you through a day, and works even better while running the unofficial test versions of the latest software.
It also has two other aces: the best on-screen keyboard I've used on a mobile device, and a consistently speedy and reliable web browser. The keyboard seems to be a well-kept secret. You flick up to insert a word and flick down to switch to symbols. (An old favourite from vintage BlackBerry handhelds, word substitution aka word expansion, has been retained.)
The performance of the well-written browser has kept the Z30 feeling reasonably up to date even though more recent devices have more oomph. In a nutshell, that's why it's endured a year's work, in which I've been sent every major device, and some minor ones too.
The Z30 handset
The company formerly known as RIM crashed and burned in 2013 - and by the time the Z30 appeared at the tail end of the year, you couldn't see it for the smoke. The Canadian company had gambled on Blackberry OS 10 as its springboard for a comeback, but despite packing QNX at its core, the phone platform was immature and too resource hungry to power budget devices.
RIM also tried to be all things to all people, imagining people would discard their investments in iOS and Android, which were and are much more mature platforms. Even if BlackBerry had executed flawlessly, a comeback was always going to be a tall order. Its customers had bifurcated into two completely different market segments: enterprise buyers on long purchase cycles, and low-income and developing markets. Aside from a handful of law firms, the market ignored BB OS 10. Which meant that the "luxury" model, as the Z30 was positioned, was a bit superfluous.
The Z30 was pretty difficult to find, even if you wanted one, with the cell networks showing little or no interest, and it suffered from limited distribution. And where it could be found, it commanded a premium. Today the platform has matured nicely, based on the latest leaked test versions.
Don't expect to find widgets or flipping tiles here, or a slow-mo 120fps video camera.
But at around £250, it's well worth a look for power users who are focussed on work.
To recap, the Z30 weights in with an OLED 1280-by-720-pixel display measuring 5in diagonally. At 294ppi, it isn't pulling up trees, but it is perfectly serviceable. It has 2GB of RAM, 16GB of flash storage expandable via a microSD slot, and an 8Mp 3264-by-2448-pixel camera and a secondary 2Mp one.
The backplate is removable only to allow a flip case to be fitted without extra thickness, rather than change the battery. What might have seemed cumbersome in 2012 at 170g – some reviews dabbed it a "phablet" – isn't so much now 5-inchers are the mass-market norm.
The 1.7GHz dual-core Qualcomm MSM8960T (S4 Pro) chipset is very 2013, putting it firmly in today's midrange. If you're after a workhorse rather than a pocket supercomputer, you won't mind - I found the user interface animations more of a hindrance than the hardware limitations, and I'd wish these could be turned down or off completely.
If you find a Z30, it will most likely be running BB OS 10.2.1, released exactly a year ago. Today's devices were skipped in the version 10.3 update, so a "big bang" upgrade to 10.3.1 – bypassing 10.3 already available for Passport and Classic – is expected any day now.
The out-of-the box messaging capability of BlackBerry OS 10 is far stronger than that of iOS, Android or Windows Phone. The Hub underlies everything. You can "peek" at your message in-tray from anywhere within the phone's apps and user interface, and then tuck it away quickly. Sometimes it's a little clunky: the implementation of the Hub sometimes doesn't match its ambitions. Deleting emails is easier on an iPhone.