This article is more than 1 year old
Friends, Canadians, countrymen: Would you buy a GOLD PLATED BlackBerry Passport?
It don't mean a thing if you ain't got that bling
Review A couple of weeks ago, BlackBerry released a limited edition series of Passport phones plated with 24 karat gold. Priced at $999, the run was limited to just 50, each one numbered. To which you well ask, "Why?"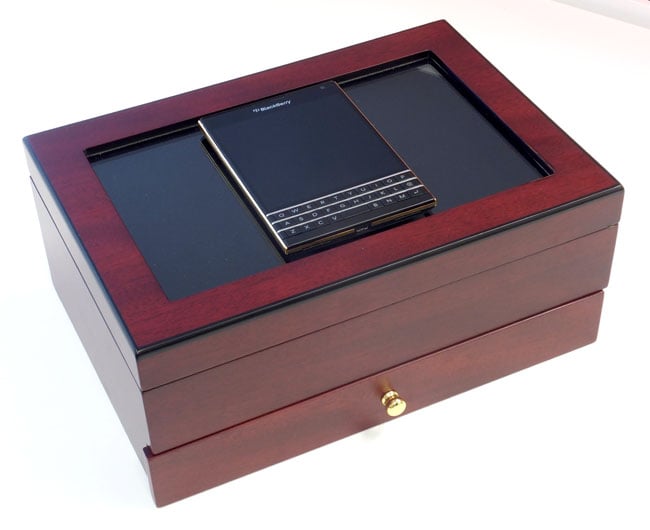 Missed out on BlackBerry's own special edition? Goldgenie makes the case for precious metal plating on smartphones
The Passport is such a striking phone, so different that merely toting a regular smartphone, that it makes quite a strong statement anyway. It means you don't give a fuck about technology "trends". You're not a fanboi or a teenager. You probably have your own private cinema, so you don't need to watch Netflix on a phone. You have the keys to the executive toilets, the C-suite throne room.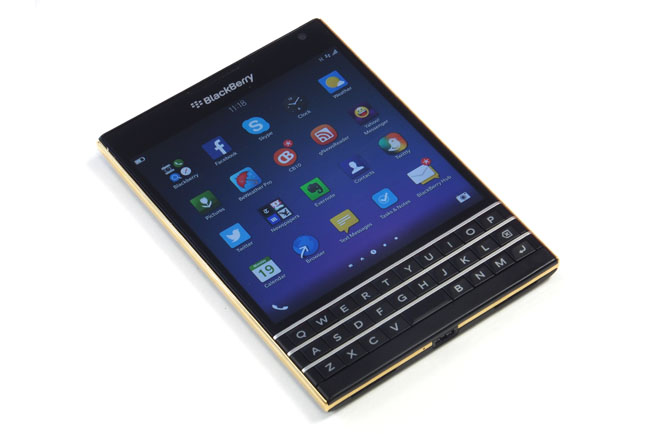 Golden rectangle
Well, a gold-plated Passport says all this, but more so. Not only can you use the executive bogs, but you know an Arab potentate or Russian oligarch. Or maybe you are one. Over a gold-plated Passport you can discuss the unfairness of George's stamp duty increases. Or how you dropped your last one into a champagne-filled bath.
Or something like that.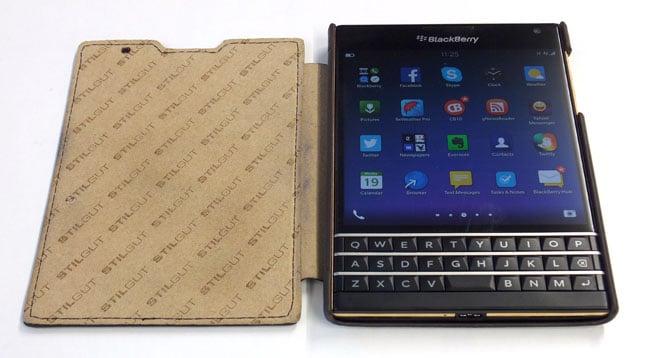 Stilgut case not included, but even with all that gold plating, it still fits
With all phones looking pretty much alike, and any distinguishing features flattened by a cheap case, there's a burgeoning business in gold-plating. Just as BlackBerry was flinging out its golden 50, London-based gold-plater Goldgenie popped up. How could we say no?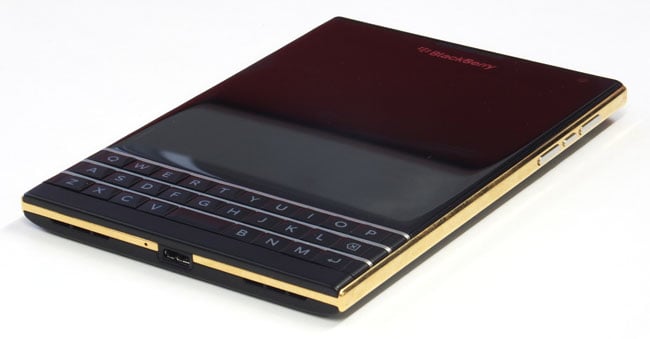 'Berrys' All gold
Goldgenie have a burgeoning gold-plating business. Beginning with custom jobs for 'slebs such as Simon Cowell and Elton John, their plating business has grown into what you might call "affordable" plating. The price tag for 24k gold-plating the Passport is about the same as the cost of an unplated Passport: £414.17 excluding VAT. For plating the beautiful all-aluminium casing of the HTC One M8, the price starts at £822.50 ex. VAT. Rising to £922.50 (ex) for a Platinum plated back and sides. Obviously, there's a lot more metal on the M8.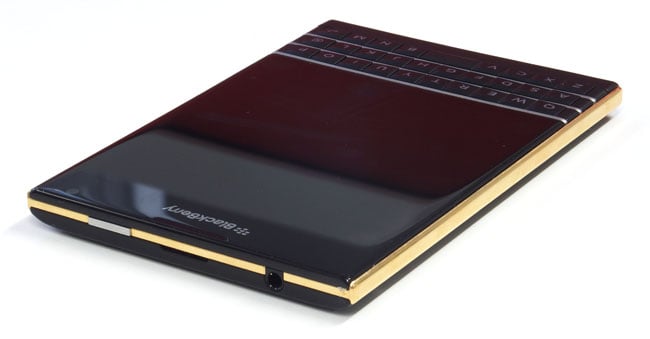 Golden receiver
Goldgenie first dismantles the phone before applying a 5 micron thick layer of 24k gold by electroplating. The metal is polished, then treated a chemical called "Stainless Steel Activator" – an etching solution which makes the surface porous and allows the gold to bond to the surface. The gold is then applied to the phone. Another chemical process seals the gold so it doesn't flake. The phone is then reassembled.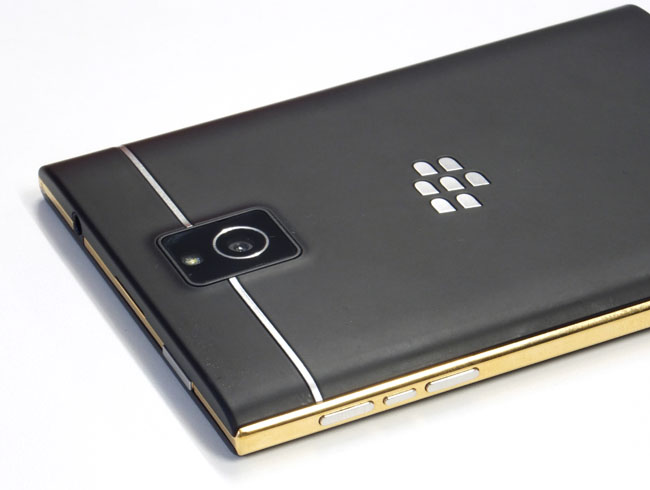 Goldeneye
As you can see, the Passport is returned with a lifetime warranty and a hefty wooden case. There's no evidence the phone has been taken apart.
The effect on the Passport is quite subtle – or as subtle as 24k gold can be, anyway. Somewhat disappointingly, the mechanical buttons and distinctive keyboard frets remained silver, and weren't gold plated.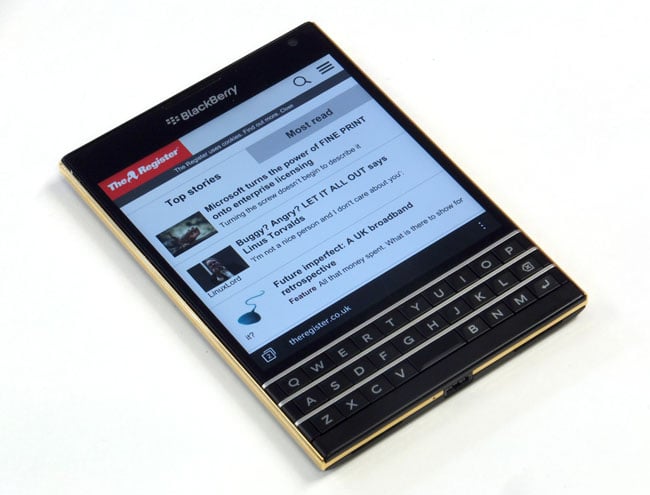 Golden moments
"Unless especially requested, we tend not to embellish those for aesthetic purposes, as it adds definition and the same goes for the frets in this case," Goldgenie told us. That's a shame, as BlackBerry's limited edition plates every bit of metal. Then again, if you can find one of them, it'll cost you quite a lot more.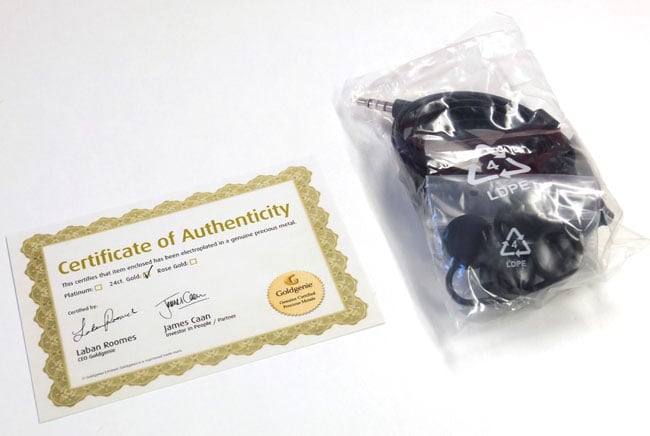 End of the rainbow: headphones remain unadorned
We took a few photos. So tell us what you think. ®