This article is more than 1 year old
Five years of Sun software under Oracle: Were the critics right?
They said Java, MySQL and Solaris were all doomed
Putting the OS out to pasture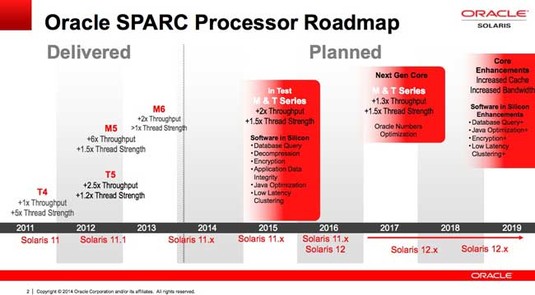 Unfortunately, the same can hardly be said for Solaris. Once the shining star of Sun's software portfolio, Solaris' luster began fading as Linux grew in prominence in the early 2000s and it has only continued to dim under Oracle's control.
It only took a few months after the Sun gobble closed for Oracle to pull the plug on OpenSolaris, the community-driven open source version of the OS. Unsurprisingly, the entire OpenSolaris Governing Board resigned, effectively handing back complete control over Solaris to Oracle.
Since then, Solaris development has lumbered on at a steady but molasses-like pace. Solaris 11 reached general availability in November 2011. Since then, there have been two more releases. The most recent, Solaris 11.2, shipped in July 2014.
As with MariaDB, there have been forks. The Illumos Foundation now oversees both its eponymous Solaris offshoot and OpenIndiana, the latter being essentially a continuation of the OpenSolaris effort. But these projects, although sponsored by a number of prominent storage and cloud computing companies, have gathered only a limited audience.
Perhaps most telling is that Oracle has shipped many of its high-end "engineered systems" running Linux, rather than Solaris. It has even gone as far as to port DTrace – arguably one of Solaris' more coveted features – to the Unbreakable Linux kernel.
None of this is to say Oracle plans to mothball Solaris completely. But there's little incentive for Big Red to market Solaris as a major differentiator for enterprise workloads when the other major commercial Unix vendors have already lost the fight to Linux years ago.
Rather, expect Linux to look more like Solaris as the years roll on and for the Solaris brand itself to be mentioned ever less frequently.
Five years before Larry's mast
So were the naysayers right? Has Oracle's purchase of Sun resulted in the dismantling of a once-great software portfolio? The answer, it seems, is a mixed bag.
If you were a fan of some of Sun's more obscure software offerings, or those that duplicated Oracle's own products, your answer will likely be a resounding "yes, it's all over." Take, for example, Oracle Virtual Desktop Infrastructure, along with its corresponding Virtual Desktop Client and Sun Ray terminals, which reached the end of their support life earlier this year.
If you were hoping Oracle would carry on down Sun's path of open sourcing its entire software portfolio in hopes that subscription support revenues would be enough to fund continuous development, the writing on that score is clearly on the wall, too – although you were probably a little naïve to begin with.
If, on the other hand, you just want to see important IT building blocks like Java, MySQL, and (to a lesser extent) Solaris continue to exist, then you seemingly have little reason to worry. Oracle has invested heavily in each of these technologies and shows every sign of continuing to do so.
After all, Java, in particular, is as important to Oracle as it is to any other Java development shop. All of Oracle's Fusion applications are built using it. The one worry is whether the former Sun software technologies progress so slowly under Oracle's oversight that they start to seem as dinosaurs compared to newer alternatives – the true Cobols of the modern age. But there's still hope that this won't happen.
The trade-off, of course, is that you'll never again be a Sun customer. Those days are long gone. And negotiating Oracle licensing terms can be a bitter pill for anyone to swallow, particularly if they're new to the game. The real question is, are you up to it? ®