This article is more than 1 year old
Fanbois to gamebois: Apple paperwork reveals iOS FUNPAD
Hey, Nintendo – look here. No, here, not at this patent. Don't want to make you cry
Apple has been granted a patent in the US on a gaming controller pad for iOS-powered things.
The iPhone giant's "novel" design describes a device with directional pads, buttons and speakers (that doesn't sound familiar at all.)
Rather than include a display, the controller would have an open slot into which an iOS device could be placed to provide the screen and processing power.
"Other possible features include microphones, cameras and camera lenses, speakers, a second screen, rumble, and motion detection," Apple said in the filing, originally made in 2008.
"The game accessory may have a recess sized to fit the portable electronic device. Inserts or removable adapters can be used to fit portable electronic devices having different sizes."
Such an adaptor would help to address one of the more annoying aspects of gaming on the iPhone: on-screen controls. Absent buttons and joysticks, developers have to use touchscreen controls that can be inaccurate and difficult to properly operate on a phone or tablet.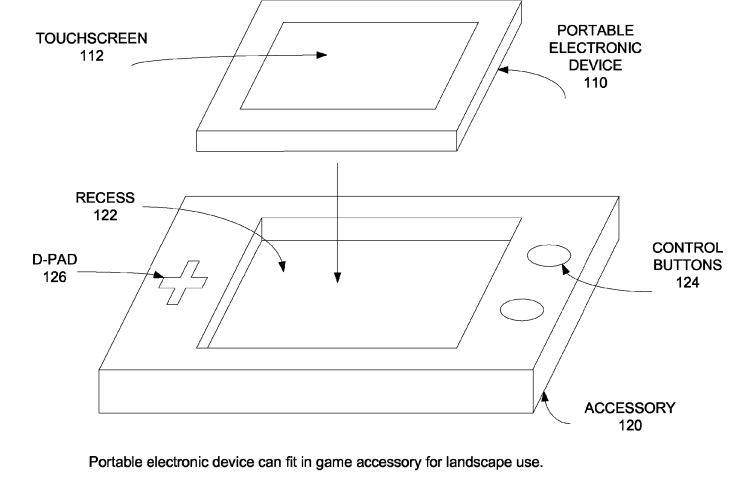 The phone could attach via an adapter or wireless
While not a player in the home console (and PC) gaming market, iOS has become huge for "casual" games. Apple has shifted tens of billions of app downloads, many of which are games. Third-party cases or adaptors with gaming controls are sold for both iPad and iPhone.
But there's no need for the folks at Nintendo to run screaming in terror just yet – Apple's still a long way from delivering a DS killer. The patent has been pending for six years and such filings aren't a guarantee that a project would ever actually make it to retail. It could be that Cook and co. have already moved on, if they were ever considering this in the first place. ®