This article is more than 1 year old
Google Translate MEAT GRINDER turns gay into 'faggot', 'poof', 'queen'
Offensive word 'bulldyke' still being served up by ad giant
Google has apologised after its language-scraping service offered up offensive alternatives including "poof" and "faggot" as replacements for the word gay.
Campaign group All Out spotted the blunder and complained about the slurs to Google. The ad giant then replaced the words with more neutral terms.
The worst insults to homosexuals appeared to happen when the word gay was translated from English into Spanish, Portuguese and French.
Google told All Out:
We apologise for any offence this has caused people.
As noted by the campaign group, "Google already has the technology to filter out hateful language: typing 'female' doesn't throw up sexist words."
However, Google might want to take a little look at its translation of the word lesbian from English into Spanish, seeing as the term "bulldyke" – which is often used by hateful idiots as a nasty slur – is offered up as a synonym for a homosexual woman.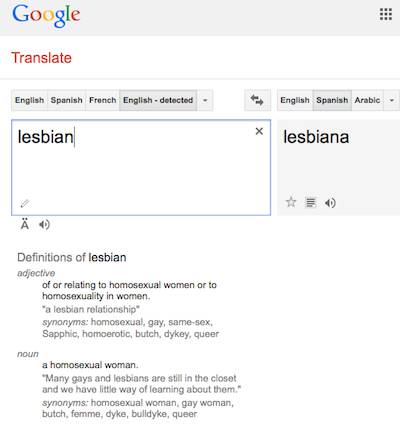 Fail. ®
Top pic courtesy of All Out.