This article is more than 1 year old
NexGen polishes guns, prepares to face hybrid array legions
State of independence brought revenues
Analysis Hybrid array startup NexGen is starting out afresh having been spun out of SanDisk, and now faces the full competitive force of hybrid competition from both mainstream array vendors and the up-and-coming trio of Nimble, Tegile and Tintri. What are its chances?
NexGen was an iSCSI-based hybrid flash/disk array startup which used Fusion-io PCIe flash cards. In April 2013 it was bought by Fusion-io, which was subsequently bought by SanDisk, which decided it didn't want to be in the array business and spun it out via a private equity purchase.
NexGen now says it has arrived at its renewed state of independence with record fourth quarter 2014 revenues, triple digit quarter-on-quarter growth and hundreds of new customers. That all sounds pretty healthy enough.
It claims customers can "purchase ~10X less usable flash capacity while delivering ~4X lower latency versus all-flash SSD arrays" – a bold claim indeed. Another is that it delivers four-times lower $/VM cost than leading (unspecified) hybrid arrays – something its channel partners will be happy to demonstrate we suppose.
Product update
Nexgen has updated the original 3-box n5-nnn product line to a 4-box N5-nnn set with greater flash and disk capacities and more performance. The core attributes of this literally next generation of its technology are a flash caching scheme with settable app-aware quality of service (QoS) policies, and the use of PCIe flash; faster than SSDs and not taking up drive bays like SSDs.
At a simple level the N5 arrays are 3U, dual controller, active-active, hybrid arrays with an iSCSI interface. The flash is installed as SanDisk (Fusion-io) PCIe flash cards and functions as a read and write cache. Performance can be increased by adding more PCIe flash and capacity by adding disk packs (16-slot shelves).
There can be two or four (SanDisk/Fusion-io) PCIe flash cards. Data is mirrored between PCIe flash cards on the two storage controllers. Writes go first to the mirrored flash cards, get acknowledged, and are then transferred to disk (evicted) if not being accessed.
Data on disk is striped and stored on RAID 6, hot-swap drives.
We understand that the full list of possible data locations runs from memory, through NVDIMMs (like Nimble Storage basically), PCIe flash and disk.
Old and new
A quick look at some details of the old (n5-nnn) and new (N5-nnn) product lines shows up some differences in capacities and IOPS.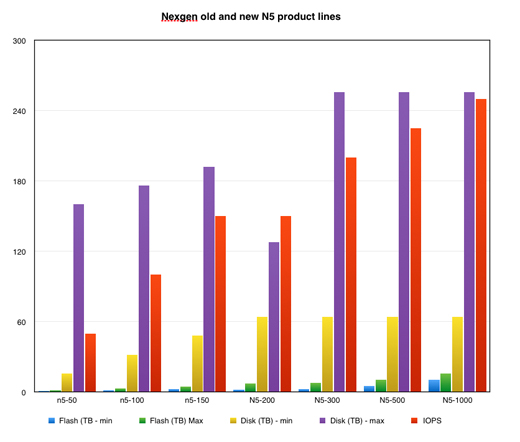 A table below lists the numbers from which the chart is derived:

The n5-50, -100 and -150 are the three original NexGen arrays and the N5-200, -300, -500 and -1000 are the four new ones. We can see that the amount of flash has risen as the n5-nnn trio give way to the N5-nnnn quartet, as have the other values for minimum and maximum disk, and the IOPS rating.
It is worth looking at the QoS side in more detail.
These IOPS numbers are in thousands, both in the chart and the table. So the N5-3000 has a 200,000 IOPS rating with the N5-500 going faster at 225,000 and the N5-1000 rated at 250,000 IOPS.
These higher IOPS numbers affect the quality of service available.