This article is more than 1 year old
CommVault CEO: Quick, throw me some more sales reps
Plummeting profits problem prevails for the data company
Data protection and archiving vendor CommVault is in a profits hole and management hasn't been able to stop digging yet.
Profits of just $3m in its third full-year 2015 quarter were only two per cent of revenues, after being 4.3 per cent in the previous quarter and five per cent a year ago, when revenues of $153.3m were slightly more than the latest quarter's $153m.
Growth for CommVault in the current financial year has come to a shuddering halt and profits are diving.
Bob Hammer, CommVault's CEO, has been combating a lack of sales staff, and the rise in demand for data protection appliances as an alternative to CommVault's inclusive suite of products, by recruiting reps and building appliance offerings.
So far this medicine hasn't helped to improve the top line revenue and profits numbers.
He drew hope from the revenue number representing "sequential quarterly growth", and said: "Our key standalone virtualisation and cloud operation solutions sets (appliances) that were priced and packaged for the mid-market segments received strong early market traction".
"We continue to remain steadfast to our objective of returning to strong revenue and earnings growth in the second half of next fiscal year," he said. That's a while to wait Bob.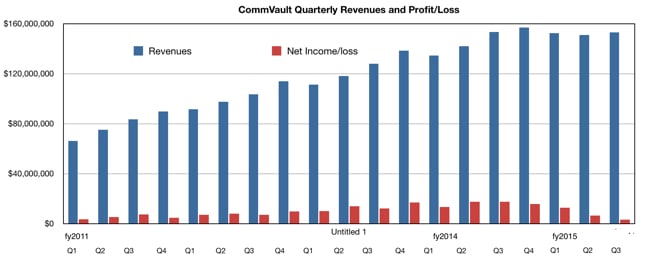 CommVault's revenue growth staircase has reached the landing
He is continuing to improve sales and channel productivity, and talked of making "very good progress on our next series of standalone products which are planned to launch in March, as well as the development of our next generation data and information platform which will go into beta in the near future".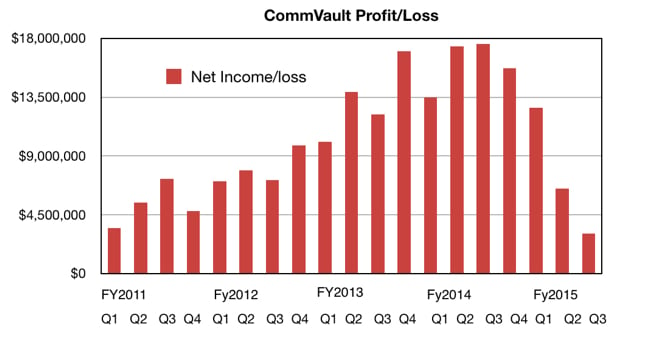 No sign of a change in the downward profits plunge
That would be the next version of the flagship Simpana product. Let's hope these encouraging activities get the fourth quarter revenues up past last year's $157m, with CommVault's full year 2015 numbers better than 2014 (even slightly), with 2016 seeing a proper return to growth. ®