This article is more than 1 year old
EMC reports mixed results, fingers axe: 'Reduction in force' planned
SEC filing didn't reveal how many were for the chop
+Comment Storage giant EMC has announced its plans to lay off an unspecified number of staffers in Q1 and said in an SEC filing that it would record restructuring charges in the range of $130m to $150m.
In the final few months of last year, EMC increased its revenues by $1bn, quarter on quarter, with Pivotal and VMware growing strongly, although the core EMC II only managing a two per cent annual revenue increase.
Profits for the quarter represented 16.3 per cent of revenues at $1.15bn, $150m more than a year ago.
Full-year 2014 revenues were $24.4bn, 5.3 per cent higher than 2013, with net income of $2.7bn, six per cent ($200m) less than in 2013 ...
EMC Federation revenues were a straight $7bn for the quarter, up five per cent on the year, with net income of $1.2bn, a 15 per cent rise on the year.
High-end (VMAX) revenues were down seven per cent year-on-year for the quarter, and down 13 per cent when comparing full-year 2014 with 2013.
Emerging technologies (Isilon, XtremIO, ViPR, SCaleIO) are going gang-busters with a 40 per cent year-on-year quarterly growth rate. XtremIO has reached a $1.2bn annual run rate, accounting for $300m in revenue in the fourth quarter.
EMC claims it has 35 per cent of the all-flash array market and is the undisputed leader in that market.
VMAX had a refresh late last year and the revenue-enhancing effects of that should be visible in this quarter.
There were marked growth rate differences between the three federation members, with EMC Information Infrastructure (II) holding the Federation growth rate back a little:

The reason was VMAX, as a look at the EMC II revenue splits show: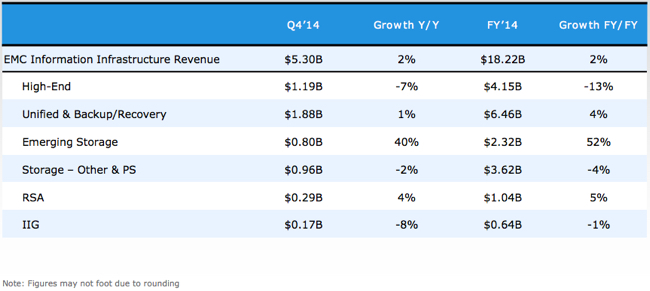 EMC II revenue splits
The Unified Backup and Recovery segment includes mid-range VNX arrays and it had a storming quarter too, with 2,000 new VNX customers. VCE also added a record number of new customers. RSA grew at a pedestrian rate in the quarter, four per cent year-on-year with the Information Intelligence Group (Documentum, etc) declining eight per cent; this product set has never shone.
EMC is forecasting that revenues will be $26.1bn for 2015.
+Comment
Well, this is all fine and dandy but we don't think it's enough to justify activist investor Elliott Management relaxing its efforts to get VMware divested, apparently, with the recent standstill agreement. There's nothing here that will get EMC's share price up substantially.
We can expect DSSD and Scale-IO news this year, but their revenue-enhancing effects are unknown. Perhaps XtremIO is heading for a $2bn run rate in short order.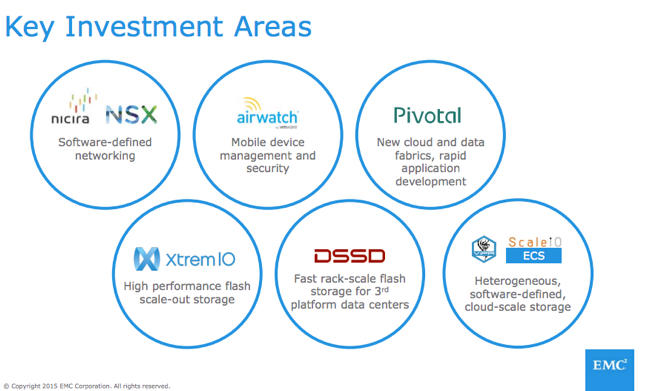 EMC's key investment areas from results webcast.
Also, chairman and overall EMC CEO Joe Tucci, the architect of EMC's "Federation" structure, retires next month with no nominated successor (although Mark Twomey, an EMC technical director in Core Technologies, recently tweeted that "Joe Tucci's EMC contract now appears to have added some 'flexibility' around the end date. No hard stop in February".
Financial analysts will be whipping themselves into a frenzy trying to model and tease out what's going on.
We'll rely on that tried and tested journalistic method to do likewise: waiting for an email, tweet, or phone call. Don't feel you have to hold back. ®