This article is more than 1 year old
Microsoft Outlook comes to Android, iOS: MS email now a bit less painful on mobile
... Unless you're on Windows Phone, obviously
Microsoft has released new Outlook apps for Android and iOS.
The apps are based on code acquired with Acompli late last year, and former Acompli CEO Javier Soltero is now Outlook general manager at Microsoft.
On iOS it is a full production release, but on Android it is a preview. You can connect to accounts including Exchange, Office 365, Outlook.com, iCloud, Google and Yahoo, and – on Android only – any IMAP account.
You can also connect to cloud storage services including OneDrive, Google Drive, Dropbox and Box (though Box support on Android is disabled pending a bug fix). OneDrive for Business is not yet supported, but promised in due couse.
As with the former Accompli app, there are some special features. A "Focused" section of the inbox is intended to show priority messages. You can also right-swipe a message to "schedule" it, which means it disappears into a "Scheduled" folder and reappears in the inbox at the requested time.
The app also includes a calendar, a contact list, and a Files view for cloud storage and email attachments. You can preview files, open them in other apps, or email them as attachments.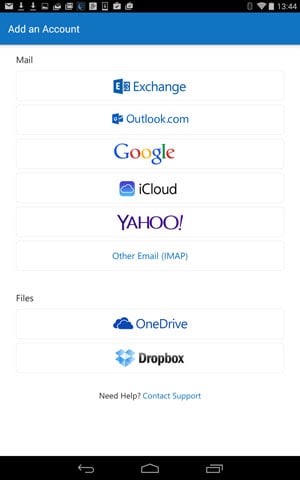 Add an account in Outlook for AndroidRE
These apps are available now, on the same day that the preview tag is removed from Word, Excel and PowerPoint on Android (ARM chipsets only, though Intel support is promised). Microsoft says that downloads of Office on iOS exceed 80 million, and on Android, 250,000 downloads of the preview. General manager Julia White reports "tremendous customer request for Outlook across all devices".
The progress from acquisition to new Microsoft-branded mobile apps has been, er, Acompli-shed with impressive speed, and these new apps are a big improvement on Microsoft's earlier efforts at email support on mobile, based on Outlook Web Access. That said, they are greatly cut down from full Outlook and include puzzling aspects, such as the inability to add or edit contacts, and the absence of Tasks.
As with the rest of mobile Office, Windows tablet and phone users are left to wait for Windows 10 and the forthcoming universal app versions of Office, though the version of Outlook shown at a recent preview was from a different code base and nothing like the Accompli apps. For example, formatting in Windows 10 mobile Outlook is apparently based on Word, whereas in these new apps it is restricted to simple text with the only formatting available being bold, italic and underline (no bad thing). How and whether Microsoft will harmonise the two is unknown.
The new releases are good news for users of Exchange and Office 365, which is no doubt why Microsoft has made them available for free.
You can find the apps for iOS here and for Android here.®