This article is more than 1 year old
Strap on fitness finesse: Withings Activité Pop
Oh, and it tells the time too
Review One problem with wearable fitness trackers: you may not want to wear one when you've also got a watch on. This may be especially the case if, like me, you have a tracker not to monitor an aggressive fitness regime, but simply to ensure you don't spend the entire working day parked on your arse. And you'd like it to be discreet.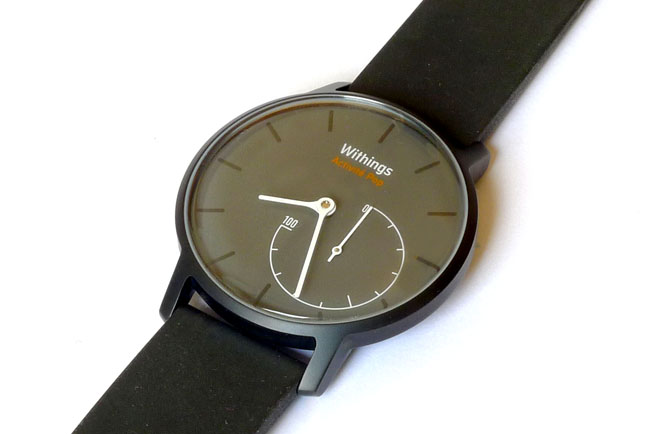 Watch your step: Withings Activité Pop
I wear a watch – specifically, a Fitbit Flex. I'd rather like to combine the two. Withings – the well-known purveyor of Wi-Fi bathroom scales – launched just such a gadget last Autumn, the Activité. It drew some interest, but presumably didn't sell so well on account of its high price.
So here comes the CES-announced Activité "Pop", a much cheaper version that lacks the original's Swiss mechanism and posher materials, but is in all other respects the same device.
What we have then is a watch with a stylish, modern look – think Swatch – and a built-in step counter. The face is entirely analogue: a large pair of hands for the time, and an offset secondary dial to display your movement. The case is stainless steel, the "glass" is plastic. At 36mm in diameter, it's suitably unisex: not too large for a lady, not too narrow for a gent. Front to back, it's a chunky-sounding 10mm, but the curvature of the glass and the case ensure it looks svelte.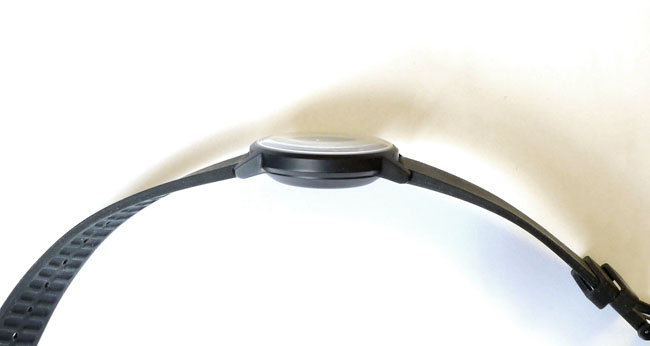 Rubber strap-on
The back is tightly latched to the case. Withings claims it's water-resistant to five atmospheres: good for splashes and perhaps the shower and surface swimming. The company bundles a coin-sized case opening tool which also sports a point, to be used to reset the watch.
The 18mm strap is rubbery plastic, which makes it sound more low-end than it actually is. I'm not usually keen on plastic straps: I don't like a loose watch, and if the strap is tight it makes for a sweaty wrist and, if the wrist swells a bit, an uncomfortable fit. Withings' offering is sufficiently elastic to cope, so it expands with your wrist as temperature rises and doesn't bite. I found it pleasant to wear.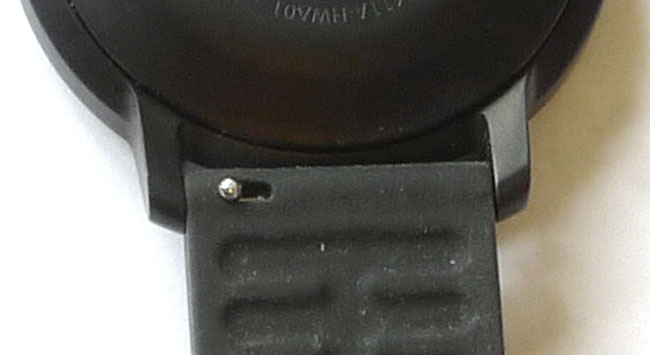 If you're inclined to change the strap, make sure it accommodates the latching spring bars
Alternative 18mm straps aren't hard to come by, however, so you can always swap out of the bundled band. A word of caution, though: the Pop's strap pins aren't exposed through a pinhole in the watch's case. Instead, they have a catch on the pin itself mounted perpendicular to it. Withings' straps are cut to accommodate this catch; third-party straps may not be.
The Pop may lack the first Activité's Swiss mechanism but it keeps time well enough. It has no crown; adjustments are made using the companion app, which I'll cover in a moment.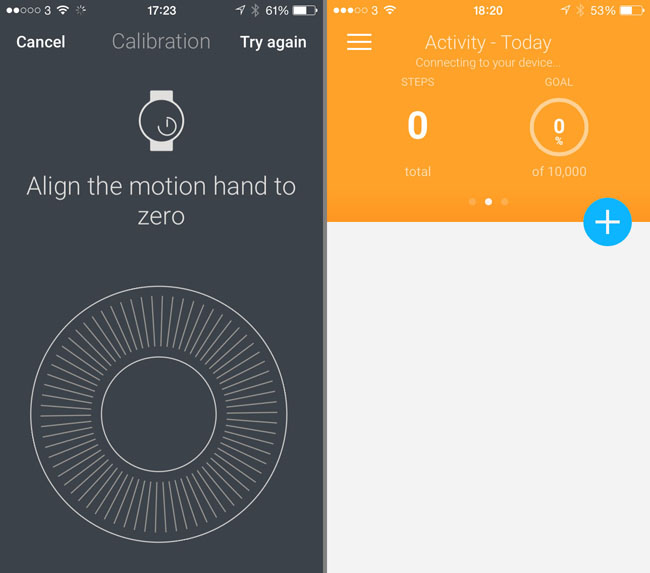 Going through the motions: Calibration and Activity monitoring via Health Mate
You turn a virtual dial on the phone's screen to align first the minutes hand and then the hour hand with 12 o'clock, and then you reset the step counter to zero. A good, accurate approach, though you don't want to jog the watch while you're doing so, as the hands are loose at this point and can easily be knocked out of kilter, forcing you to restart the calibration process. Once you're done in the app, the hands automatically move to display the correct time – assuming your phone is showing it, of course.