This article is more than 1 year old
Ugly, incomplete, buggy: Windows 10 faces a sprint to the finish
Unpicking the past is a messy business for Microsoft
Review Microsoft does not have long to fix Windows 10. The company plans to release it this year, and if that implies hardware on the shelves, the operating system will need to be completed in the summer – and most features will need to be near-finalised well before that. Can Microsoft gets its new Windows ready in time?
Build 9926, released for public preview, is a chance to assess progress. I reviewed the new build both on a 12-inch tablet and on a traditional desktop.
There are plenty of changes from the last preview, November's build 9879. Microsoft has revealed more of how Windows 10 will combine both tablet and keyboard/mouse support, as well as introducing new apps such as Photos, Maps, and the Cortana digital assistant.
Some features, such as live streaming of Xbox games, and the new Project Spartan web browser, are not yet included in the preview.
The new Photos app is rather good. The Maps app looks nice but assured me that a bus from Nottingham to London would take 30 minutes (reality is nearer 4 hours).
The first thing you notice is a major piece of backtracking. The Charms menu, introduced in Windows 8, has been excised and replaced by a notification and settings panel. Notifications, according to Microsoft, will sync between phone and PC, though presumably only where relevant. The new panel appears when you click the notification icon, or swipe from the right if using a tablet.
The problem with backtracking is that many things need to be unpicked. As a Windows 8 tablet user I have come to expect shutdown options when I swipe from the right, but these are now on the Start menu, as they were in Windows 7. Application-specific Search, Share and Settings, which used to be available through Charms, are now on the top left Window menu in each app. The taskbar, which used to be near-irrelevant for tablet users, is now essential for both desktop and touch users.
In rebalancing Windows back towards keyboard and mouse, Microsoft has perhaps made it worse for touch users, though the big push for universal apps (which are touch friendly) will more than compensate.
The new Notification Center is unexciting in the current build. Not many notifications show up, and when they do, the invitation to "click for more detail" often does nothing. There are also some focus problems. While typing in Word, I hit the Connect button in the Notification Center in order to connect a Bluetooth speaker. The Connect dialogue box opened underneath Word, so I thought it was not working.
Another innovation in this build is Tablet Mode. This engages automatically if you dock a tablet so it transitions to keyboard and mouse mode (Microsoft calls this Continuum), or you can turn it on manually via the Action Center at the foot of the Notification Center. The main effect of Tablet Mode is that apps run full screen – even desktop apps – though you still have the option to snap them to fill half the screen in order to have two on view.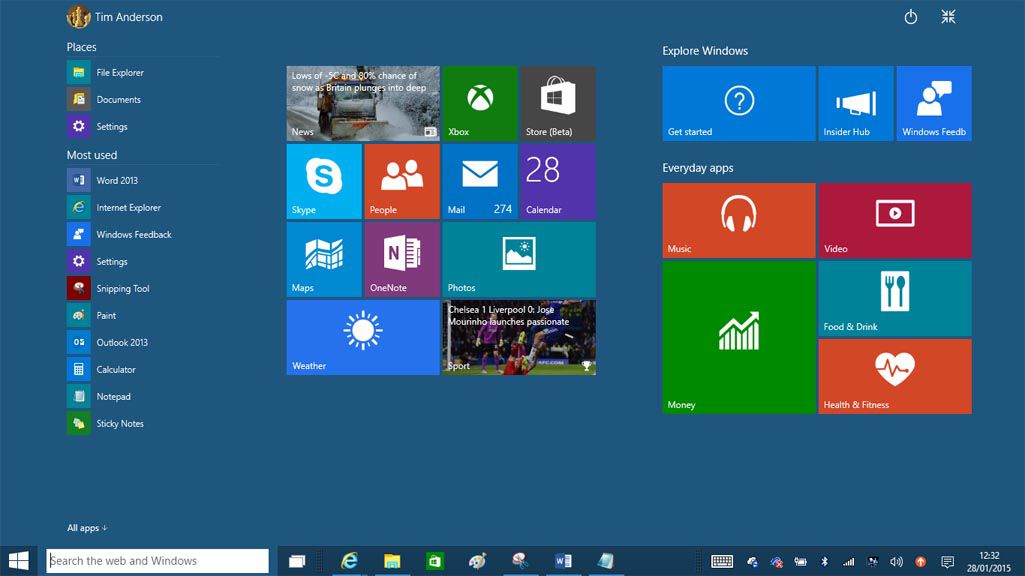 The full screen Start menu is different and more cluttered than in Windows 8
If you have Word and Calculator on the screen, for example, and you engage Tablet Mode, whichever app has the focus will maximise. This is jarring, particularly if it happens to be Calculator, which really does not need to run full screen. You also find that in Tablet Mode the Restore Down button on a window does nothing, even on desktop apps. It is all a bit odd, and you may find yourself preferring desktop mode even when using a tablet in order to recover full control.
Do not make the mistake of enabling auto-hide on the taskbar if you use Tablet Mode. In this mode the taskbar is meant to appear when you swipe up from the bottom, but I saw inconsistent behaviour with the taskbar flashing in and out of view. I also hit a bug in the preview where modern apps did not display at all, fixed by rebooting.