Start work not finished
Another Tablet Mode feature is that the Start menu shows full screen, though it is the new Windows 10 effort maximised rather than the Windows 8 effort. This is good for consistency, though not altogether better for tablet users. In the new screen, hierarchical groups have returned to the "All apps" view, a list of recently used apps always appears on the left, and Store apps are no longer separated from desktop apps. Search has moved from the right-hand panel to the new search box.
Overall it is busier and more cluttered than the old Start screen. It is also less important. In Windows 8 this screen was designed to be the centre of your Windows experience, whereas currently there is no longer even an option to boot into Start; it always goes to the desktop.
"The work on Start isn't done yet, and we'll have more changes that will show up in future builds including more personalization (and transparency!), drag and drop, Jump Lists, and the ability to resize the Start menu," says Director of Program Management Gabe Aul.
Search and Cortana
Cortana makes an appearance in this build, though only if you have your region and language set to US. This "digital assistant" is already familiar from Windows Phone, and in general a promising piece of work. Voice recognition is decent in my experience, though some will be unlucky, and the feature provides a blend of personalised search, automation of common tasks, and reminders and alerts. Cortana bases suggestions on data stored in a "notebook" that you can view through settings.
Cortana is not very functional in the present build, though simple reminders work. Voice input is difficult in any noisy environment. This is really about personalisation, though, and in that respect the feature makes sense as Microsoft's equivalent to Google Now, and with more transparency about what personal data is used. Cortana always searches with Bing, even if your browser is set to another provider, so there is some cross-promotion in there too. The automation aspect, where you ask Cortana to send an email, for example, would be more interesting if opened up for extension by app developers.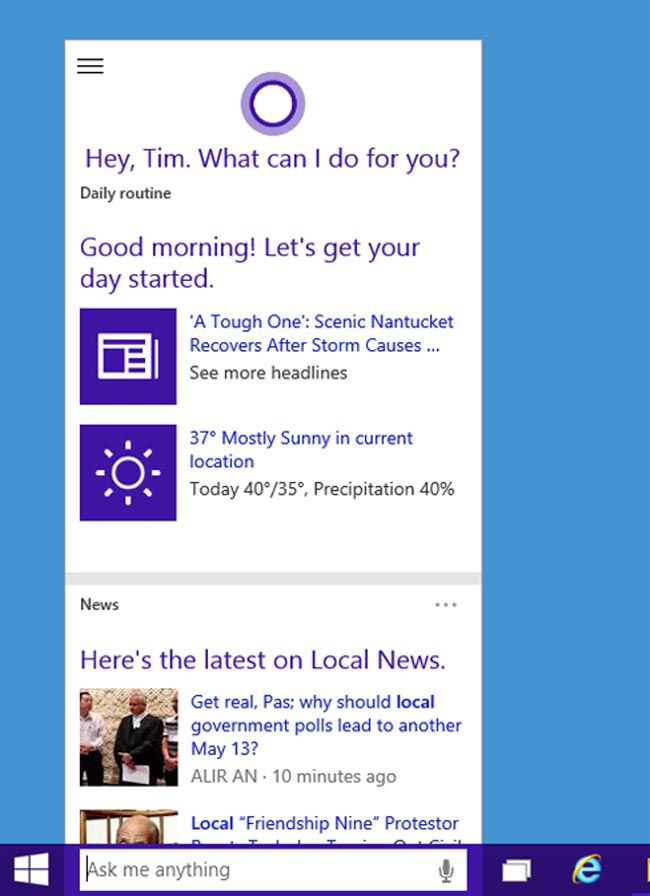 Cortana is here, but does she belong on a PC?
The Cortana app doubles as the search app, and if Cortana is disabled or cannot come up with anything special, you get search instead. It is still "Search the web and windows", so the same box serves for finding apps or documents as well as searching the web. If you click a category in the results, such as Apps, an expanded search box appears, with categories along the top, though it is buggy in this build. A search for Printers, for example, showed three results in Settings, but when I clicked Settings to show the extended view, it reported: "No matching settings found."
That rather good Windows 8 search app, which showed rich images, biographies and interactive features in horizontal scrolling view, seems to have been expunged from Windows 10.
OneDrive, Microsoft's cloud storage, remains crippled in this release by the absence of the placeholder feature, which showed the entire contents of OneDrive in Explorer but only downloaded the files on demand. You now have to right-click the OneDrive taskbar icon, choose Settings, and specify which folders to sync. You cannot specify subfolders, but only top-level folders.
Internet Explorer – you still get two
Microsoft has demonstrated a new Windows 10 web browser, called Project Spartan, but it is not yet included in the preview. The story here is that Microsoft now has two browser engines, a new one called EdgeHTML and the old one called MSHTML (also known as Trident).