This article is more than 1 year old
Emulex ends seven-quarter run of losses
Posts $4.3m profits
+Comment After seven straight quarters of losses, Emulex has made a $4.3m profit in its second financial 2015 quarter – but that performance might not be repeated next quarter.
The profit was better by far than the $4m loss a year ago and the $700k loss in the previous quarter. Revenues were $111.1m, above guidance but still 9.7 per cent less than a year ago, which makes the profit picture more impressive.
Sequentially, revenues grew seven per cent but that Q1-Q2 uplift is a seasonal pattern for Emulex. The profit recovery signs were visible last quarter when the loss slipped below a million bucks – having been between -$3m and -$15m in the preceding six quarters.
Clearly the business is being more tightly managed and costs are under better control. We might call that the Elliott effect, that activist investor having boardroom influence now.
President/CEO Jeff Benck said: "The second quarter demonstrated continued progress with initiatives put in place at Emulex over the last 18 months, including the delivery of the broadest set of new Ethernet and Fibre Channel products in the Company's history, increased focus on execution, and a greater emphasis on fiscal discipline." Exactly.
Revenues benefited from "healthy demand for our Fibre Channel portfolio and share gains aided by accelerating adoption of our latest Gen 5 Fibre Channel (16Git/s) products."
However, network visibility products (NVP – meaning Endace) did poorly, with Stifel Nicolaus MD Aaron Rakers writing, "Revenue of $6.3m, was down 35 per cent yr/yr, amounting to 6 per cent of total revenue for the quarter."
Benck said Emulex has got some OEM contracts for its 10GbitE Ethernet products and these should cause a shipment ramp as new X86 servers get taken up."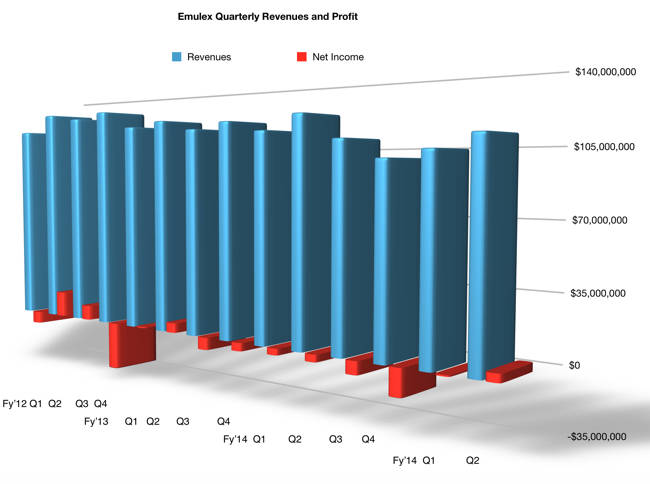 A profit at last - but it might not last
+Comment
The next quarter should see revenues between $97m and $103m, representative of a seasonal Q2-Q3 downturn; in the year-ago third quarter they were $109.3 million. Rakers wrote: "Emulex is expecting a seasonal F3Q15 Network Connectivity Product (NCP) sequential decline in the high-single digits to low-double digits. The company expects a decline in Fibre Channel (we estimate -12 per cent seq.) following strong December (Q2) quarter results, while 10GbitE is expected be up sequentially."
He added he "expects NVP revenue to be up sequentially in F3Q15 [with] ... a revenue contribution of $7m."
Making a profit with revenues $8m less than the second quarter, and its $4.3m profit, might be a struggle if not darned impossible. Expect a loss. ®