This article is more than 1 year old
QLogic hits all-flash bullseye, doubles profit
10% quarterly revenue rise – take that, market uncertainty
QLogic is smiling, and so it should, with revenues and profits growing, and all-flash arrays, where it has host server connectivity dominance, blooming too. The glory days might just be coming into sight again.
Revenues for its full-year 2015 third quarter were $140.2m, 10 per cent higher than the previous quarter, and a chunky 16.7 per cent higher than the year-ago quarter. That's real growth.
Profits were $22.4m, double the $11m recorded three months ago, and 7.8 per cent higher than a year ago. More good stuff.
"I am very pleased," said CEO Prasad Rampalli, and why not – the results were better than its guidance, and it's always nice to surprise the analysts.
If we compare the revenue of QLogic's HBA twin, Emulex, we can see far below (second chart) that a historical superiority of QLogic over Emulex in revenue terms is being re-asserted after Emulex overtook QLogic for a while.
Its lead was never that great and it wasn't able to sustain it.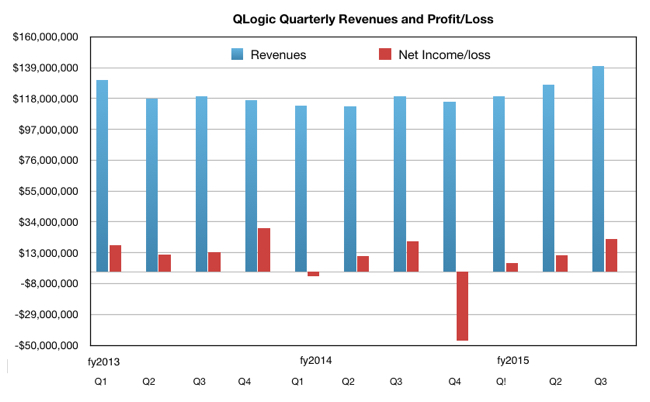 Look at the latest Q1-2-3 revenue/profits staircase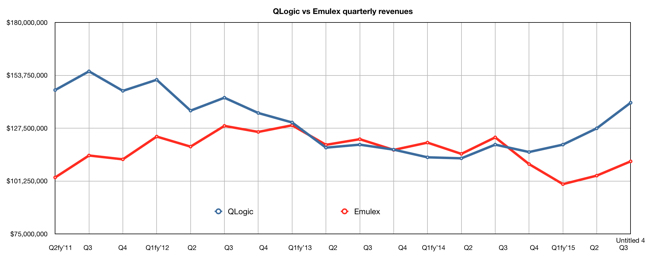 Historical revenue trends for Emulex (red curve) and QLogic (blue line)
QLogic is expecting a $132-138m fourth quarter; taking the $135m mid-point gives us a full year revenue number of approximately $522m, 13.3 per cent more than full-year 2014, but still considerably shy of full-year 2011's $597.2m.
+Comment
Can Q get back to those glory days? El Reg estimates that if it carries on executing its business as well as it has been, 2017 might well see revenues heading towards $600m, but let's not get ahead of ourselves.
Fibre Channel is still a maturing market, Ethernet is hotly contested, and hyperconverged servers don't need SANs so much.
However, Stifel MD Aaron Rakers pointed out: "QLogic has highlighted its position as having a 90 per cent share position in leading all-flash platforms (Pure, EMC/XtremIO, Violin, Cisco/WhipTail, etc)." ®