This article is more than 1 year old
Quantum adds cloud tier to StorNext
It's JAT – Just Another Tier
Quantum has added cloud storage to its StorNext file virtualisation package, embedding it in the workflow process as just another tier.
StorNext presents a single namespace file storage resource to its users, be the files on primary disk, secondary (Lattus object) disk, or tape (archive). The idea is that StorNext is embedded in workflows for media and entertainment professionals dealing with multi-part video assets where the parts are individual files of varying sizes and varying ages.
With Q-Cloud Archive, users can now have archived files live in the cloud where storage costs more than tape but access is faster. This is good for reusing archived video when you need them fast.
It is a Quantum cloud facility, which Quantum actually hosts on public clouds, presenting it as a kind of white box, and making it easy to move data to and from the cloud archive.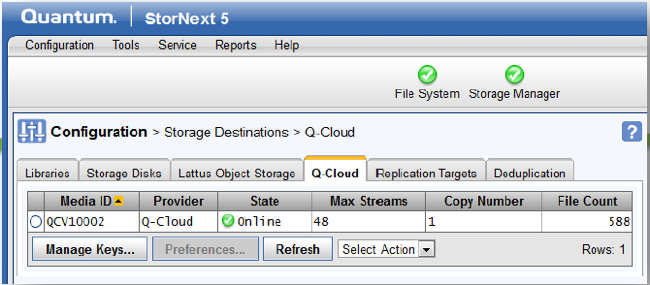 StorNext GUI showing Q-Cloud as storage destination
When configuring its use, the Q-Cloud can be selected just like storage disks or Lattus Object Storage in the StorNext GUI. There is no need for separate cloud storage gateway processes, hardware or software, and no application software has to be changed.
Q-Cloud was started up in 2012 as a cloud destination for Quantum users to populate with data from backup and disaster recovery facilities. Its use by StorNext customers is a logical next step.
At launch, the Q-Cloud Archive regions will be North America, Latin America, EMEA, and Asia-Pacific excluding China for now.
Another Q-Cloud offering is Q-Cloud Protect for AWS which has the DXi deduping appliance software running in Amazon's cloud and accepting encrypted data from an on-premises DXI system. It will include support for federal customers in the AWS US GovCloud and available in the spring. Quantum says this service will convert DR costs from CAPEX to OPEX.
Quantum is also going to add a Q-Cloud Vault in the second half of this year which will be for slow-access archive data – Glacier-like cold storage in the cloud – and be an alternative to on- or off-premises tape. ®