Nothing is True and Everything is Possible, Dead Girl Walking and Chasing the Scream
Disappeared diva, Russia and the War on Drugs
Page File El Reg bookworm Mark Diston reviews the latest litery treats with a look at Russia's uneasy balance of state control and capitalism through the eyes of Peter Pomerantsev. Top-notch Scots crime writer Chris Brookmyre has another gripping investigative outing for Jack Parlabane and Johann Hari looks at the reality and practicality of legalising drugs.
Nothing is True and Everything is Possible
Peter Pomerantsev is the London born son of emigre Soviet parents. He found himself returning to Russia in the early 2000s to work in television. Pomerantsev worked for Gazprom media channel, TNT. The station's slogan is "Feel The Love", which, translated worldwide, hits into a Russian format.
His experience at TNT is ultimately disillusioning – contriving happy endings so that the population: "Keeps watching the TV, while everything turns to shit" and so his book is born.
Nothing is True and Everything is Possible introduces a cast of characters from the New Russia, including oligarchs, gold diggers, Christian fascist bikers and plain survivors who give voice to the reality of living in 21st century Russia.
"This isn't a country in transition, but some sort of postmodern dictatorship that uses the language and institutions of democratic capitalism" gives way to "A market organised by a still feudal state structure" and "The country's leader imitates gangsters…"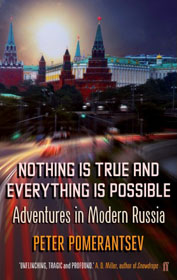 Peter Pomerantsev proves himself a skilled journalist and he gives his interviewees free rein. Although there are a few loose ends and non sequiturs, their voices seem unfiltered by the author's prejudices.
Pomerantsev inserts a few nice incidentals. "Neon soft drink signs that reflect in our Lipton's tea and Dustam's glasses" contrasts agreeably with how the "corruption and kleptocracy of the Russian regime" is revealed through the struggles of its people, both ordinary and super-rich, where "everything is PR" and "the state is the great coloniser you fear and want to avoid or cheat or buy off".
All this is nothing new. I once read a fine book by Tibor Szamuely called The Russian Tradition, which was a roll call of despotism and revolution stretching back to Ivan the Terrible. What is new is that the Russians have adopted our methods and succeeded in showing Western capitalism a side of itself that it would rather forget.
As Pomerantsev states: "London is the perfect home for money laundering… terrific lawyers… great bankers… weak cops". In fact, to our Russian oligarchs: "London and the West can be said with a light disgust as the place that shelters and rewards and strengthens the very forces that oppress them."
Pomerantsev's views are insightful and holistic. His book does not omit the role of the rest of the world, as when he describes the oligarch's tastes for "fake art confirmed by Western art historians… they play the same role as the Swiss and English lawyers who act as 'nominal beneficiaries' for money-laundering shell companies."
The Russian elite is ironically referred to as the "21st century geopolitical avant-garde".
This is a most excellent work that brings to life the reality of modern Russia. But the great thing about this book is that by focusing on a distant and extreme place, Pomerantsev brings into sharp focus the inequities and absurdities of modern capitalism worldwide, without pulpit or soap box.
This work poses more fundamental questions than the recent, more parochial offerings of Owen Jones and Russell Brand combined, without any apparent agenda. Peter Pomerantsev is a fine observer and an engaging writer. I hope this work frees him from the tyranny of the television, lest he suffer the fate he has in mind for future Russians: "We begin to live in a parallel reality of video ghosts".

Author
Peter Pomerantsev
Title
Nothing is True and Everything is Possible: Adventures in the Modern Russia
Publisher
Faber & Faber
Price
£14.99 (Paperback), £7.99 (eBook)
More info
Publication web site