Nothing is True and Everything is Possible, Dead Girl Walking and Chasing the Scream
Disappeared diva, Russia and the War on Drugs
---
Dead Girl Walking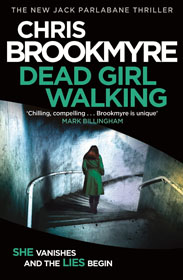 Genre fiction is really not my bag, but one of my most satisfying guilty pleasures of this job has been getting absorbed in a good old tartan noir yarn. I may sometimes be disparaging about the UK literary scene, but Scotland's output of quality writers over the last quarter of a century has been astonishing.
The likes Irvine Welsh, Alan Warner and Laura Hird in literary fiction and crime writers such as Val McDermid, Chris Brookmyre and Ian Rankin seem to have developed a sub-genre of their own. All are very prolific and consistent at turning out high quality pared down writing with downbeat heroes and a grim sardonic underlying humour.
Dead Girl Walking is the sixth novel by Chris Brookmyre to feature Jack Parlabance, an investigative journalist who seems to be living on borrowed time after obtaining a general's laptop by nefarious means. The authorities, to quote our protagonist are "dangling the electrodes pretty close to my bollocks."
He gets a call from Mairi, a dead mate's sister who now manages up-and-coming indy rock act Savage Earth Heart, whose frontwoman Heike Gunn has disappeared. Parlabane is engaged to find Heike.
The story is told via two narrators: Parlabane, and the tour blog of Monica Helcrow, Savage Earth Heart's fiddle player, whose story unravels parallel to Parlabane's investigation. These two angles combine to deliver a realistic and downbeat account of the touring musician's life. Throw in some sex trafficking, prostitution and the rather obligatory Slavic gangsters and we're all set for much derring-do.
Dead Girl Walking is a blast. It's slick, fast paced and superbly crafted. There are some great pearls of wisdom, like the protagonist's advice to his imaginary son: "Beware the woman who sees you as a work in progress." Conversely, the muso girls agree amongst themselves that "men talk about their feelings like they talk about their periods". The legendary Hunter S. Thompson misquote is appropriated too: "The music business is a cruel and shallow money trench, a long plastic hallway where thieves and pimps run free, and good men die like dogs… there is also a negative side."
No doubt more by accident than by design, Dead Girl Walking also has almost the lowest body count possible in a book of this genre and with this title. I know that it is considered bad form to divulge too much of the plot in tales of this nature, but I will say I found the rope descent wearing Louboutin heels unfeasible – though, not having tried this stunt myself, I can neither verify not deny its possibility.
In a strange case of life imitating art, Brookmyre includes these lines about the iniquities of middle age: "The old fart made to sit three rows away from junior and his mates even though he was the one driving them home after watching Slipknot or Korn or whoever."
A flatulent friend of mine went to see a double bill of both of the above on a family outing three days before I read Dead Girl Walking, only he chose to sit down as he was too old and knackered to mosh.
Brookmyre's twentieth is as good as Val McDermid's thirtieth and the flood shows no sign of relenting. This is probably the best crime novel you will read – until one of those clever Scottish people writes another.

Author
Chris Brookmyre
Title
Dead Girl Walking
Publisher
Little Brown
Price
£18.99 (Hardback), £9.49 (eBook)
More info
Publication web site