This article is more than 1 year old
The joy of six: VMware ecstatic after finally emitting new vSphere
Virtzilla's OpenStack lands, along with new VSAN version and 'Instant Clones' VM tech to rival containers
As expected, VMware has released vSphere 6, and as anticipated the company has also released its OpenStack distribution. But it also surprised with a new version of VSAN and the release of Project Fargo.
Virtzilla's also given itself a new mantra - OneCloud - to describe its ambition to manage on-premises infrastructure, what it's now calling managed clouds like its own vCloud Air, and the public cloud. VMware can't quite bring itself to say either "agility" or "disruption", but both concepts are clearly on its mind: the general idea of everything CEO Pat Gelsinger discussed today was to make it easier for business to run IT in ways that make change of both computing and business practices easier.
We'll leave that kind of stuff to the suits and instead jump into the headline features of the new products.
Gelsinger reckons there are three biggies in vSphere 6: scale (the ability to handle 4TB of RAM means HANA can now be virtualised); resilience as exemplified by vMotion at a distance allowing teleportation of VMs across very widce areas, and; fault tolerance.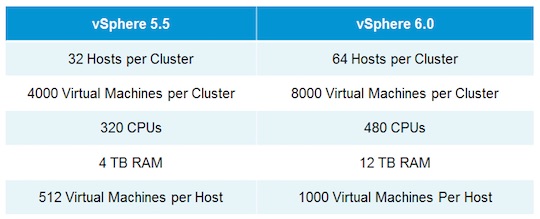 Size matters, says VMware
Another addition is called "Instant Cloning", which makes it possible to store VMs in very, very thin profiles that consume almost no resources until spun up. Adding that tech to vSphere means it's now possible to keep a whole bunch of VMs on hand and spawn them at a rate of 64 in six seconds. VMware reckons the footprint of these clones is not much bigger than that required for a Dockerised container and is talking up the fact that it can now give container fans the chance to spawn both a VM and a container as needed, enhancing virtual machines as a place in which to run containers. Rapid scaling for applications like Hadoop is also on VMware's mind.
The company says Instant Cloning is derived from Project Fargo, which last year it said was destined for use as a VDI-booster.
VMware's release of OpenStack also saw the light of day, along with news it'll be free to enterprise customers (and explaining why VMware stopped giving away Suse linux to those punters). VMware is content for those who want to use OpenStack to be able to use it to run their vSphere environments. There's a swinging door here: users can switch back and forth between VMware or OpenStack management tools. And now the new acronym, vFolks: VIO stands for VMware Integrated OpenStack (not virtual input/output).
VMware doesn't think there'll be a lot of users who run vSphere alongside OpenStack in production (and doesn't think there's much OpenStack powering in-production private clouds). But it does think that developers want to work with OpenStack, so its distro is all about hooking OpenStack APIs into VMware's core products so that IT can let developers play with their preferred tools without having to operate parallel infrastructures.
VSAN's new version is all about VVOLs, a topic we've covered extensively in the past. VSAN 6 appears to be a smaller upgrade than the jump to version 6 would indicate, perhaps there's some marketing synchronisation going on here. New features include better support for blade servers by allowing disks to reside in JBODs rather than being direct-attached. All-flash VSANs are now also possible as solid state disks can now be used for persistent storage, an advance on previous arrangements that only allowed flash to be used as a tier.
VSAN's also scaled: it can now use 64 nodes for a total of 8PB of storage, a marker that traditional array vendors must love to have quoted at them.
The integration of NSX into vCloud Air also got another airing, withe micro-segmentation again to the fore.
Between the four products mentioned above, there are more new features than it is sensible to summarise in this news report of the launch. We'll assess them soon.
+Comment
From a vWatcher's point of view, the event represented a significant update for VMware's core products, which look to have accrued 18 months worth of new features, ideas and acquired IP that rusted-on VMware customers will appreciate. VMware's mission remains unaltered, and it is coping with threats like Docker and OpenStack by finding ways to play nicely together without obviously having a knife hidden in the other hand.
Possibly the most significant element of the announcement, however, is the new "OneCloud" marketing jargon.
To The Reg's virtualisation desk, it's significant in light of Virtzilla's tie-up with Google that will see Chocolate Factory cloud products made available to users of vCloud Air, and manageable through VMware products.
We've been told the deal with Google isn't exclusive: VMware can add other public cloud providers if it chooses.
If VMware is heading for an arrangement whereby its customers can use one set of tools to manage on-premises private cloud, vCloudAir and a smorgasbord of features from other public clouds - all with one throat to choke and one bill to pay - that will be a valuable proposition.
Microsoft will probably remain Azure-centric in its hybrid cloud, but how can we tell now that it has delayed a Windows Server refresh, and therefore also no major Hyper-V release, until 2016?
Citrix, meanwhile, is clearly in trouble, making VMware look a more attractive application delivery alternative. With end-user computing one of VMware's designated growth markets, its ducks are all lining up.
VMware tells us that today represented a very solid update, a milestone on its long march towards the hybrid cloud rather than a strategy announcement of any sort. That may be all it needs for a few months. ®