This article is more than 1 year old
Six-starved storage bods rush to support vSphere and VVOLs
Dell, HP, Nexenta, Nexgen and SanDisk fall into line
VMware's storage interface dominance over hardware and software storage suppliers has never been more evident than in the rush by storage firms to support its v6.0 vSphere and Virtual SAN products announced yesterday.
Virtual SAN v6 adds features that storage array and software suppliers are keen to support such as:
All-flash Architecture
High performance snapshots and clones
Rack-awareness for greater resiliency
Expanded scalability in blade environments through direct-attached JBODs
2x greater scale with 64 node cluster support
Two to four times more IOPS.
Dell, HP, Nexenta and NexGen are adding, or have already added, support for the latest vSphere features.
Dell
Dell's latest generation of PowerEdge servers, with 12Gbit/s SAS controllers, are certified for VSAN 6. It is also releasing the VVOLs (Virtual Volumes) feature to Dell Storage EqualLogic PS Series customers, at no additional cost. With it:
vSphere virtual machine (VM) snapshots transform to array-based snapshots; they can be kept indefinitely and restored in seconds
VVOL-based VMs now can be deployed in seconds, previously a task that would take minutes
Per-VMDK monitoring means vSphere administrators and storage administrators see the same performance metrics in their respective tools
Dell is developing reference architectures and documentation to guide its customers as they adopt VVOLs. Compellent SC array customers will have to wait for a while.
HP
HP is a vSphere 6 and VVOLs fan, with all 3PAR StorServ arrays supporting both at day one, and supporting up to 64,000 virtual volume objects. The StoreVirtual, MSA and XP storage arrays will also support the two VMware products. With this support quality-of-service parameters can be applied individually to a specific VM (virtual machine) instead of a group of VMs, provided the underlying capability is available on the storage array as it is on 3PAR arrays.
An upgrade to HP's 3PAR Operating System (3.2.1 MU2) adds the vSphere 6 and VVOLs support to customers' 3PAR storage.
Nexenta and Supermicro
NexentaConnect for VMware Virtual SAN has been upgraded to offer day one support for VMware Virtual SAN 6. The supplier says the upgraded software "now offers twice the performance - boosting users' ability to create a hyper-converged solution without paying for expensive external storage arrays."
It says NexentaConnect operates with and augments VSAN 6 by adding "Windows and UNIX-based file services without the need for any additional hardware," also mentioning that it uses "local storage in servers to deliver high-performance NFS and SMB file services to virtual machines and virtual desktops, all managed through a single VMware vCentre Server console."
Nexenta's chief product officer, Thomas Cornely, said this enables "streamlined management of file services, recovery nodes and compatibility to VMware EVO: RAIL."
Supermicro sales SVP Wally Liaw added: "Combining our Virtual SAN hybrid, all-flash or industry only hot-swap NVMe architecture with NexentaConnect, we are enabling rapid deployment of the most advanced, hyper-converged infrastructure for SDDC, IaaS and Public, Private Cloud Service applications."
NexGen
Hybrid array supplier and SanDisk spin-off NexGen will add VVOL support to its N5 arrays, telling us it has "engineered the ability to surface NexGen ioControl performance Quality of Service (QoS) policies and service levels in VMware vCenter."
NexGen's marketing Sveep Chris McCall said: "vSphere Virtual Volumes will allow vSphere administrators to transparently leverage the QoS performance tiers and service levels provided by the NexGen ioControl software and will give them access to multiple storage performance tiers on a single NexGen N5 array – reducing cost and complexity."
N5 array VVOL support will come in the second quarter of this year.
SanDisk
This NAND company has got itself an all-flash VSAN 6 architecture encompassing the starting 4-node cluster and scaling up to 64 nodes. SanDisk says it uses its Lightning Gen. II 12Gbit/s SAS SSDs for caching and and CloudSpeed SATA SSDs for persistent storage.
This VSAN all-flash architecture system is for database transaction processing and Virtual Desktop Infrastructure (VDI), performing at more than 2 million transactions per minute (TPM), SanDisk says.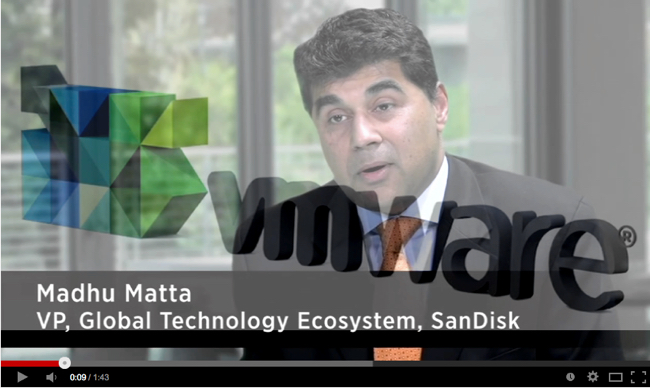 Click image to run YouTube SanDisk VSAN vid
VMware worked with SanDisk n the development of vSphere APIs for IO Filtering, and SanDisk's FlashSoft caching software uses the new APIs to provide flash caching for vSphere 6. A SanDisk VP, Madhu Matta, talks about SanDisk and VSAN clusters on a Youtube video.
All this is good news for VMware customers using Dell, HP, Nexenta and SanDisk storage OEMs' storage. As soon as they upgrade to vSphere 6 their PS, 3PAR and Nexenta Connect storage can start out on their VVOL voyages. SanDisk OEMs can also go play in the vSphere 6 and VVOLs pool touting all-flash speed and power/space-efficiency.
NexGen users are a couple of months behind – no big deal in the overall scheme of things. ®