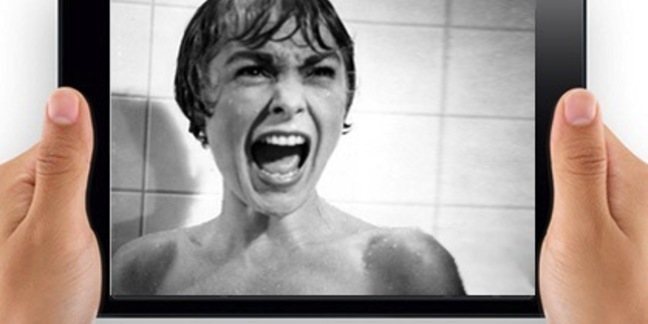 Just as demand seriously cools for tab tech, with all of the major makers reporting shrinking sales, there's a certain little-known upstart in Redmond that is gradually making some progress against the giants.
You guessed it: Microsoft is actually boosting tab shipments, albeit off a comparatively small installed base, with two million Surface Pro 3 devices finding a home in Q4, up just over 21 per cent year-on-year.
The product still only has a market share of 2.3 per cent, but the stat represents expansion in a market that has declined 12 per cent to a little over 67 million boxes, with Apple and Samsung both hit hard.
"This is about Microsoft getting the Surface Pro 3 right," said Tim Coulling, senior analyst at Canalys, "increasing the screen size, adding a pen and linking with One Note helped spark more interest."
Microsoft works with a small band of accredited device resellers that take Surface to market, and several that we called noted increasing demand among businesses, perhaps helped by the exit of notebook brands Sony and Samsung.
Surface equated to roughly one-third of Windows tab shipments during the quarter, with a total of 6.1 million units sold to retailers and distributors, up from 3.4 million in the same period a year earlier.
In contrast, iOS/iPads sales declined 18 per cent to 21.4 million units, and yep, Microsoft still has a very steep hill to climb.
As for Android, the overall market for devices running on this software declined 15.6 per cent to 39.6 million, leaving Google clasping onto a (slightly diminished) market share of 59 per cent, down from 61 per cent.
Samsung, the second biggest maker of slabs, saw sales decline by almost a quarter to 11 million – some 3.5 million fewer than it managed in Q4 2013.
"The tablet market folded on it," said Coulling, who noted the inventory nightmares faced by the company, first pointed out by El Chan last summer.
"Samsung relies on Android, and that is where price competition is raging, where new entrants are dropping their prices. Samsung was aggressively putting stock into the channel, some of that was still floating around and it prevented it from shipping new stock into distribution," said Coulling.
Amazon, Lenovo and Asus were the next biggest tabs shifters, with sales of 3.9 million, 3.7 million and 6.5 million, respectively. Both IDC and Gartner have recently presented a view that the tab revolution is all but over.
Coulling said the market is "highly penetrated" and users have been presented with no obvious reason to upgrade. "In order for the tablet market to continue to grow, vendors need to look at alternative markets. B2B is one, a big opportunity," added Coulling.
Of course, Microsoft has a hefty share of the corporate enterprise so Q4's uplift might be a significant sign of things to come. ®
Sponsored: Webcast: Discover and secure all of your attack surface