Behold: The touchy-feely future of Office on Windows 10 fondleslabs
Preview apps for a preview operating system
Pics An early build of Microsoft Office's universal apps, designed for tablets and smartphones, is now available for those running the Windows 10 technical preview.
"In the coming weeks, we'll open up our preview for the same apps on phones and tablets running Windows 10," says Office general manager Julia White, implying Windows 8 users will not be getting this software any time soon, if ever.
These new touchscreen-driven apps follow the release of Office ports for iOS and Android gadgets.
The Windows 10 builds are a crucial piece in Microsoft's strategy: making Office ubiquitous in a non-Windows world, and making Windows-powered tablets productive without a keyboard and mouse in sight.
Windows 10 smartphones, and tablets with screens smaller than 8 inches, will not run traditional Office applications – or any desktop apps for that matter – so on those devices this touchscreen-friendly build of Office will be all you get.
For normal desktop users, don't despair: the traditional mouse'n'keyboard software will live on as Office 2016.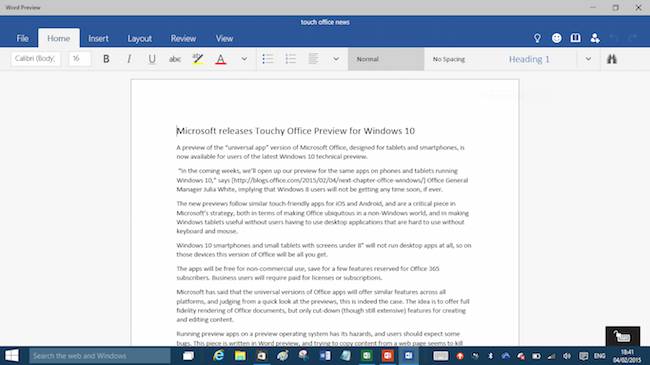 Word Preview for Windows 10 (click to enlarge pics)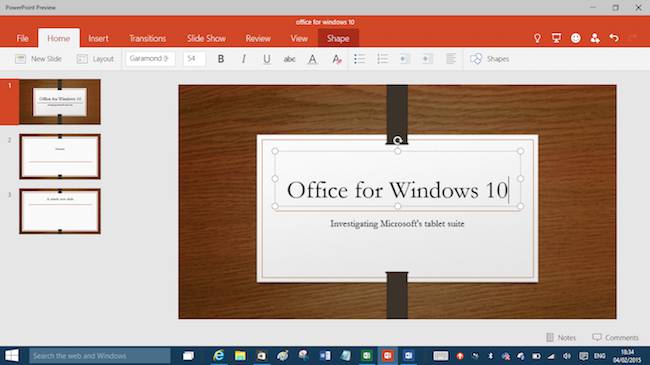 And PowerPoint
The apps will be free for personal use, save for a few features reserved for paying Office 365 subscribers. Businesses must fork out for licenses or subscriptions.
Microsoft has said the universal versions of Office will offer similar features across all platforms, and judging from a quick look at the previews, this is indeed the case. The idea is to render Office documents in full fidelity, albeit with fewer features for creating and editing content.
Although cutdown compared to the features of full desktop Office, what is on offer is still extensive. Word Preview, for example, has footnote and endnote support as well as the ability to track changes and add comments.
Running preview apps on a preview operating system has its hazards, and users should expect bugs. This very article was written in Word preview, and trying to copy content from a web page seems to kill text input, for example. It still looks good, though there is no substitute for a physical keyboard when it comes to rapid text input.
PowerPoint could be particularly useful for creating or fine-tuning presentations on the go, and projecting using either HDMI or wireless connection to a large screen.
Windows 10 users can download preview versions of Word, Excel and PowerPoint from the links in this post. ®