This article is more than 1 year old
Sony Android tellies get YouView makeover
Goggle box becomes Google box
Pics Fancy a 10-hour flight from London to Las Vegas or 45 minutes on the train? Getting to Sony UK's headquarters certainly takes the pain out of a CES visit, although unsurprisingly you do only get to see Sony stuff at the 2015 showcase event it held for the UK press this week.
With its VAIO line sold off last year, Sony's focus was well and truly on its audio-visual product portfolio. Needless to say, 4K TVs were in abundance, as well as cameras capable of feeding these big picture panels – and plenty of other evidence of the company's ongoing commitment to Hi-Res Audio.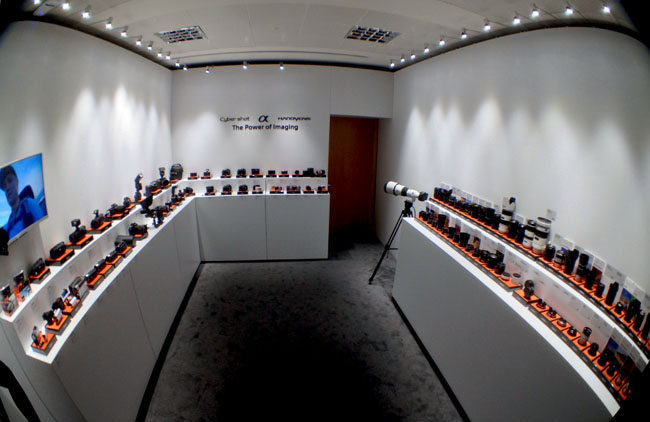 Sony's 2015 digital imaging showcase (minus the broadcast kit, of course)
The biggest news was the the partnership of Sony and YouView announced yesterday. If proof were needed that things were cosy between the two, the lifestyle Sony demo room had YouView cushions scattered about the place.
What this collaboration means is that YouView functionality will be integrated into the 2015 range of Android Bravia TVs, which is going to be just about all of them. So, besides having a Google-powered goggle box, you'll also get the YouView EPG, featuring seven-day scrollback and search functions together with catchup TV services from all the usual suspects from UK terrestrial broadcasters. Namely, BBC iPlayer, ITV Player, 4oD and Demand 5.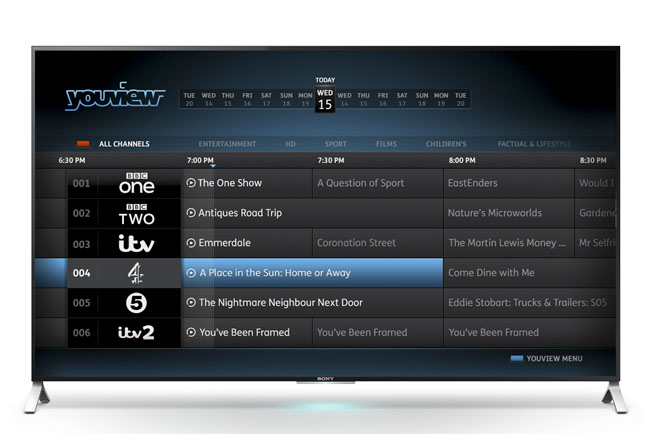 All Sony Bravia TVs with Android will also get integrated YouView
For viewers, this integration of search and catchup services offers a way of watching past programmes without having to buy into a set top box to record them… assuming you access content within the online availability windows.
Last year Panasonic added the Freetime EPG (electronic programme guide) to most of its 2014 range, with on-demand service integration – which suggests abandoning home-grown EPGs is becoming a trend. The Sony Bravia sets will be available this summer, and although Sony is first with YouView this isn't an exclusive tie-in, so there's always Freetime if those YouView cushions don't feel so comfy come 2016.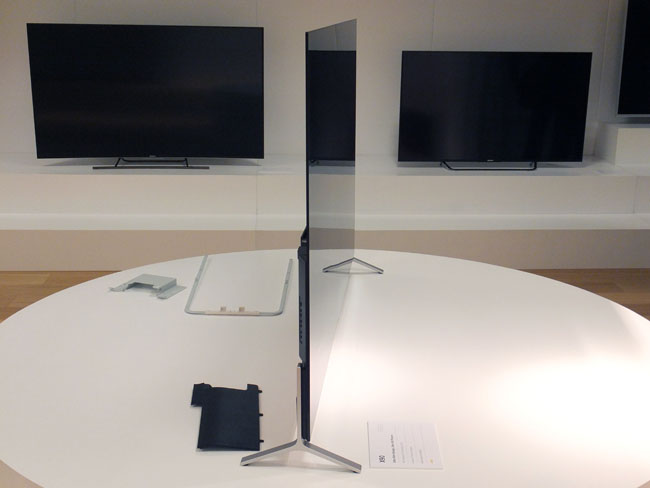 4.5mm at its thinnest point: the Bravia X90 available in 55- or 65-inch sizes it is the slimmest large panel TV
The hands-on pictures are of the super slim Bravia X90. Sony was feeling camera shy around its new Android TV range during the actual demo, as there are still some matters to be finalised and unanswered questions, such as whether the set will offer multiple user logins. Still, you can use it without a login an forfeit access to the Android apps. We were treated a quick whizz around the menus – Sony Select (suggested content), Inputs (peripheral access) Apps (Android fare, videos and games) and Settings (configuration), all navigated using simple swipes the flick remote control.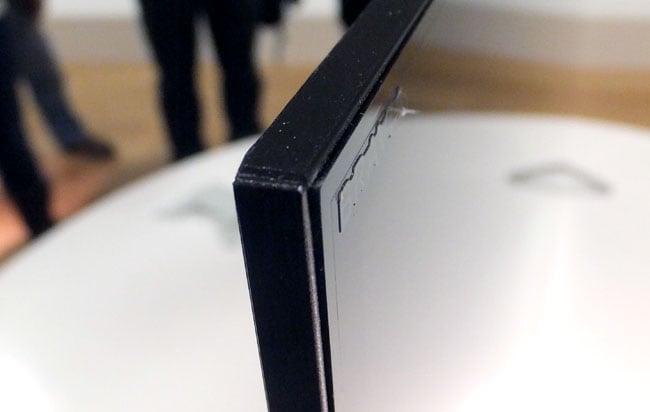 Thinner than an iPhone, thanks to its bonded bezel