This article is more than 1 year old
Ofcom can prise my telly spectrum from my COLD, DEAD... er, aerial
Let's have a mass debate shall we?
Breaking Fad Ah, nostalgia! How often people round these parts wax lyrical about the days of the ZX Spectrum. And how quickly, if some get their way, we may be waxing lyrical about the spectrum that used to provide us with terrestrial TV.
Yes, a bare few months after I suggested Reg readers might like to make their thoughts known to Ofcom on matters relating to the WRC-15 conference this year, there's another consultation that could affect the future of your telly.
This one is an EU consultation based on the Lamy report, which looked at long term use of the band from 470-790MHz, which is what's left over for DTT after the "digital dividend", broadly speaking.
There is a series of questions in the consultation that lets you rate the importance of faster broadband versus both temporary and permanent changes to terrestrial TV services including, for example, whether or not you'd be willing to buy new TV equipment in the next five years if that meant getting better wireless broadband.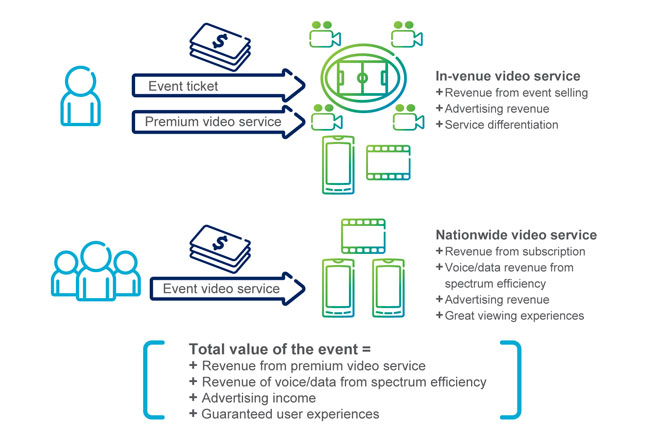 Ericsson's business case example for mobile network operators (MNOs)
"£12m (EUR 14m) in revenue from a video service during the London 2012 Olympic Games"
As ever, I think it's pretty important that consumers do speak up and make their voices heard, because otherwise the only making most noise will probably the LTE gang and their friends. They would, of course, dearly love to shift us all over to systems based on technology such as LTE Broadcast, ensuring that there's a steady stream of cash flowing in monthly subscriptions and patent royalties to delivery pretty much what we can watch right now just by putting up a TV aerial. That's progress, folks!
Broadcast is efficient
It's also worth looking at the graph. For all that the fans of LTE like to talk it up, and say how much more space should be given over to mobile services, how much is really needed? It's also worth bearing in mind that there will likely be some rejigging of allocations, certainly in the UK, as the mobile companies merge and consolidate.
This graph shows a series of projections of the forecast growth in data traffic for the UK. It's based on figures from Real Wireless and PC Consulting . The medium demand figure from Real Wireless suggests that by 2030, mobile data will be delivering 80 times as much information as it did in 2012. That's the figure usually used by Ofcom as their baseline for planning.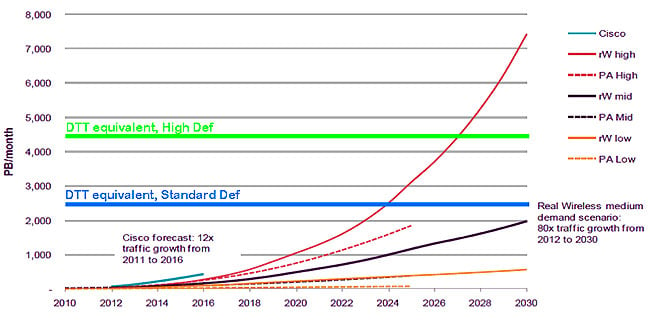 If you want to shift all the data required for broadcast television, DTT remains the most efficient solution – for quite a long time
Overlaid on the graph, the two extra lines represent the approximate amount of data delivered in 224MHz of spectrum for DTT, based on the average bitrate per channel, viewing time per day, and penetration of DTT vs other platforms. The lower line shows the quantity of data that would have to be delivered today, when most viewing is in SD, and the upper the amount after a complete migration to HD.
Even the most optimistic scenario won't see wireless data able to deliver all the information that the DTT network uses until around 2030 at the earliest, and very likely much later. And compared to the amount of spectrum needed for that mobile service, DTT is clearly still much more efficient at distributing broadcast TV.