Brocade reels in app delivery controller biz from Riverbed
Won't say how much it's spending on SteelApp
---
Riverbed is making more progress in selling off non-core assets with Brocade intent on picking up its SteelApp application delivery controller.
Under pressure from activist investor Elliott Management, network optimisation supplier Riverbed is going private and selling off non-core assets, like SteelCore, to improve its profitability.
NetApp paid $80m for the SteelStore cloud storage gateway business in October last year. Brocade isn't revealing any price it will pay for the SteelApp business. The SteelApp name is relatively new with the products originally branded Stingray.
What's an application delivery controller? It speeds up access to applications across a network with Gartner (PDF) saying "The ADC effectively bridges the gap between the application and underlying protocols and the traditional packet-based networks." It has placed Riverbed in the visionaries' quarter of its application delivery controller (ADC) MQ for the past couple of years, with F5 and Citrix leading the market.
About Riverbed specifically, it said: "Riverbed has the most comprehensive application performance portfolio, including WAN optimisation, ADCs, remote storage optimisation, and application and performance management solutions. Revenue for Riverbed's ADC product, recently renamed 'SteelApp', grew below the overall ADC market growth rate during the past year."
That's Riverbed's problem with its then software-only ADC, viewed as being expensive and "not integrated with Riverbed's mainstream SteelHead business" - making cross-selling with Steelhead difficult.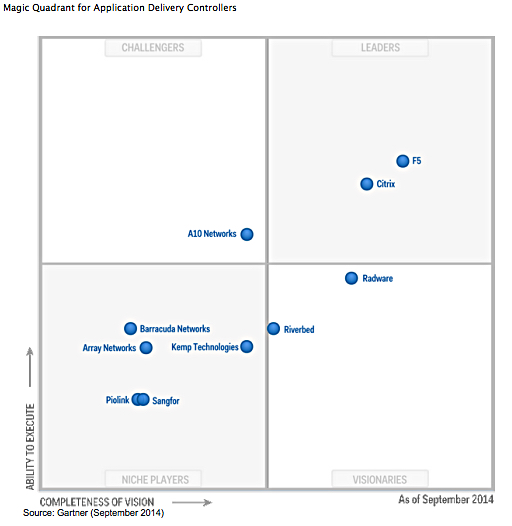 Gartner 2014 ADC Magic Quadrant.
Riverbed had said it had intended to bring out a SteelApp appliance (hardware and software) as customers seemed to prefer that. However such a product did not materialise.
Brocade, faced with a maturing Fibre Channel HBA market, and competition from Netzilla (Cisco) in the Ethernet market, is building up a software, IP-based, data centre networking infrastructure business.
The thrust is to provide networking services layered on top of virtual networking hardware, thus contributing to the weakening of account control by network hardware suppliers.
Brocade bought Vyatta and its virtual router technology in 2012 for an undisclosed amount. The Vyatta open source SDN (software-defined networking) controller was announced last year as Brocade extended its NFV (Network Functions Virtualisation) capability.
SteelApp will be developed and supported, with Brocade saying "Customers can extend their virtualised network migration by leveraging Brocade's Vyatta Services Platform (including virtual router/firewall/VPN and our world-class open SDN controller)."
Ethernet fabric product extension
Brocade is also extending its Ethernet switch product set, sold as part of its VCS data centre fabric line. The VDX 6940-36Q offers 36 x 40GbitE QSFP+ ports. Through a breakout cable, each 40 GbE port can be broken into 4 x 10GbitE ports for a total of 144 10GbitE connections, 40 per cent more port capacity than any other network switch in its class.
The Brocade VDX 6940-144S provides up to 96 x 10GbitE ports, along with 12 x 40GbitE or 4 x 100GbitE ports, in a 2U form factor.
Brocade says the 6940 can be configured and operational in less than one minute. Customers can manage up to 48 switches as a single logical switch by using Brocade VCS Logical Chassis capabilities.
The company has enhanced its VCS Gateway for NSX by enabling the entire VCS fabric to operate as a VXLAN gateway, increasing resilience and simplifies management. Multiple switches acting as an NSX gateway can be managed as one single entity.
The SteelApp purchase should complete in the next few weeks, say during April. It will become part of the software business unit inside Brocade.
Brocade VDX 6940 switches will be available in March, with a starting price of $27,995. The forthcoming NOS 6.0 will provide the VCS fabric acting as a VXLAN gateway functionality. ®