Helium HDD prices rise way above air-filled spinning rust
Squeaky voice time for HGST as trad drives come in cheaper
---
A 6TB Helium-filled drive from HGST costs $120 more than a traditional 6TB drive from Seagate.
Analyst haus Stifel Nicolaus' MD, Aaron Rakers, interviewed Seagate's CFO, Pat O'Malley, and noted afterwards that Seagate estimated an approximate $30/drive extra cost versus traditional air-filled drives. Rakers notes the "HGST (WD) UltraStar He6 (helium) 6TB 7.2k HDDs are currently listed at an average price of ~$550, which compares to the Seagate Enterprise Constellation 6TB 7.2k HDDs listed at ~$420-$430."
That makes a $120 - $130 list price difference. We checked online ourselves and confirmed Rakers' figures.
Disctech lists a Seagate Enterprise Capacity ST6000NM0024 6TB 7.2K 3.5" SATA Hard Drive - Brand New at $435. The Hitachi Ultrastar He6 0F18335 / HUS726060ALA640 6000GB / 6TB 7.2K SATA Hard Drive - Brand New is priced at $539.00: that's a $104.00 difference.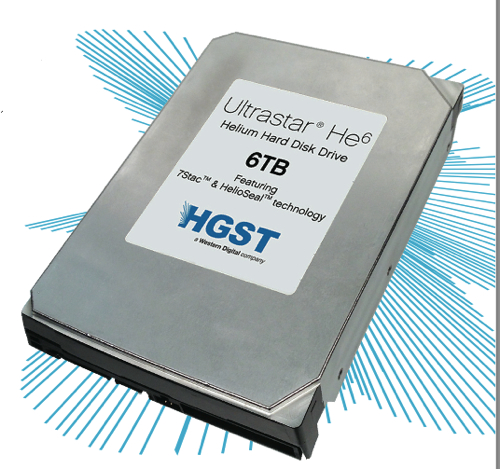 HGST 6TB Helium-filled drive
The Seagate drive has six platters, according to our understanding, while the HGST one has seven.
Rakers says Seagate was unable to fulfil the strong demand for its 6TB drives in the latest quarter. Such a drive takes more than three months for components to pass through the supply chain; a 6TB+ HDD requires up to 20+ weeks of supply chain – 13-14 weeks for heads (wafer-to-head production) and 3+ weeks of test cycles.
This might explain the pricing differential.
We can expect a product announcement blitz over the next five months as Seagate aims to refresh almost its entire product portfolio over the next two quarters.
Curiously about 80 per cent of Xyratex storage enclosures shipped to OEMS by Seagate have no disk drives inside them. Only some 20 per cent are fully loaded. That has to be an incremental opportunity for Seagate to ship extra drives.
Rakers finishes his note to Stifel clients with two intriguing teasers:
Seagate's ability to establish a strategic Flash supply relationship should become more visible over the coming quarters.
Seagate would like to see the successful evolution of 3D NAND Flash as it views this as an important component to the company's hybrid HDD strategy (currently ~3M/quarter in shipments)
Given Seagate's relationship with Samsung, that might mean we're going to see hybrid disk drives from Seagate with slugs of 3D V-NAND inside them.
We might suppose such drives would have large amounts of NAND and at a lower cost/GB than current planar NAND hybrid spinners. ®